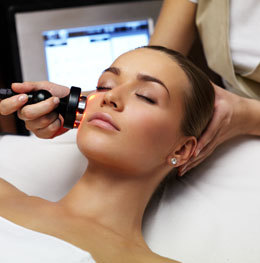 Laser Pointers
Treatments offer women quicker recovery time, but are they right for you?
In today's youth-oriented culture, there's little that evokes more fear to many women than wrinkles, sagging skin, brown spots and other age-related changes to their physical appearance. It comes as no surprise, then, that many South Jersey women are turning to laser therapies as their way to drink from the proverbial fountain of youth.
Today's laser technology can target everything from acne scars to overactive sweat glands, and best of all, the latest treatments are designed to require as little recovery time as possible—so patients can come in to nip a recurring rash in the bud and return to work the next day.
Though there are risks, which include burns and scarring, lasers have largely been proven both safe and effective for most patients—provided their skin or hair color is appropriate for the treatment. "Women should always get a consultation first to know whether or not they're a good candidate," confirms Dr. Robin Levin, dermatologist at South Jersey Skin Care and Laser Center in Marlton. Many skin treatments remain largely ineffective for women with darker complexions, she notes, while hair removal treatments won't work on women with blonde hair.
With summer over, many women are seeing new freckles and fine lines staring back at them in the mirror after too much sun. Dr. Birgit K. Toome of Appearance Dermatology says the new technology gives women hope.
"A DOT fractionated CO2 laser can be used to rejuvenate sun-ravaged skin, while at the same time tightening the skin. Unlike non-fractionated technology of the past, phenomenal results can be achieved with minimal down-time," Toome says. "This same laser can be used somewhat more aggressively to treat acne scarring, and these laser treatments can also be combined with fillers and Botox if deeper wrinkles or scars are present. Similarly, this versatile laser can be also used to very gently peel the skin for those patients who just wish to be "refreshed," with virtually no down-time.
For those seeking a quick fix for their most troubling cosmetic imperfections, there's a wide range of treatment options, known as either ablative and non-ablative, that could require as little as a handful of visits to a specialist. Non-ablative treatments typically use heat to improve the quality of the skin; these treatments require little to no recovery time, but results are typically less dramatic.
Women in their 60s who are desperate to turn back the clock may opt for an ablative treatment for deep wrinkles, while 40-somethings with blotchy skin or signs of age-related pigmentation changes can undergo intense pulsed light therapy (IPL), a laser-like non-ablative treatment.
Of course, not all laser treatments are administered strictly for cosmetic purposes; at Venus Vein Center—part of Associated Cardiovascular Consultants, an affiliate of Lourdes Cardiology Services—in Voorhees, endovenous laser therapy is provided for both men and women suffering from varicose veins, which affect an estimated 40 percent of women and 25 percent of men in the United States, according to Medical Director Dr. Nasser Chaudhry. "Laser treatments for varicose veins are typically administered for health-related purposes," he explains, noting that symptoms include pain, aching or cramping, tingling and swelling. Laser treatments can help eliminate these symptoms, which can progress to inflammation, superficial or deep blood clots, skin color changes, ankle sores, skin ulcers, and bleeding. Chaudhry notes that patients who come in for concerns regarding varicose and spider veins that are purely cosmetic are typically treated with sclerotherapy, which involves injections.
Whether you're concerned about unwanted facial hair, unsightly spider veins, or freckling caused by sun exposure, the costs for laser therapy vary greatly, depending on the condition and number of treatments required. Fees can range anywhere from a few hundred dollars to upward of $1,000 per treatment. "We all know how it feels when we see those first fine lines, or the first signs of sagging skin," Levin says. "These treatments make women feel good about themselves again, and the improvements they're looking for are usually pretty attainable, both physically and financially."
However, according to Dr. Coyle S. Connolly, dermatologist at Connolly Dermatology in Cinnaminson, some patients may mistakenly believe that a single laser treatment will dramatically improve their appearance for the long-term. "It's a common misconception that laser treatments are one and done, or that patients are going to leave the office looking 10 years younger," he says. "Whether it's hair removal or skin remodeling, you could need another treatment in six weeks or in several years."
Women should always educate themselves on the nuances of laser therapy and maintain realistic expectations about just how drastically they will affect their appearance. "You'll get good results, but laser treatments are not going to make you look 20 again. Your goal should be to look your best for the age you are," Levin says.
Additionally, lasers may not be effective in treating certain conditions that should otherwise require surgery. In some cases, a physician may even recommend a more conservative approach first, like a topical cream or a chemical peel, before a patient undergoes laser therapy. "There are usually complimentary or alternative treatments available," Connolly adds.
More importantly, women considering laser treatments should always do their homework when it comes time to choose a physician. Lasers are becoming increasingly prevalent in medi-spas and other health and beauty facilities across the state, and they're being purchased by doctors whose specialties range from family medicine to obstetrics and gynecology. A trained, experienced physician will be able to detect an abnormal mole that could be cancerous—and should never be lasered—or recognize that a patient's facial hair may be caused by an underlying hormonal imbalance that requires medication.
"Lasers can help women reset the clock to some degree, but you're not going to go back in time many years," Connolly concludes. "Most patients will benefit from treatments that target their wrinkles, spider veins, or blotchy skin, but you have to set realistic goals to avoid unnecessary expense and disappointment."
Health Matters
A Special Advertising Section from the pages of South Jersey Magazine
Industry leaders offer women plenty of alternatives.
Dermatology
Aesthetic Dermatology
CoolSculpting is a revolutionary non-surgical, FDA-cleared fat reduction procedure that freezes stubborn fat. Developed by Harvard scientists, CoolSculpting involves no needles, special diets, supplements, or surgery, and it's totally safe with minimal or no downtime.
Marlton
(856) 596-3393
ElderDermatology.com
Connolly Dermatology
Cinnaminson: (856) 772-1333
Linwood: (609) 926-8899
Barnegat: (609) 660-8002
Cape May Court House: (609) 463-9933
ConnollyDermatology.com
Infertility/Reproductive Medicine
Fertility & Gynecology Associates
The all-female fertility practice offers success in a nurturing environment. With a hands on approach and state-of-the-art treatment options, the practice offers a full range of therapies, including IVF, ICSI, assisted hatching, blastocyst transfer, donor sperm and egg, embryo and oocyte cryopreservation, IUI, ovulation induction, laparoscopic and hysteroscopic surgery.
Philadelphia: (215) 829-6385
FertileNow.com
Dr. Louis R. Manara, Center for Reproductive Medicine & Fertility
Reproductive research refined the ability to freeze human eggs and achieve excellent birth rates. Frozen/thawed eggs have been shown to have almost the same potential to achieve live birth as non-frozen eggs.
Voorhees: (856) 767-0009
LouisManara.com
Shore IVF Reproductive Medicine
With laser laparoscopy, doctors cannot only diagnose problems but actually treat conditions at the same time through laparoscopic surgery, with much less recovery time, for some infertility issues.
Marlton & Lakewood: (856) 334-8030
ShoreIVF.com
South Jersey Fertility Center, Division of Regional Women's Health Group, LLC
Marlton, Sewell & Egg Harbor Twp.
(856) 596-2233
SJFert.com
Neurology
Bromley Neurology, P.C.
Women's issues in the neurosciences are advancing rapidly. We are constantly improving our approach to problems like migraine, fibromyalgia, mood disorders, epilepsy and multiple sclerosis.
Audubon
(856) 546-2300
BromleyNeurology.com
Cooper University Hospital, Cooper Neurological Institute Traditional spinal surgery often requires large incisions and long hospital stays. Recently, minimally invasive approaches have been developed, resulting in smaller incisions, less blood loss, less post-operative pain, and shorter recovery times. Surgeons can now use these techniques to treat a number of spinal disorders including degenerative disc disease, fractures, disc herniations and scoliosis. To find out whether your condition can be treated in this way, contact Dr. Sarah Woodrow at the Cooper Neurological Institute.
Serving South Jersey
(856) 968-7965
CooperHealth.org/departments-programs/neurological-institute
Obstetrics/Gynecology
Cherry Hill OB/GYN
With more than 30 years of experience, the practice continues to be one of the leaders in women's health care and minimally invasive surgical procedures.
Mount Laurel
(856) 778-4700
CherryHillOBGYN
Orthopedic & Spine Surgery
Jersey Spine Associates, LLC
Our customized treatment plans help facilitate recovery for our female patients and their active lifestyles.
Marmora, Marlton & Hammonton
(609) 601-4920
JerseySpineAssociates
Plastic Surgery
Cosmetic Surgery Center of Cherry Hill
Smartlipo is a revolutionary technique for body contouring that works by "melting the fat." Using a tiny laser, it's an easier and gentler process to remove and sculpt away fatty deposits. This often allows for a simple office procedure instead of traditional liposuction in the operating room.
Cherry Hill
(800) Makeover
ILoveLyleBack.com
South Shore Plastic Surgery
Voorhees
(856) 784-2639
DrVasisht.com
Radiology
South Jersey Radiology Associates, PA
Introducing 3D breast imaging. Also known as tomosyntheses, 3D breast imaging provides greater definition than conventional mammography—especially when dense breast tissue is present. Greater definition leads to earlier detection. SJRA'S imagers assisted in the development of tomosyntheses, and they are one of the first centers in the country, and the only one in New Jersey to offer this exciting new technology.
10 locations in South Jersey
SJRA.com
Vein & Vascular
Vein & Vascular Institute
More than 30 million Americans suffer from venous disease, including varicose veins, more commonly affecting women. The Vein & Vascular Institute is the only practice in the region solely dedicated to treating patients with venous disease.
Voorhees, Sewell, Vineland & Swedesboro
(856) 887-1989
BetterLegsJersey.com
Venus Vein Center
Voorhees
(856) 354-VEIN (8346)
VenusVein.com
Published (and copyrighted) in South Jersey Magazine, Volume 9, Issue 7 (October, 2012).
For more info on South Jersey Magazine, click here.
To subscribe to South Jersey Magazine, click here.
To advertise in South Jersey Magazine, click here.