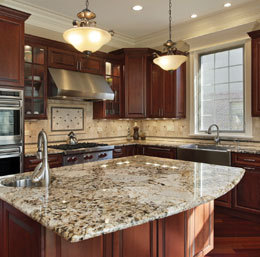 Return on Investment
What to consider when making changes to your home
Your home is your castle. You spend a great deal of money there so you want to make sure it's in good shape. If you've decided to improve your residence, however, you might not know what will get you the biggest bang for your buck. The truth is there are many places where it could do a lot of good.
Outside
"Creating an outdoor living environment offers a great return on investment, increasing a home's value," says Dan Young, owner of Young's Landscape Management. Accent lighting and water features boost interest in a highly competitive real estate market, and homebuyers are drawn by lush, colorful plantings and landscapes complemented by custom hardscapes such as patios, fire pits and outdoor kitchens, he says. "A healthy lawn and well-manicured shrub beds can make or break one's first impression."
Young says the best outdoor living environments require little upkeep and are economical. Native planting—offering great adaptability to the region and climate—require less maintenance. Likewise, synthetic lawn surfaces are safe, no-maintenance solutions that can "create a golfer's paradise with unparalleled quality and performance," he says. Also, most superior outdoor lighting systems improve power efficiency, especially LEDs which use 25 percent of the electricity of regular low-voltage bulbs. "While the initial cost may be greater, the long-term savings make LED more cost-efficient," says Young.
"The No. 1 fall tip is to start planting now," he adds. "Shorter days and cooler temperatures help establish root systems of trees, shrubs, perennials and lawns. Specifically in South Jersey, the best time to plant spring-flowering bulbs is in October and November when nighttime temperatures are in the mid-40s," about six weeks before the ground freezes, he says.
If you're focused on your outdoors, nothing is more important than safety, says Paul Bruni, president and co-owner of Delaware Valley Spray Service, Inc., a family-owned-and-operated company with that focus for more than 50 years. "It's important to protect your children, family and animals from unwanted attacks from ticks and mosquitoes."
In addition, the health of your trees and shrubs has to be a major concern. "Landscaping adds a lot of value and is expensive, so you need to protect your investment," says Bruni. Cutting them down is not the answer, he says, preferring homeowners feed them, keeping them healthy and being aware of pest problems. "We want to preserve trees. We try to save them."
Another great addition to the worth of a property is a swimming pool, from both an equity standpoint and a "family time" one as well. "Entertaining can be made simple and easy when the proper steps are being used to maximize your leisure time and cut down on the maintenance," says Michael McCool, Jr., owner of Swim-Mor Pools & Spas. "One of the ways to improve your equity in this investment and increase the lifespan on your pool as well, is to make sure you are taking the proper care of your pool in the off-season months." In autumn, McCool suggests pool owners make sure the water chemistry is balanced before the pool is winterized. "In addition, be sure to use a winter kit that has both a phosphate remover, to prevent algae growth, and a scale inhibitor, to make opening in the spring a breeze."
The Two Best Rooms
"Renovating and updating bathrooms and kitchens are the main things people are doing. Even a simple room facelift makes a big difference," says Lisa Davis, showroom manager for Ferguson Bath Kitchen and Lighting. These two areas offer the most return on investment. "Kitchens are now the grand rooms, where people congregate and spend the most time, so there's more interest in large islands and open floor plans. I don't see many separate dining rooms, but rather, more casual living spaces."
For bathrooms, vessel sinks and out-of-the-ordinary fun colors are popular in powder rooms. "If you want to do a special project, consider really cool tiles and unique backsplashes," she says. "While most current styles lean toward the traditional, people like 'transitional' where traditional tile and modern accessories are put together." She says bathrooms are often given more of a spa-like feeling, with people getting rid of bathtubs and instead having large showers with larger massage shower heads.
Materials for these rooms make a difference, too. In kitchens, granite countertops and stainless-steel appliances make great impressions, as do polished light fixtures or even new fun designs. "Jewelry for your house," Davis calls them. Under-cabinet lighting, now using LED, last longer and "you don't have to run wires behind walls," she adds. Other attractive "green" ideas include modern 1.28-gallon flush toilets and low-flow shower heads.
With the economy, Davis says many people are not changing everything in the house but, rather, are focusing on one big project. "They're doing a room the way they want to do it. They really invest in it," she says.
Your Home's Exterior
"For long-term energy savings, few things work as well as replacing windows. Most see an average ROI of at least 60 percent the day the windows are installed in terms of value to the home, and more returns over time in terms of reduced energy costs," says Todd Morganti, local partner/division manager of Champion Windows, Sunrooms and Home Exteriors. "A sunroom, on the other hand, is kind of like a swimming pool. It doesn't have the monetary ROI that windows or siding may have but can be an incredible investment in terms of quality of life and loving where you live."
One of the most important areas for upgrades is the roof, says Morganti. "The roof is often overlooked until it's too late. A bad roof can cause big problems with the whole house," he says. "Have a reputable roofing company come evaluate your roof. Unless people are using it for storage, many have never been in the attic and may not know there is a problem with the roof. If the roof is 20+ years it should at least be looked at," he says.
"Adding additional windows or installing larger windows is a great way to get the light in," says Morganti. "Cutting holes or enlarging the current opening adds very little to the cost of the project but can really improve the look of the home." He adds that new siding can give your home a whole new look. "In terms of appeal it is huge, and with today's product and insulation it can also help with comfort and energy usage."
In order to have the best possible experience, Morganti has suggestions. "Take the time to know what you're buying. Have all your questions ready and make sure the contractor you choose answers them sufficiently. He should be willing to take the time to educate and explain the product as well as the installation process and service/warranty standard after completion," he says. "Last, read the warranty—all of it! Nothing is more expensive than having to pay for your project twice."
Home Improvement
…Special Advertising Section from the pages of South Jersey Magazine…
The professionals to help you maintain, improve your property
Bathroom Remodeling
Ferguson Bath, Kitchen & Lighting
Cherry Hill
(856) 489-5620
Ferguson.com
Home Improvements
Under Construction Builders LLC
Cherry Hill
(856) 354-0831
UCBuildersNJ.com
Money spent on remodeling is reinvested into your house, and if financed correctly, the interest on payments can be tax deductible.
Landscaping/Hardscaping
Core Property Service Inc.
Serving South Jersey
(856) 429-4911
CorePropertyService.com
Core Property Service offers affordable 9-12 month property maintenance programs, including fall cleanups and customer service second to none.
Eaise Design and Landscaping
Serving all of Southern NJ
(856) 428-7769
(856) 740-2900
Eaise.com
Increasing your outdoor living space will increase your home value.
We develop solutions that are tailored to meet your needs. Let our friendly certified landscape professionals design and build stately courtyard layouts, quality interlocking concrete patios, water display and unique lightning systems.
Young's Landscape Management
Serving Delaware Valley to the Jersey Shore
(609) 654-5441
YoungsLandscape.com
Outdoor Plant Protection
Delaware Valley Spray Service
Hainesport
(609) 261-9400
DelawareValleySprayService.com
Pools & Spas
Swim-Mor Pools & Spas
Serving South Jersey
(800) 794-6667
SwimMor.com
Window Tinting
Eastern Solar Glass
West Berlin
(856) 767-3442
EasternSolarGlass.com
Energy efficient retrofitting can pay for itself quickly. Window tinting can be inexpensive and yield impressive returns. Protect your home.
Windows & Doors
Champion Windows
Pennsauken
(856) 324-1441
ChampionFactoryDirect.com
Wood Restoration
Deck Restoration Plus
(866) 440-3325
Serving South Jersey
DeckRestorationPlus.com
Let professionals help you regain home value by restoring your old gray wood back to "like new" condition, without the headaches.
Published (and copyrighted) in South Jersey Magazine, Volume 9, Issue 7 (October, 2012).
For more info on South Jersey Magazine, click here.
To subscribe to South Jersey Magazine, click here.
To advertise in South Jersey Magazine, click here.