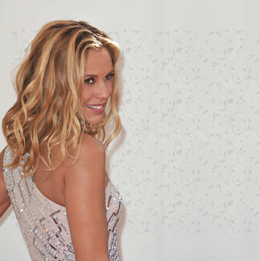 Leading Lady
Maria Bello is a Hollywood star that shines even brighter off screen.
Maria Bello has shared screen time with some elite actors during her accomplished television and film career. George Clooney, Johnny Depp and Mel Gibson are just a few of her marquee co-stars worth mentioning. And while she's certainly not a name dropper, one would expect her to have plenty of great behind-the-scene stories from the set. But given the choice, she'd prefer to talk about a place thousands of miles away from Hollywood, one where she feels more at home: Sea Isle.
That's because Bello, a native of Norristown, Pa., has spent her summers soaking up the sun at the Jersey Shore town since she was 8 years old. By 15, she was working with her brothers and sister at the Charcoal House and Pizza Pit, a family-owned pizzeria at 89th Street and Landis Avenue. "It was like Mystic Pizza at the Jersey Shore; it was a ball," Bello fondly recalls.
These days the striking 45-year-old likes to get her pizza from Angelo's, and can often be found making time at popular hangouts like Shenanigans and Ocean Drive when she's not dipping her toes in the sand. "I've been to places all over the world, and our beaches are some of the most beautiful," she offers when asked what makes the Jersey Shore so special. This past July 4, she was the toast of the town after receiving the key to the city. It was a flattering ceremony that brought back some familiar faces.
"This one boy I dated who is a cop now was there. Then another woman was there and said, 'You dated my cousin's brother.' It was fun to see all these kids from high school that I had supposedly gone out with because I seriously had one boyfriend," she laughs. "[He] was from Haddonfield."
Despite living in Los Angeles with her son Jackson, the acclaimed actress makes it a point to return home several times a year. When asked why she doesn't bask in the California sunshine as often as she can, she has a matter-of-fact response: "South Jersey, Philly and Norristown are my home.
"I love the people in Jersey and Philly; we are a different country in a way. It's an interesting culture with neighbors always showing up for each other."
It's that sense of family and a tight-knit community that Bello carries with her to this day. One of four children from a Polish-Italian family, Bello grew up in Norristown, the daughter of a construction worker father and a nurse mother in a household where, during part of the year, the mood often depended on whether or not the Eagles won or lost.
In fact, football has long been a bond for the family, despite living on different coasts. Bello regularly makes it home to attend games and counts team co-owner Christine Lurie as one of her friends. A few years back while in the area for the holidays, Bello and her father Joe toasted a few drinks and then headed out to a tattoo parlor across the street. She opted for a small Celtic symbol on her hip. Not surprisingly, "he got the Philadelphia Eagles emblem on his arm."
After spending her high school years in the halls of Archbishop Carroll, Bello went on to attend Villanova University, where she majored in political science. Interested in social justice and working at the Women's Law Project in Philadelphia, Bello was well on her way to law school to become a women's rights lawyer when someone innocently suggested she take an acting class to fill out her course schedule. That's when her crystal clear plans took an unexpected turn.
"Someone told me I can take an acting class as an elective," Bello remembers. It wasn't long after that "I knew that this was what I was supposed to do."
So did her teacher, who called her parents to let them know of their daughter's untapped gift for performing and the potential that lie ahead. The exciting news didn't immediately resonate with Bello, who felt discouraged by the discovery. "I was in tears," she says. "I was supposed to do service for the world. [But acting] put me on my path to do what was in my heart and what my passion was. … I could be of service in another way."
After graduating, Bello took her newfound talent and pounded the pavement in search of her big break. Not ready to completely shed the support system at home, Bello chose the proximity of the Big Apple over Los Angeles as she embarked on her new journey armed with lots of ambition and little else. "I went to New York City with two trash bags of clothes and $300 and slept on a floor." She would visit home as often as she could, if only to fill up a few grocery bags to keep her cabinets semi-full.
As she cut her teeth on theater stages and with the occasional TV commercial, Bello moonlighted as a bartender to help keep the lights on. In keeping with her instinctive nature to give back, she started a nonprofit working with kids in Harlem while continuing to pursue her dreams of stardom. Finally, in 1997 she got her first big break—a role as Dr. Anna Del Amico on ER, the acclaimed drama centered around the lives of emergency room doctors in a Chicago hospital. A short time after, she was starring opposite Mel Gibson in Payback, announcing her arrival in Hollywood.
Since then, Bello has gone on to star in more than 30 films, including Coyote Ugly, Secret Window and A History of Violence. Last year, she returned to primetime network television in Prime Suspect, where she played a hard-nose New York homicide detective. Bello was perfect as the tough-as-nails female in a male dominated world and her character exuded a confidence that is probably not that far off from Bello's real-life demeanor. Unfortunately, the ratings didn't agree and the show was dumped after just one season.
Bello quickly rebounded, however, appearing in the final episodes of Fox's drama Touch, alongside Kiefer Sutherland—a role she will reprise for at least a few episodes in season two this year. "I think Kiefer is such an amazing person, I love working with him," she says when asked if she'd like to see her part blossom into something more permanent.
Though an accomplished actress, Bello is nearly as accomplished as a philanthropist and activist, specifically when it comes to the issue of women's rights. Save the Children, The Feminist Majority, Vital Voices and Save Darfur are just some of the causes for which she has dedicated herself to. She can be found across the country speaking on international women's issues like gender-based violence and rape as a weapon of war. Internationally, she is on the ground in the places where the native women have no voice. She is more than willing to speak for all of them.
Bello's approach to giving back stems from the childhood lessons she learned from her parents. "My mother is one of the most compassionate people I've ever met. My dad was very passionate as well. [My siblings and I] saw instinctively that giving back would fill your life up more, not take away from it," Bello says.
Her latest passion project, and perhaps the biggest, was birthed after the devastating earthquake that rocked Haiti in 2010. Six days after the magnitude 7.0 eruption—the most powerful quake in Haiti in nearly 50 years—Bello found herself alongside fellow actor Sean Penn and 15 others on a plane headed to the impoverished country.
When they arrived, the destruction and chaos was evident. So was Bello's instant sense of needing to build a new future for the Haitian people. It was just two years prior when Bello began working in Haiti with Artists for Peace and Justice and Femmes en Democratie, a group comprised of 300 Haitian female politicians, business leaders and artists. "The first time I put my foot down in Haiti, I fell in love and knew I should be there for the rest of my life," she says.
Along with the devastation she encountered, Bello began to see that many of the country's women were severely underserved and the relief efforts were being thwarted by bureaucratic red tape. She immediately set up a women's clinic in a camp where she was working. When she looked to expand the clinics to other camps, she was amazed by the roadblocks that stood in her way.
That's when she and three other activists created We Advance, a women's rights organization focused on capacity building. Their mission was to go to the areas where others wouldn't go and start the rebuilding process from the bottom up.
"The women and I started We Advance because we were pissed off at the bureaucracy. We wanted to get the money and services to the poorest of the poor.
There were warehouses and warehouses filled with medication and the people didn't know how to work with the locals. We worked in areas that were dangerous that the big organizations wouldn't touch because of insurance reasons," she says. With a budget of less than $300,000, the group was able to add a clinic and community center leading to the creation of an empowerment project where locals were given classes on health and hygiene. What started out by training 10 people led to those people going out and training 20 more. The success of the program has led to a waiting list of those eager to take advantage of the services.
In September of last year, Bello joined Haitian President Michel Martelly's Advisory Council on Investing in Haiti, where she lobbies for funding for the country's female population. Working with other women's groups, she was able to organize an international women's conference in Haiti, where work is under way to start a $10 million fund to support the platform.
Her grassroots effort to build a better future for Haiti has given her a new appreciation on life and a renewed sense of purpose in her charitable endeavors.
"I'm so grateful for everything I have," Bello says. "What I found all over the world is the giver gets more than the getter. I learn as much from the people that I meet and work with as they learn from me. It's never one-sided. I go to help people; it's a collaboration."
While Bello is certainly hands on in her advocacy, she's not interested in mugging for the camera like some of her Hollywood counterparts. It's clear in her words that she's more interested in making change by leading by example, not just lip service.
"I've always been driven by a sense of duty. It's an exciting thing to be on the ground; I like to get my hands dirty. I've never been that public in general, about my philanthropy or my personal life. You never see me at Hollywood parties or in magazines, that's just not me," she says. "In February, I was in Haiti four times. I love what I do and I really have family there and I am lucky for that."
With a son in sixth grade, Bello is also very much a loving mother, a soccer mom in fact. This month, she will return as a guest star on Touch, and she just recently wrapped up filming Grown Ups 2, the sequel to the 2010 film starring Adam Sandler and Chris Rock, reprising her role as Kevin James' wife.
"Doing Grown Ups 2 with Adam Sandler, David Spade, Chris Rock, Kevin James and Rob Schneider, it was like summer camp. I think the film is funnier than the first one," Bello says, before adding, "Some of the dramatic roles I've had, like Prime Suspect, the material was amazing … A History of Violence, The Cooler, I've been fortunate in the roles I've had."
So now that she's worked alongside so many Hollywood heavyweights and been able to give back in ways she never imagined, does she ever think back to her days at Villanova and wonder what life would have been like had she decided to become an attorney instead of an actress?
"I never regret my choices; I have a strong feeling about destiny and a trust in God that I'm always in the right place doing the right things," Bello says. "Life's about making a lot of mistakes, falling down and getting back up."
Published (and copyrighted) in South Jersey Magazine, Volume 9, Issue 7 (October, 2012).
For more info on South Jersey Magazine, click here.
To subscribe to South Jersey Magazine, click here.
To advertise in South Jersey Magazine, click here.