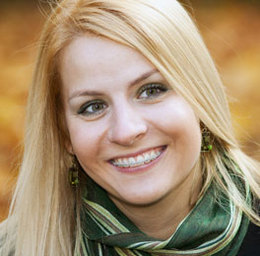 Brace Yourself
Adults wearing braces? It's more common than you think.
There might have been a time when they were considered just for kids, but there's been a growing trend of more and more adults getting braces. Ac­cording to the American Association of Orthodontics, in 2008, the number of U.S. adults wearing braces topped one million. Many people grew up in families where braces were unaffordable or just not a priority and are finally opting to get them in adulthood. As we enter into National Orthodontic Health Month, it's evident the technology has come tremendously far and products like Invisalign—which is barely recognizable on the teeth—are also driving this trend.
A discreet alternative
Invisalign is definitely the driving force, as it's not only a popular option for adults because of the ease of lifestyle it affords (it's clear and barely noticeable on the teeth and also can be removed for eating and brushing), but also because it does something that braces don't do.
"When you put braces on the top and bottom, from front to back, all of the teeth move," explains Richard A. Kaye, DDS, MSD, of Morrone & Kaye Orthodontics in Moorestown and Mount Holly. "But that can be problematic in adults because they some­times don't want to change their back bite. Even if it's slightly misaligned, they may have become comfortable with the way it is and want to just focus on the anterior aesthetics. Braces can make that difficult to do because they make all teeth move, but Invisalign gives us a unique approach where we can move some teeth but not all of them."
Kaye says many adults also adjust easier to Invisalign. "When patients have braces on their lips and cheeks, it does take time to get used to the position, and as teeth are being moved, it does mean readjusting to that new position of the braces," he says. "That can aggravate lips and cheeks and is another reason some adults prefer Invisalign."
One of the downsides to Invisalign is the fact that not all patients are compliant. Not wearing the appliance means not getting the benefits. "Compliance is a major issue," says Robert E. Binder, DMD, a clinical professor at the University of Medicine and Dentistry of New Jersey (UMDNJ). "You have to wear them or they do nothing."
Fortunately, compliance is more of a challenge for kids than adults, who want to get the most out of their investment. And it certainly solves the issue of appearance. "One of the biggest concerns that adults have is how they're going to look during treatment, and Invisalign allows them the opportunity to be discreet," says Tom Kadar, DDS, fondly known as Dr. Tom at his Sewell-based practice, Kadar Orthodontics. "If you had a really special occasion, you'd have the opportunity to remove them. Lingual braces, which are placed on the inside of the teeth, are also a discreet way to go, but that does affect speech."
Another issue that's specifically pertinent to adults is retention, adds Binder. "There is a greater likelihood of teeth going back to their original positions, so retention is critical in the adult population," he says. "The periodontal risk is also higher in adults, so it's important that adults be incredibly scrupulous in their hygiene."
Many improvements
With the introduction of Invisalign, as well as other new technological advances, braces have come a long way. Even the traditional metal braces have become less noticeable. They are smaller, don't wrap around the teeth, and are easier to clean. "The forces aren't as heavy as they used to be and intervals between appointments aren't so frequent," says Kadar. "You don't have to go every four weeks. Now it's eight to 12 weeks. That's easier on people's busy schedules." Besides the improvement in the braces themselves, the technology used in treatment has also improved.
However, Laurence C. Articolo, DDS, of Articolo Orthodontics, warns that all the technological advancements in the world won't matter if the person implementing them isn't skilled.
"Although technological advancements cannot be understated nor go unnoticed," he says emphatically, "self-ligating brackets (e.g. Damon), SureSmile, 3-D imaging and other innovations are only tools to help us as orthodontists to do our work. Nothing changes the biology of tooth movement or the expertise of a clinician who knows what a good result looks like and how it can be achieved. The clinician must know to use technology appropriately where the patient is actually being helped versus just facilitating the orthodontist or dazzling the parents."
Kadar says he often finds many patients are misinformed about what orthodontics really involves and they expect it will be painful. But he says this is not the case. "People think that orthodontics requires needles and drills and that's just not true," he says. "Most treatments are non-invasive. Even pulling teeth is much less common than ever before. It's certainly not something to be fearful of and we help patients feel comfortable."
Braces have also become more affordable and many orthodontists have established payment plans that may range from no-interest plans to zero cash down. For all of these reasons, braces are easier to include in a household budget. "If you look at the cost of an automobile 40 years ago, it was $2,000," says Binder. "Today, that car might be $40,000, which is a 20-fold increase. Braces use to be $2,000, but now, maybe they're $6,000, so it hasn't been a huge increase."
While the No. 1 reason for braces is aesthetics, orthodontists do say there are other health benefits to straightening teeth. Teeth are easier to clean when they're lined up and not crowded together, and that can lead to overall better dental health. But the benefits of looking and feeling better about oneself cannot be discounted. "People expect to have a bright, healthy smile these days," says Kadar. "I think the standards have been raised. If you look at surveys in magazines about the first thing people notice about another person, it's almost always the eyes and the smile. A lot of adults want that opportunity to have a better-looking smile.
"To see the transformation of a patient who may have covered their teeth and been shy—or avoided ever smiling—to becoming someone who is so proud and self-confident, it's pretty amazing."
Brush Up
…Special Advertising Section from the pages of South Jersey Magazine…
When it comes to dental health, turn to the names you can trust.
Articolo Orthodontics
Gibbsboro: (856) 784-7977
Swedesboro: (856) 467-8788
BracesOn.com
Kevin Atlee Cosmetic and Family Dentistry
They have invested in 3-D imaging that allows them to plan guided implant surgery from start to finish, eliminating guesswork and decreasing post-op discomfort by using state-of-the-art computer-aided technology. They have extensive training and experience in all phases of cosmetic dentistry.
Moorestown
(856) 234-8686
AtleeDental.com
Browns Mills Dental Center
Browns Mills
(609) 893-5200
Pleasant Valley Family Dentistry
Research shows an increased incidence of heart problems in patients with pyorrhea, a condition of inflamed or infected gums. Teeth loss is another problem lacking the attention it deserves, and can lead to jaw bone erosion if untreated.
Mount Laurel
(856) 222-1100
Smileasy.com
Dental Arts of South Jersey
Dental implants have revolutionized prosthodontics and the way missing teeth are replaced. Implants have become the standard of care for the replacement of teeth and they can prevent or reverse jaw bone loss and changes in the appearance of the face.
Voorhees
(856) 783-5777
DentalArtsofSouthJersey.com
Dr. Franck Euksuzian and Dr. Monique Braatz
State-of-the-art dentistry in an environment designed for patient comfort. Treatment rooms with expansive windows overlooking the beautiful South Jersey pines and massaging chairs for a little complimentary pampering during your visit.
Medford
(609) 953-4300
DrEuksuzian.com
Euksuzian Orthodontics
Euksuzian Orthodontics offers the latest technology in orthodontic treatment including clear ceramic brackets, clear aligners and Invisalign at both locations.
Medford: (609) 654-0600
Moorestown: (856) 234-2992
BracesbyDrE.com
Lisa N. Gallucci, DMD
Invisalign can be used to treat the vast majority of common problems for adults and teens. Whether your smile needs minor improvements or more extensive adjustments, Invisalign can certainly help.
Marlton
(856) 983-0546
GallucciDental.com
Kadar Orthodontics
Sewell
(856) 582-1400
GoKadar.com
Lassin Dentistry
Cherry Hill
(856) 795-8080
LassinDentistry.com
Morrone & Kaye Orthodontics
Moorestown: (856) 234-4044
Mount Holly: (609) 267-1221
MorroneAndKaye.com
Rosen & Dworkin, PA
The advances in dentistry have been incredible. Cosmetic procedures such as porcelain veneers, bleaching, Invisalign orthodontia and implants have made it easier than ever to have a healthy, bright smile.
Marlton
(856) 983-7732
RosenDworkin.com
State of the Art Smile
There is no better advancement in the dental world than the dental laser. Many cavities that formerly needed a shot and drill can now painlessly be accomplished using the laser. Also, laser gum surgeries mean minimal bleeding, pain or swelling.
Marlton
(856) 985-1800
StateOfTheArtSmiles.net
TenBrook Orthodontics
New T1 Braces use low-friction technology, meaning minimal discomfort and faster tooth movement. T-Clear Braces offer patients treatment through invisible aligners. Both cut treatment time in half.
Serving South Jersey with six locations
(877) Smile-10
TenBrookOrthodontics.com
Published (and copyrighted) in South Jersey Magazine, Volume 9, Issue 7 (October, 2012).
For more info on South Jersey Magazine, click here.
To subscribe to South Jersey Magazine, click here.
To advertise in South Jersey Magazine, click here.