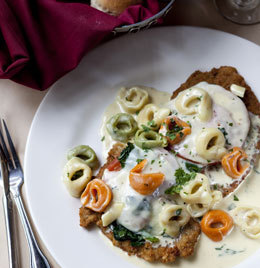 Casa Bella Trattoria
A Fresh Perspective: Casa Bella Trattoria
51 Kings Hwy E.
Haddonfield
(856) 429-2885
3 forks
While Collingswood may be considered South Jersey's unofficial Restaurant Row, I've always been partial to the heart of Haddonfield, where some of my favorite regular eateries are all within a half mile of each other, and there's still a handful of places I have yet to try. Casa Bella Trattoria was one of the latter.
I decided to make it a priority after learning of the Italian joint's new owners, a husband and wife duo that took over the restaurant last November.
The whole restaurant—from the deep red window frames and yellow face outside to the gold walls and burgundy brick inside—glowed with warmth. Guests, all obvious regulars by their small talk with waitresses, settled in with BYO bottles of wine and beer both inside and outside on patio tables as the last few shoppers walked by and the sun began to set on the scenic street. After a long day at work, I felt relaxed and at home.
My guest and I started off with an order of calamari fritti, a staple of every Italian appetizer selection. A portion big enough for a family of four arrived with a steaming bowl of house-made marinara sauce. The freshness of the squid was the star of the dish, very lightly breaded and seasoned and cooked perfectly; the sauce itself—chunky tomatoes melded with basil and a small hint of sugar—was good enough on its own.
We followed the squid with eggplant rollatini, another staple in many Italian kitchens. The sliced eggplant, lightly fried and rolled with ricotta and topped with more of the aforementioned tomato sauce and melted mozzarella, was fresh and satisfying. I only wish the portion size was bigger as it left me wanting more.
Much like our appetizers, the rest of the menu pays homage to the home-style vibes that rang through the dining room, with options like chicken and spaghetti and meatballs "Alla Nonna," a tribute to classic Sunday dinners being served by Italian grandmothers.
To say that my entrée, the veal Vesuvio, was overwhelming would be an understatement. I could tell I was in over my head the minute the plate hit the table. The restaurant's dedication to fresh ingredients provided a much needed break from the heavy alfredo sauce and tortellini, which would have been a meal in itself were it not for the cut of deep-fried veal, tomatoes and spinach piled high then broiled with mozzarella.
While the sauce was well-seasoned and the vegetables were well-prepared, the bland, overcooked tortellinis and veal were a let down. Veal was hard to find, as the paper-thin serving was coated in an exhaustive amount of Italian bread crumbs, leaving little to no flavor from the actual protein.
My guest's entrée saw serious improvement. A massive serving of linguine dirabe arrived sautéed in garlic and olive oil with fresh broccoli rabe and sliced Italian sausage. The fresh vegetables and rich oil took me back to my time spent in Italy, where only a few really quality ingredients mixed together had permanently seared themselves into my memory. It was a welcomed reminder that sometimes the simplest things are the most rewarding.
But the star of the show had yet to be seen. We ordered zeppolis for dessert, because let's be honest: How can you go wrong with fried dough and sugar? When our waitress approached us with a smirk and a grocery-sized brown paper bag, we were a bit confused, until she shook the shack and dumped its contents into an entrée-sized bowl.
A hefty serving of hand-formed zeppolis fell out, coated in powdered sugar and still piping hot from the fryer. Each bite-sized piece tasted seemingly better than the last, with the warm, soft inside balancing the crispy outer shell. That dessert won't leave my head: Since leaving Casa Bella that night, I have been trying to drag anyone who would join me out for a late night snack.
Meeting the demands of Kings Highway's elite strip of dining can be tough. I wouldn't go so far as to say that Casa Bella Trattoria is overshadowed by its neighbors, but it is definitely feeling the heat of the competition and meeting it with their own clever creations.
Published (and copyrighted) in South Jersey Magazine, Volume 9, Issue 7 (October, 2012).
For more info on South Jersey Magazine, click here.
To subscribe to South Jersey Magazine, click here.
To advertise in South Jersey Magazine, click here.