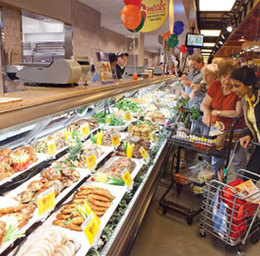 Bag the Groceries
Area specialty stores could spell the end for the everyday supermarket.
The average shopper can easily fill a single cart with bottles of French wine, gluten-free baking mixes, vegan cheesecake and jarred pesto sauces imported from Italy … without ever having to leave one store. It might seem unlikely, but South Jersey has become a place where one can have an extraordinary food experience in just a few steps, thanks to large-scale stores with an epicurean approach to food and an eye for specialty diets.
"There's a trend now toward organic foods and those kinds of things, so that there is a general gravitation toward specialty groceries," says Dr. Robert Ferrari, chairman of the political science and economics department at Rowan University. He's seen a swing in the marketplace, making gour­met food more abundant than ever.
Within the same 20-mile stretch, there are similar stores dotting highways and shopping plazas in abundance: Genuardi's, Whole Foods, Trader Joe's and many more. And that's not to discount the spate of "super" box stores like Target and Walmart that have added grocery and organic sections to their offerings, too.
As the "gourmet markets" of the world rise to the top, what happens to the everyday grocery store? Last February, the company that owns Pathmark and Superfresh closed 10 stores across South Jersey and the tri-state area after declaring bankruptcy. And in the same season, Acme Markets in Millville, Cinnaminson and Moorestown closed after "not meeting corporate goals," while another in Glassboro is slated to shut down this December.
Ferrari says the market has been steadily shifting, with consumers wanting better quality options, fresh produce and natural foods—and trend he calls a "significant sales generator" for stores who cater to those markets.
So what is the average supermarket chain, forced to keep up or fall far behind, supposed to do?
A shifting marketplace
What separates specific retailers from the pack is how they respond to consumers' demands and desires for high-quality, locally grown produce, suggests Ferrari.
For example, 66-year-old retailer ShopRite Supermarkets has adjusted to the changing times by marketing its weekly specials and long-time staple, the "Can Can" sale. The traditional supermarket is even jumping on the gourmet bandwagon: At the Marlton location, a section in the back showcases items proclaiming their organic and all-natural status, alongside several shelves of gluten-free and vegan selections.
Meanwhile, Wegman's Food Markets, an 80-store chain with stores in New York, Pennsylvania, New Jersey, Virginia, Maryland and Massachusetts, has developed a reputation as the gourmet food shopping spot – but also a reputation for being costly at the registers.
But that may not actually be the case. Though the stores have become known for stocking fancy produce and enticing pre-made foods, the company made a commitment to put a freeze on prices for more than 300 store-brand items until the end of this year, following a drought that affected area farmers.
"There's so much uncertainty. Planning and budgeting are crucial for families, and it's made easier when they can count on prices for an extended period of time," explained President Colleen Wegman in an August statement about the promotion.
"They're well aware of that (expensive reputation) and trying to become much more competitive with the other box stores," says Ferrari. He presents Wegman's as one of the ideal competitors and an example of a company doing things right, both from a business and consumer perspective.
Jessica Gentile, a Lumberton native, says she prefers shopping at the high-end chain for the flexibility, such as a mix of conventional and organic produce in one space, plus the tendency to have a store brand that's better than average. "When I'm entertaining, there's usually also a liquor store attached or next door, and lots of prepared foods, cheeses, etc," she says, comparing the selection to specialty outlets like Di Bruno Bros, based across the river in Philadelphia.
Marlton resident Mike Miller wants to feel like he's gotten a better value for his money, but isn't convinced either way regarding the gourmet vs. supermarket comparison. "I perceive a better sense of value shopping at places like Superfresh and have always managed to get good deals on things I need with their customer card," he says. "Gourmet stores have a sense of 'luxury' to me but I often find it too easy to spend too much money there."
But even the gourmet grocers aren't immune to problems, says Ferrari: High unemployment rates could hurt sales due to tightened budgets, even in middle- to high-income areas.
"There are a lot of people who are unemployed right now—I think that might be hurting the specialty stores in some regard because they are a little more expensive," says Ferrari.
"The group that is really going to feel the pinch are those smaller 'mom and pop' operations, thanks to the competition from specialty stores and all the rest of them."
In a market that's bursting with choice, it will be up to retailers to win over consumers who are increasingly as concerned with value as they are with quality—determining whether we see the rise of gourmet markets or a return to the traditional.
Published (and copyrighted) in South Jersey Magazine, Volume 9, Issue 7 (October, 2012).
For more info on South Jersey Magazine, click here.
To subscribe to South Jersey Magazine, click here.
To advertise in South Jersey Magazine, click here.