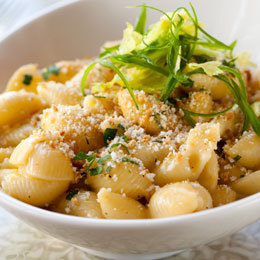 West Side Gravy
Gravy Train: West Side Gravy
714 Haddon Ave.
Collingswood
(856) 854-3444
4 forks
Not since philosophizing about whether the chicken came first has there been a more heated debate about an egg. A fried egg, to be exact, and whether or not my dining companion should opt for one on his meatloaf, alongside provolone and thick-cut bacon. Would the runny yolk be too over the top?
At West Side Gravy, you can have the throwback family recipe served in a slab over whipped mashed potatoes and peas or sandwiched between simple rustic bread. But then there are the extras, optional to top the meatloaf for an upcharge: foie gras, bacon, slices of sharp cheese, or that controversial egg. My vote was a "no," but in the end I should have just said "yes."
Because this Collingswood restaurant, the second from chef and owner Alex Capasso, is not a place for restraint.
In the heart of Haddon Avenue, this restored former Woolworth's space is split in two by Capasso's restaurants that both share a storefront window; on one side is prestigious four-year-old Blackbird, on the other, a vision of chrome and Americana. The décor on our side is a mix between nostalgia and whimsy: a diner-inspired vinyl banquette bellies up to Formica tables beneath larger-than-life tattoo-style paintings of burgers and chicken legs.
But don't let appearances fool you. Capasso takes serious pride in serving familiar comfort foods like buttermilk fried chicken or tomato soup, but with top-notch ingredients and Franco-American preparations. "I'd say that we definitely put more effort into the food than the basic origins of the food would dictate," the chef says. Capasso and his two sous chefs, Eric Cox and Josh Roeber, prepare so many of the menu's elements by hand, from breads to puff pastry. That even goes for the PB&J sandwich, made with a house-ground blend of peanut and almond butters and Capasso's house-made mixed berry jam on toasted (yep, house-made) brioche.
Starters are mostly of the fried variety, but feel upscale thanks to carefully chosen ingredients. In a notable cheesesteak-inspired appetizer, shaved ribeye and melted sharp provolone are rolled into pastry and fried, alongside crunchy fried onions and a horseradish cream. For presentation's sake, I wish these "egg rolls" were served on a simple flat dish rather than the wire cone in which they came; ingredients this good don't deserve to be squished in a basket.
A luscious mac n' cheese starter is prepared almost like fondue—starting with a béchamel base, says Capasso—with rich cheddar, gruyere and fontina cheeses flooding miniature shell pasta. A crust of toasted panko breadcrumbs and herbs finished the flavorful, substantial dish, looking elegant in its swooping white bowl.
French preparations make another appearance in the accompaniment for the aforementioned meatloaf. The misleadingly named "brown gravy" is actually Bordelaise sauce, a classical French wine sauce that's savory, beefy and hefty with flavor. Do not miss this, especially if you opt for the sandwich version (which was unfortunately dry without it) on snowy Italian bread with tomato relish and hand-cut fries.
Chicken pot pie, known to many as a soggy frozen dinner, is worlds better when prepared with pulled free-range chicken, fresh peas and bright cubes of carrot. Like a small present waiting to be opened, it arrived sans pie tin, instead enrobed in layers of puff pastry so flaky, I couldn't help but hold a translucent piece up to the light. I began to wonder if my great-grandfather had made a visit to West Side's kitchen, because cooking this homey and comforting had previously only been experienced on Sunday family dinners.
After a parade of heavy but hearty dishes, dessert seems like an insurmountable challenge. The small selection changes seasonally and includes more French influences, like a flourless chocolate torte with berry compote; the same sweets can be found at upscale Blackbird, too. The lemon and thyme crème brulee, with glassy sugar crust intact, was an excellent burst of garden-fresh tartness to jolt us awake.
Sometimes, a bit of nostalgia can be a good thing. Luckily, Capasso's team has found a balance that works, bringing those old family dinners into the modern age.
Published (and copyrighted) in South Jersey Magazine, Volume 9, Issue 7 (October, 2012).
For more info on South Jersey Magazine, click here.
To subscribe to South Jersey Magazine, click here.
To advertise in South Jersey Magazine, click here.