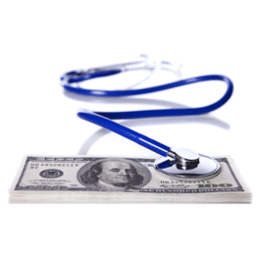 The Cost of Change
All over the South Jersey area, residents and medical professionals alike are preparing for the country's new healthcare reform. Some call it Obamacare. Some have more colorful names for it. Whatever you call it, the Affordable Care Act is the new name in national healthcare. But what exactly does it all mean?
Besides being 2,801 pages of medical jargon not much can be said by average residents about what it really means. Though signed into law by President Obama in March of 2010, the Patient Protection and Affordable Care Act, or PPACA, wasn't made official until June 28 of this year when the Supreme Court decided to uphold the law after much highly publicized debate.
In the midst of the many changes, there are several large amendments that have people talking.
Under PPACA's individual mandate, all Americans will be required coverage under some sort of medical plan by 2014, be it employer-sponsored healthcare, private insurance programs, Medicaid or Medicare. Children up to age 26 can remain on a parent's plan, and all children with pre-existing conditions must now be approved for healthcare. Federal subsidies will be made available to low income Americans (above 100 percent of the federal poverty level) and Medicaid will be expanded to fit more low income Americans.
These changes also bring on new tax increases. In the upcoming years expect to see a Medicaid tax now placed on incomes over $200,000, an annual fee for all insurance providers, and a slow raise in taxes for most classes up until the year 2019, when the U.S. Government is expected to have increased their revenue by $104 billion, according to the Congressional Budget Office. There's even a 10 percent federal tax hike on indoor tanning programs.
With all the red tape, the future of healthcare is unclear at best. So we decided to gauge the pulse of South Jersey, speaking with several area residents and health care professionals. Here's what they had to say.
Saintfort Jeanbaptist, Soldier, U.S. Army, Cherry Hill
The fact that the president wants to make it affordable for almost everyone, and the simple fact that those who cannot afford and can not have it can have insurance makes it a good thing, I think. But the details, it's so hard to understand. So we would need doctors, nurses... people who really know all the details about this reform to inform those of us who are not going to read 2000 pages to understand what's going on. But for now, even though I don't know all the details, I'm for it.
Sandra R. Newman, via Facebook
The health care reform is long overdue! Many individuals from many different backgrounds lack proper health care. The long term outcome is well worth all the hassle now. A better, healthier America. I feel that the big businesses need to stop looking out for themselves and begin looking out for America as a whole.
Bob Mattes, Cherry Hill, Retired for 22 years
I haven't had time to read through the thousands of pages that they're talking about, and honestly I don't know anything about it. I still have so many questions myself that I'm hoping my doctor or someone can clear up. All I know is I'm retired so it shouldn't really affect me as much, because I have backups.
Heidi Birdwell, mother of three young children, Haddon Township
I'm not excited about it. I like what I have… I teach, so I get it through my job, but if I did not get it through my job I'd feel differently… Are we going to have to pay for this even though we already have healthcare? I don't know the answer to that. As long as I have healthcare and I know what I get I don't want it to impact me.
Valerie Fisher, retail sales associate and mother of two, Lindenwold
It's okay but I'm not sure about how all of it works… But it's good because it takes care of the pre-existing problem, plus it will cover children. My two children are working, but they're part time so it's hard for them to get insurance, so this will help them.
Bill Maida, Marlton, recently retired
Right now I'm not in favor of it. I think we need to know a lot more about it. From what I read and understand it's not going to be as cost saving as we thought it was and I think it's going to be more of a disservice.
Darcie Smith, Mount Laurel teacher, via Facebook
My dad has Type 1 (juvenile) diabetes. Before the change in healthcare it was difficult for those with pre-existing diseases to obtain the necessary health benefits. With this health care plan my family can breathe a sigh of relief knowing that my dad will be covered and cared for in any diabetic (or not diabetic) health situation… I am thankful for the Supreme Court's recent ruling on health care.
Alexander Hatala, President and CEO of Lourdes Health System
In essence we're very happy that healthcare reform is moving forward. No matter what side of the argument that you're on there's a general agreement that the healthcare system in this country needs to be changed. We're very happy that 32 million people now have access into the system, people that didn't have healthcare before. I think health care providers can provide a lot of educational resources because it is very complex. The thing consumers need to pay attention to is that this is going to require much more transparency. What I advise consumers to do is to educate themselves on the performance of difference providers… What you have to start thinking about is buying healthcare as you would in any consumer product, so you get the best quality for what you are paying.
John DeMir, Maple Shade, full time sales associate
I support the easiest thing for humans: to be taken care of for your health. I don't have health care, and I'm young now but I'm going to get older, and that's a concern. We need to be fair for all.
Diomedes Gonzelez, retired, Riverside
I'm for it. So many people are unemployed. If you lose your job and have to go to the hospital how are you going to get help? You can lose your house, your savings. So I figure that people need it. If employment falls through there needs to be another option for Americans.
Dr. Alan Pope, Vice President of Medical Affairs and CMO of Lourdes Health System
-It's a complicated issue. I am supportive of the fact that is going to provide healthcare to people that can't have sufficient access to healthcare. It addresses some of the issues that are problematic in the country and here in New Jersey. The devil is in the details and it remains to be seen how well all the facets in the program will work.
- We've been doing some things to reorganize. For instance, we have one of the bigger cardiology programs in South Jersey and the Philadelphia area and we've created a co-management program where they are much more heavily involved in the day-to-day operations. They are looking at the hospital metrics along with their own productivity and were really working together to improve care, and we've already seen that we've brought down cost and our care is great.
Audrey Jadczak, CNO (Chief Nursing Officer) of Lourdes Healthcare
-To me the most important piece is that, as this level of reform goes forward, you will have people changed in how they take care of their health. They will be able to access a primary care physician and have primary help, and I think that alone will have a very positive impact on the health of Americans. It takes us as doing something reactive, not being active enough, and knowing the risk factors in our life.
- Is this the full bundle of what we need? I won't say yes or no to that. But it is a start. … There's a lot that has to continue and change around the system but you can't get anywhere if you don't start somewhere. That is what's the most important part of all this to me.
Dr. John M. Tedeschi, CEO and Chairman of the Board of Advocare, LLC
The United States of America cannot tolerate this number of people having no healthcare. We on the inside know that the delivery system is flawed and we try hard to give the best quality care to our patients, but the way around all the rules and regulations that have been applied, and the cost and the access has made it difficult. What's the most disturbing is that the decisions that are being made are by people that really don't know about the delivery of healthcare. They may have some grand ideas of what needs to be done but they haven't tapped into the people that are delivering the care. Be it nurses, hospitals, physicians. The people that work with healthcare know where the flaws are, and what needs to be achieved. I like the ideas of primary care being in the forefront, but we just have to realize that it's all about the patients. It's all about what you want for your parents, children and family friends.
-. At the end of the day the reimbursement system of medicine has to change. A million other aspects of medical care need to be perfected, but most of all in my mind this has to be a coordinated effort. We in the hospital, in the care community, as physicians providing care, and the government need to be holding hands to create the best quality care we can and we can't do that if we're self serving, thinking how each person is going to stay alive. We need to get on the same page, want the same thing, make this a selfless process, and we need to get there and get reformed.
Joseph P. Chirichella, President and CEO of Deborah Heart and Lung Center
If you're employed you need to work with your plan and see if it's going to change, because it might have a huge impact. For those that don't they need to start reading, because these insurance changes will play a big part in their life. I think the message to consumers is to really stay tuned. The current administration is presenting this as if a lot of this has been worked out, and it really hasn't. The hospital CEO's that I have talked to are in the same mode, and aren't making any big moves until we have all the details. There's a whole industry that I think will sprout out around helping sorting all of this.
Dr. Stephen Goldfine, Chief Medical Officer, Samaritan Healthcare & Hospice, Principal Practitioner, Samaritan Palliative Medical Partners
As a physician, my foremost wish is that the system that results will allow me and my medical colleagues to provide care that is focused on patient goals. Our citizens deserve a healthcare environment that blends high technology with good old-fashioned conversation so that patients have a voice in determining what the best course of care for their goals is. Like many others, I am waiting with great interest to see what the final outcomes of the legislation will be.
Mary Ann Boccolini, President and CEO of Samaritan Healthcare & Hospice
Despite several years of hospice reimbursement cuts which are forecasted to continue for several years to come, we remain committed to providing high quality patient & family-centered care coordinated and delivered by a team of professionals. We believe our expanded care continuum including geriatric care management, palliative and hospice care and bereavement support is a model that supports healthcare access and reform.
Dr. Jeffrey H. Millstein, Internal medicine and Lead Physician, Penn Medicine Woodbury Heights
I am happy to see a health care reform initiative that focuses on the use of data to improve quality of care. The proposed changes will align incentives: patients will have better coverage for health maintenance, and doctors' pay will become linked to quality measures rather than volume. We will hopefully achieve health outcomes that are worth what we spend on healthcare. This is a welcome paradigm shift, and I look forward to getting patients in sooner for preventive care.
Dr. Jeffrey Tokazewski, Family Medicine at Penn Medicine of Gibbsboro
I think this is a great opportunity to improve our nation's health as a whole, but the influx of these patients into doctors' offices will be a great strain on our current system. This will especially be evident in primary care, which account for 60 percent of all doctors' visits in the U.S. Yet, we will be short 30,000 primary care doctors in the U.S. by 2015. I see this as a major dilemma that must be solved if we want to give everyone access to high-quality preventive care.
Martin A. Bieber, President & CEO of the Kennedy Health System
The Supreme Court ruling, upholding the Patient Protection and Affordable Care Act, allows much-needed reform of our healthcare system to continue… Some 32 million Americans, including nearly 1 million New Jerseyans, will enjoy the promise of health insurance coverage under this law. Hospitals and other healthcare providers have already invested greatly in efforts to reform our healthcare system.
Anthony Mazzarelli, Vice President of Strategic Planning and Implementation, Cooper University Hospital
We still have not fully addressed the issues surrounding cost and utilization within the U.Ss healthcare system. The core of this bill is about how people pay for healthcare—it is essentially a bill focused on insurance reform. While the basic idea that healthier people are less costly overall is correct, the distribution of how people will pay for care is far different from addressing the care that they are actually provided.
Published (and copyrighted) in South Jersey Magazine, Volume 9, Issue 5 (August, 2012).
For more info on South Jersey Magazine, click here.
To subscribe to South Jersey Magazine, click here.
To advertise in South Jersey Magazine, click here.