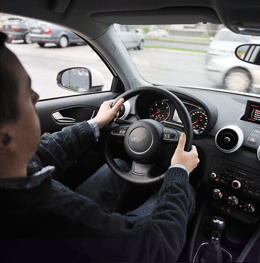 Not So Fast
Tony Caracci has been teaching New Jersey teenagers to drive for 30 years, but the ride he most remembers is the one that almost cost him his life.
In 1999, Caracci and his daughter, who was 12 at the time, were traveling on Route 73 in Berlin, coming home from the Shore. Two young drivers were "fooling around, [possibly] drunk," he says, and coming up on him fast. To avoid either being hit or him rear-ending someone else, Caracci had to take his own car off the road at a high speed.
He ended up crashing into a tree that came halfway through his engine block. His daughter was unharmed, but Caracci spent a couple days in the hospital with cracked ribs. Had they not been wearing their seat belts, they could have been killed. The other drivers never stopped.
As brutal as the outcome was, Caracci knows his decision was the right one. "If I didn't go off to the right, I would have run directly behind two other cars," Caracci says.
It was only because Caracci, who owns South Jersey Driving School, had been trained in defensive driving that he was able to make the correct call. The average teen driver may not have been prepared to react correctly in such a situation.
"Not one of these kids are defensive drivers," he says. "Trust me, they just want to be behind that wheel, give it the gas, go. None of them want to see what other drivers are doing. They just want that permit in their hands."
A new law that has passed the New Jersey Assembly would seek to shorten that learning curve for new drivers by tightening restrictions on the permitting process. Instead of the present six-month probationary period for provisional licensing, first-time drivers younger than 21 would have to log 50 hours in a one-year period and get their parents to certify that they'd done it.
The rule is well-intentioned, but Gov. Chris Christie already used a provisional veto to strike down an earlier draft of the measure in January. And even if he hadn't, Caracci argues, the law stands in a long line of strict measures that don't do a thing to address teen driving behavior.
"First, they started this year-long license thing, then they changed how many people should be in the car, what time should they drive until," he says, ticking off the restrictions on teen drivers. "Now the decals on the license plates."
Caracci, who is also the vice president of the Driving School Association of New Jersey, says 98 percent of teenage drivers are "pretty decent with responsibility, but it's that 2 percent that makes them keep changing the laws.
"We're the only state in the whole United States where teenagers do not get their real license until they're 18 years old," he states.
It's OK to set the standard
Assemblywoman Pamela Lampitt, who authored the bill, believes that placing more stringent requirements on teen drivers merely reflects New Jersey placing a priority on safety. If that means raising the driving age or raising the bar on provisional licenses, she says, it's OK to stand out in the crowd.
"New Jersey sets the standards, and the other states around us are following along," Lampitt says. "At the end of the day, it's about kids and saving lives. If we do nothing at all, we'll have casualties throughout the state."
The parental responsibility component of the bill—i.e. the mom-and-dad signed activity log—was created in response to the issues Christie raised in the previous draft of the legislation, Lampitt says.
Still, she really doesn't think the new driver log is enforceable because there are a lot of young people out there who don't have guardians who are going to involve themselves directly in their kids' driving instruction. However, Lampitt believes that such "self-monitoring" measures are vital to raising the standard of parental involvement.
"The more parents that realize that we implement the law like this, and actually follow through with something like this, the safer the next young person on the road is," she says. "We're trying to move the mountain one pebble at a time."
The reason behind the year-long extension and parental driving log, according to Lampitt, is because lawmakers wanted parents to supervise their children driving in challenging weather conditions.
"When young people get on the road, those first few months are so vital to their success that they're able to learn good driving habits. I think there are a lot more parents who will challenge their children to drive in difficult weather conditions to see how they handle the car" under the provisions of the law, she says.
Lampitt's own driving experiences—and by extension, those of her children—were shaped by her adolescence growing up in a Boston suburb. Her neighborhood was filled with dimly lit side streets, and her father, who taught her to drive, refused to allow Lampitt to use her high beams.
"My father said, 'No, you're going to learn to drive cautiously," she remembers. "Your high beams will make you drive faster.' I used that same theory when teaching my children. Knock on wood, my kids are very good drivers; they've never had a major accident."
What about distracted driving?
Cherry Hill natives Adam Cohler, Jerry Roomberg and Josh Wynne, teenagers who all work at the Woodcrest Pool, said a one-size-fits-all approach to driving won't benefit every kid.
Roomberg, 16, just received his permit. The youngest in his family, he says his parents "would sign off on a log if you asked them to. Changing [the law] wouldn't matter," he says.
Wynne, 18, completed six hours of driving school plus an additional defensive driver course for the insurance discount. He was "so bad the first day" that he was scared.
Without his mother pushing him to get the necessary experience under his belt, Wynne feels he wouldn't have gotten better.
"When I first got my permit, my mom didn't let me drive in the rain, but after a while, she was like, 'I guess you have to learn now,'" he says.
Still, Wynne adds, some milestones still intimidated him. His first solo, long-distance drive, to the Shore, "was a little scary," but "there's no way to prepare for that besides just doing it. School can't prepare you for driving for longer times," Wynne says. "A lot of people lose focus; changing the radio station, [using their] iPod [or] iPhone."
All three agree that the most effective safety measure for new drivers would be something to help them avoid distractions. "You need a car app that would read texts to you," offers Roomberg.
Until that can be developed, they say, a healthy fear of car accidents can be a good thing.
"Kids really think that they're invincible," Cohler says. "I know a kid who was trying to beat me out of the parking lot at Cherry Hill East, and he got into an accident right in the parking lot."
Cohler had seen plenty of car accident videos as part of his driver's education, but it didn't become real to him until that moment. "That honestly scared me to death."
Defensive Driving Tips for Teens
WATCH OTHER TRAFFIC, which includes everybody that's in your field of vision.
cover your brake when you approach a green light; never stay on or hover over the gas pedal.
be prepared to stop suddenly when driving in residential areas.
maintain a safe following distance, especially in inclement weather. More than 35 percent of New Jersey accidents are rear-end collisions.
keep a car length between the car in front of you when stopped at an intersection to avoid multi-car pileups.
Published (and copyrighted) in South Jersey Magazine, Volume 9, Issue 5 (August, 2012).
For more info on South Jersey Magazine, click here.
To subscribe to South Jersey Magazine, click here.
To advertise in South Jersey Magazine, click here.