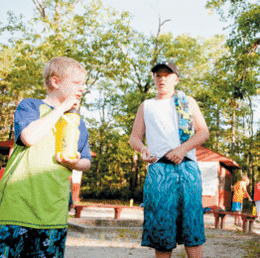 Among Friends
At this summer camp for young children affected by cancer, there is strength in numbers.
More than 25 years after she faced a cancer diagnosis at the age of 11, Moorestown native and Mount Laurel resident Kasey Massa remembers all too well the emotional trauma of that experience. It was the summer of 1986, and Kasey Hall—as she was known then—was getting ready to start middle school. Suddenly, difficulties with speaking and an unexplained fall off a swing set led to a doctor's office visit and a series of tests. Kasey still recalls the night when a pediatric neurologist arrived at the Hall home to discuss her test results with her parents; she was asked to wait on the porch while they spoke.
"I knew that being sent outside meant something was wrong," she recalls. Indeed: Kasey, the oldest of three children, had a malignant brain tumor that required immediate surgery. So, while her friends headed out of town for beach vacations and summer camp, Kasey had her head shaved—only partially, though, wishing to save some of her long brown hair—and underwent a grueling but ultimately successful nine-hour surgery to remove the tumor. While dealing with the physical side effects of the surgery and her subsequent recovery, Kasey found herself feeling oddly isolated from friends and family, and suddenly unable to do the things she'd done before without supervision.
"There were a lot of fears about me having seizures, so I had to be watched a lot," she says. "Basically, my life changed overnight."
She remembers her siblings visiting her in the hospital and her younger sister bursting into tears at the sight of her bandaged head. Friends suddenly stopped coming over to play, and returning to school that fall was accompanied by "a lot of whispering and staring." Even more, the surgery resulted in some cognitive changes that affected her learning abilities.
But Kasey was no quitter: She graduated with her Moorestown High School class and set off to attend West Virginia University, initially thinking about a career in nursing. "Because of my own experience, I knew I wanted to be in the medical field and give back," Massa, now 37, says. She chose to major in child development and family studies, inspired by the "amazing help and support" she'd received from a child life specialist and social workers during her cancer treatment. While still in college, the then 19-year-old decided she wanted to create something "real and lasting" to help other young people whose lives, like hers, had been deeply affected by cancer.
"My dream was to really make a difference," says Massa. Her father, Jack, offered to help get her idea of a summer camp off the ground by getting "the right people around a table to talk about it," but made it clear it would ultimately be up to Kasey to raise the money needed to make her dream a reality.
Thus, Tabernacle's Camp No Worries was born. Since 1995, the overnight camp—held each year during the last week in June—has welcomed more than 1,300 youngsters between the ages of 6 to 16 whose lives have been touched, either directly or indirectly, by cancer.
"Our first year, we had 14 kids; this year, we had nearly 90," Massa says proudly. "It just keeps growing." The campers—who all attend Camp No Worries free of charge —include cancer patients, survivors, siblings or bereaved siblings. An all-volunteer staff of more than 160—including many former campers as well as college students, teachers on summer break, and professional medical personnel—works with the kids to provide a "week away from the stress of cancer," as she puts it.
For its first several years, Camp No Worries was based at YMCA Camp Matollionequay in Medford. Since 2001, its annual home has been at Camp Inawendiwin, through a partnership with the Girl Scout facility. In partnership with YMCA of Burlington and Camden Counties, it costs about $800 for each attending child's expenses, money raised through private donations and plenty of fundraisers. The campers are split into three age groups and take part in many "traditional" camp activities, such as swimming, arts and crafts, and team sports. And Camp No Worries does its best, says Massa—the married mother of two young children—to live up to its lighthearted name.
"For children battling cancer and for their family members, it is a tremendously stressful time," she says. "Even kids who have come through it OK can feel different and isolated. Here, you're part of a family where everyone understands what you're going through. It's all about having fun and feeling accepted."
Recent Moorestown High School graduate Mary Pensiero, 18, has attended Camp No Worries every summer for the past 11 years. She first came as an anxious 8-year-old, only months after her then-16-year-old sister, Kelly, had (successfully) undergone treatment for an aggressive form of non-Hodgkin's lymphoma. This summer, she was a counselor-in-training and is looking forward to the summer of 2013 when, at the required age of 19, she'll be a full-fledged counselor.
"It is the most amazing place … I want to make camp the same fantastic experience it was for me for other kids," she says, recalling her tremendous fears about her sister's condition during that first summer: "You can't really talk to your parents about that, because they're scared, too—but you can tell that to your friends at camp because they're in the same place as you."
As Massa notes, siblings of children with cancer are often burdened with conflicting feelings that can range from envy because of all the attention their ill sibling is getting to guilt: "It's a complicated time for a sibling who is scared and overwhelmed." And for the cancer patient themselves, Camp No Worries offers a reprieve from treatment and tests as well as encouragement to try new things.
"It was a place where I always heard 'yes you can' instead of 'no you can't,'" recalls 20-year-old Kerry Walsh of Cherry Hill, who has attended Camp No Worries every summer since she was diagnosed with a form of leukemia at age 11. Now a camp counselor, the now cancer-free Drexel student says the friendships she's made over the years will last her lifetime.
"It's an exciting thing to watch us grow up together," Walsh says. "I want to keep going to camp for as long as I can, then see the next group of kids step up to take over."
While Camp No Worries is an escape on one level, it also "celebrates the role each person plays in the cancer journey," says Massa—a master's level social worker who works with pediatric cancer patients at The Children's Regional Hospital at Cooper. During the weeklong annual camp, there's a survivor/special supporter lunch, as well as a memorial service to remember campers who have died.
"This is a safe place to talk about the 'elephant in the room,'" Massa offers. "Campers are very aware year to year when another camper is missing. We acknowledge the loss and sadness that comes with losing a friend or relative. We create a safe environment to express feelings." There's a memorial plaque on display each year that currently has the names of 29 children who were in some way involved in Camp No Worries who have died.
"We do all we can to ensure that our campers are safe and happy during the one week they're with us," Massa says, adding that Camp No Worries has a team of five oncology nurses and/or nurse practitioners on-site at all times, as well as on-call physicians.
Campers' family members are invited to a brunch and closing ceremony at the end of the week, where each child is given a copy of the now-bonded group's photo, while tears and smiles mingle as goodbyes are said until next year.
"When I think about how much the camp has grown over the years, I am so proud to be part of this," reflects Massa. "I'm hopeful Camp No Worries will be around forever."
For more information, visit CampNoWorries.org.
Published (and copyrighted) in South Jersey Magazine, Volume 9, Issue 5 (August, 2012).
For more info on South Jersey Magazine, click here.
To subscribe to South Jersey Magazine, click here.
To advertise in South Jersey Magazine, click here.