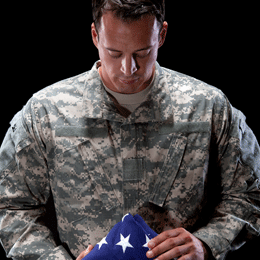 Healing Wounds
New support groups and updated care help local veterans suffering from PTSD find comfort, hope for the future.
On a muggy July evening, three soldiers gathered in a small office in Marlton. Flanked by their families, dogs lying at their feet, they openly spoke about what many of their comrades will not: their struggles with post-traumatic stress disorder.
Josh Hufty was consumed by anger, his temper so hot he would fling chairs and desks at the Marines he instructed.
Jimmy Nigro received a Purple Heart for his tours in Iraq and Afghanistan, but also several head injuries. Medically retired from active duty, he withdrew from the world, haunted by the memories and screams of dead children.
When Alan Beaulieu returned from his two tours in Iraq, he didn't leave the house for five months. "I was too busy focusing on the what-ifs," he says, "and what I call the ghosts."
These veterans needed help, and they found it with Semper Fido.
Run by dog trainers Lisa and Brian Berg, the accredited nonprofit program pairs rescue dogs in need of a home with soldiers afflicted by PTSD. "Why not save two lives?" asks Lisa, a trainer of nine years who started Semper Fido in 2010. "Let's get these dogs out of the shelter and give them a forever home, and we can also help these soldiers to heal."
The soldiers and dogs spend a minimum of 500 training hours together. Once completed, service dogs like Kane, Wynona and Bella come home with their new owners, becoming the soldiers' protective aide that helps them cast their demons aside. "He allows me to feel comfortable going out," says Hufty, looking down and petting Kane, a German shepherd. "I don't have to constantly be worried about my surroundings."
Battle on the homefront
The pressures these men underwent overseas were extraordinary, but the resulting hardships they experienced after returning home are all too common. Of the 2.6 million service members deployed to Iraq and Afghanistan, upwards of 1 in 5 are estimated to have symptoms of PTSD.
Medical experts and military personnel say it's a natural result of sending young men and women into a combat experience for which they can never truly be prepared for. "When people see bad things happening and feel bad, that is an understandable reaction," says Dr. Paul Kettle, associate director of mental health for the Philadelphia VA Medical Center, which oversees clinics in Joint Base McGuire-Dix-Lakehurst, Sewell and Camden. "Of course, feeling bad for people has its consequences."
Quite simply, PTSD spawns a whole spectrum of destructive symptoms. Bryan Adams was 18 years old when he enlisted in the Army. The Palmyra native spent a year in Iraq doing surveillance and recon, looking for IEDs and suffering gunshots through his leg and hand during an ambush. Eventually, he returned home, but the euphoria quickly wore off. He had trouble concentrating, couldn't sleep, didn't want to be around people. He avoided huge crowds and couldn't control his outbursts of anger. He was directionless. "I didn't have anyone I really felt comfortable with, that I felt could understand what I had gone through," says Adams, 28, who speaks several times a year on PTSD and veteran transition issues.
The sentiment is common among returning soldiers, who internalize their issues because they've been conditioned to avoid showing weakness. "Nobody was getting help, because we thought we're macho," says a 13-year Army soldier, who we'll call Shawn, who receives treatment at Haddonfield-based Bancroft, a treatment center for neurological conditions. Military medical personnel evaluate soldiers at the end of their tour, but the desire to get home is so strong, they avoid revealing any problems on the chance they could be sequestered further. Once home, they ignore the obvious problems that arise; typically they won't enter the VA system until a year or two after their return. "More commonly, what happens is people are just happy to be home, and they won't come to [medical] care until somewhat later," Kettle says.
Coming to terms
The healing process can't start until returning soldiers admit their difficulties. "I had to learn that I needed help," says Shawn, who credits his fiancée with putting him in his place when he verbally went off on one of his four children.
A strong support system of family and friends is crucial. So are avenues of guidance, like the New Jersey Veterans Hotline. A joint collaboration between University of Medicine and Dentistry of New Jersey and the state's Veterans Affairs department, the hotline provides 24/7 peer support for any veteran in the state. Every operator is an ex-military member who was honorably discharged; their job is to listen and offer guidance, not play doctor. "We're not here to try and do a clinical assessment," says program Director Terrell L. McCain. "All the information that is talked about on this line is completely confidential."
A diagnosis of PTSD is just a start. Soldiers can be treated pharmaceutically, and they also can be treated therapeutically with a technique called cognitive behavioral therapy.
Bancroft offers the latter, treating soldiers who have both PTSD and traumatic brain injuries—physical injuries that can range from mild head trauma (similar to a sports concussion) to more serious injuries. Working with a psychologist, soldiers undergo exposure therapy, where they wear down their anxiety by revisiting the trauma in their mind or through a virtual-reality-like setting.
Another therapy, cognitive restructuring, reroutes dysfunctional thoughts. If a soldier dies rushing to the aid of a squadmate, "they may be thinking to themselves, 'It was my fault they were killed,'" says Cynthia Boyer, executive director of Brain Injury Services for Bancroft. "In therapy, the therapist would help them find a more reasonable thought about that situation."
Raising awareness
While therapy allows soldiers to make tremendous strides, a greater battle is still being waged to raise awareness about PTSD. In the past, veterans of previous wars were left on their own to grapple with "shell shock." Today, the public is much more aware, and the military by all accounts has become increasingly proactive in trying to address it. "If that wasn't the case," McCain says about the growing awareness, "our helplines wouldn't be in existence." Just recently, the Institute of Medicine pushed for annual PTSD screenings for military members, and urged federal agencies to conduct more research on how well various treatments work.
Despite that, misconceptions are still prevalent. Movie portrayals and high-profile instances of military shootings fuel the notion that afflicted soldiers are violent and deranged. "People with PTSD are more likely to be a danger to themselves," Boyer says. "For the most part, they're not dangerous and unstable [toward others]." Veteran unemployment rates exceed the general population, and many employers hesitate to hire ex-soldiers for fear of how they'll readjust to society and fit into a working environment.
Another common misperception is that PTSD can't be treated. Adams admits his whole perspective changed when he was diagnosed. He felt more comfortable that he wasn't the only one going through it. Now, having just graduated from Rutgers University--Camden with a marketing degree, his future lies in front of him. "It's not a death sentence," he says. "I feel like people don't understand it's something you can recover from. It's something that, if you can focus on it, you can become a stronger person in some cases."
Banding Together
Steven Holtzman and Lou Faiola bonded over their shared love of music. But when the time came to team up for a worthy cause, it was their fathers' military service that influenced their decision to help soldiers with PTSD. Thus was born Bands of Brothers, a music reality series that will follow 12 soldiers as they form bands, practice, and ultimately play a concert at World Café Live on Veterans Day. The idea draws from Holtzman's long career as a film and TV producer, and Faiola's expertise as owner and general manager of the Cherry Hill School of Rock.
"We want to raise awareness in the general public about PTSD and remove the stigma about it," says Holtzman, a Cherry Hill resident. "By telling these personal stories, we want to show the human face behind PTSD. And we want to reach the veteran community to let them know there's hope and help." The nonprofit plans to continue its efforts after the show's conclusion through subsequent events, social media outreach, and its partnership with Give An Hour, where mental professionals donate their time to help service veterans.
Holtzman and Faiola are searching for veterans with solid musical backgrounds and engaging personalities to be on the show. They plan to finish casting by the middle of August, with the first of 10 episodes slated to premiere on Sept. 5 on BandsofBrothers.org.
Published (and copyrighted) in South Jersey Magazine, Volume 9, Issue 5 (August, 2012).
For more info on South Jersey Magazine, click here.
To subscribe to South Jersey Magazine, click here.
To advertise in South Jersey Magazine, click here.