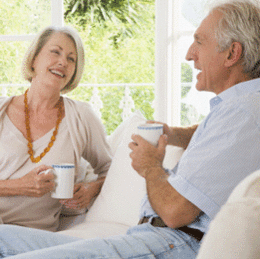 Age of Uncertainty
Caring for elderly loved ones can be difficult, but there's help out there.
It's not something that anyone wants to think about.
As seniors age, situations arise that force many families into making a decision about how to properly care for their elderly loved ones. Serving as the primary caregiver takes a big time commitment and can be financially crippling, so as families struggle to find the balance in their lives, many come to an unfortunate realization—they can't take care of mom or dad anymore and it may be time to seek professional assistance.
Besides the stress of making such a life-changing decision, there is an attached guilt that the children carry, not being able to offer the comfort they feel obligated to provide. Reaching the point in one's life when you become the parent is a role reversal no one is quite prepared for. "Understandably, it is a difficult decision," says Melissa Repkoe, director of community relations at Brandywine Senior Living at Moorestown Estates. "Adult sons and daughters have a much different life pace than their parents had. Many times, Baby Boomers are working longer and pushing off retirement and wouldn't be able to devote the one-on-one attention their parents deserve."
But, enlisting outside help is not the doom and gloom some would think. Depending on what level of care is needed, several options from home care to assisted living can help ease the process, especially with some advance planning.
"It's a difficult transition for elders," says gerontologist Nancy Carman, director of Geriatric Care Management with Senior Wise Care Management, a member of the services provided by Samaritan Healthcare and Hospice. "We can't fix the situation, but we can make it a lot better."
A Road Map
In her role, Carman has witnessed these situations countless times. A child who sees a crisis approaching will call, not sure which way to turn and looking to determine the next step. That's when Carman and her team hit the ground running, identifying the elder's needs through a comprehensive evaluation to see if they are best served at home, in an assisted living facility, or elsewhere.
"We really help them make it through this maze. We give them a road map and give them choices in terms of resources," says Carman of the initial feedback before cautioning that it's highly suggestive. "We aren't telling them what to do; we are working with them. Their needs are complex and every situation is totally unique." While the goal is to try and keep seniors in their home, sometimes that is not possible due to cognitive, physical or nutritional limitations.
According to the Department of Health and Human Services, there are now nearly 50 million people over the age of 65 across the country. That number is expected to grow to 72 million in a little more than a decade.
Dealing with an aging population is nothing new for Moorestown Visiting Nurses Association. Since 1904, the group has been providing both home and community-based health care services and President and CEO Charlotte A. Holcombe remains focused on promoting an optimum quality of life for patients.
"When at home, a person coping with long-term illness or serious injury, or following surgery, often needs skilled nursing care, therapies to improve walking abilities or speech, or just a helping hand with everyday tasks like preparing a meal or changing the sheets," Holcombe says. Whether helping out with these matters or assisting a cancer patient through recovery, the overriding goal of the home care provider is to allow patients to gain a sense of independence and dignity. "We teach people to care for themselves and each other … [our] services allow patients to avoid institutionalization or reduce the number of days of hospitalization, and recover in the comfort and familiarity of their own homes," says Holcombe.
When Tim Fox started Fox Rehabilitation 14 years ago, he did so with the mindset of taking a proactive approach to geriatric physical therapy. His goal: to have patients realize what they thought was previously impossible. To Fox, the functional decline associated with aging is pathological, not normal.
"We see a lot of sons and daughters who say 'Mom can't get out of her chair anymore.' Those things don't have to be so," Fox says. "We have to raise the public's awareness of what mom can do."
And the private practice of physical and occupational therapists has had success. Just ask 94-year-old Florence. Previously, the woman had no use of her left hand, unable to perform seemingly simple tasks like bathing or dressing herself. Thanks to Fox, that has changed.
"No one took the time to sit with her and see what she wants to do," Fox says. "People told her it wouldn't be possible, but we spent time with her … now she's feeding herself and back to that quality of life. We didn't just accept the status quo with her."
And Florence isn't the only one touched by Fox. "I couldn't tell you how many meatloaves they've tried to give me," he quips.
As we age, there is a high correlation between function and depression and, thanks to modern medicine, a person's lifespan has significantly changed during the last 15 years. That translates into patients living longer with more chronic conditions. Unfortunately, it doesn't make dealing with terminally ill loved ones any easier.
Dr. Ritchell Dignam is the medical director for VITAS Innovative Hospice Care of New Jersey West in Mount Laurel. Her experience in end-of-life care helps provide physical, psychosocial and spiritual care to patients with a prognosis of six months or less to live. When it comes to doing her job, preserving a patient's dignity is of the utmost importance.
"It's about respecting patients' wishes at the end of life. And the way to do that is to ask the dying patient how he or she wants to be cared for," Dignam says. "The focus shifts from curative goals to comfort and symptom management."
A popular misconception is that hospice is for patients with just days or weeks to live. In fact, Dignam says, some hospice patients go on to live comfortable, pain-free lives for longer than the six months Medicare allows. No matter the prognosis, VITAS is not only caring for the patient, but the family members as well.
"We see a lot of emotions expressed during this difficult time," she says, adding the hospice team is trained to help families cope with grief, offering bereavement services for 13 months after the death of their loved one. "We provide care to the patient and to their family together as a unit."
Regaining Independence
Alex Markowits was working as a nursing home administrator when he began to recognize the stigma surrounding that level of care. It was not something he one day envisioned for his parents, leading him to create Spring Hills Senior Communities, a group of independent care facilities in the state, including Cherry Hill.
As president and CEO, Markowits worked to create an environment that would come complete with concierge service, an on-site Starbucks, and farm-to-fork dining as some of the privileges. It's part of what he calls "the new concept for assisted living." "It's essentially the same service [seniors] would get from a high-end hotel on vacation," he offers. "We assist you to live. If you don't need care, OK. If you do, we have around-the-clock nurses."
In addition to enjoying the amenities, Markowits says many seniors at Spring Hills get a lot of satisfaction and mental stimulation from being able to interact with their peers. "There's that positive energy of people who can share memories that us caregivers can't relate to. There's an interaction that is much different than even interacting with their children," he says.
Like Markowits, Repkoe knows of the negative connotation that some folks think of with regard to assisted living. "They are thinking 'home,'" she says. "The population that is moving in this building is in their mid 80s, so when they were making the decision to help their parents, assisted living didn't exist; all that existed was nursing homes."
Repkoe points out that assisted living can actually help seniors feel empowered to regain their independence thanks to the ability to achieve things for themselves that they wouldn't be able to do at home. "Home has narrow hallways that don't accommodate wheelchairs" for example.
At Voorhees' Yardley Commons, Community Manager Rachel Straight says personal interaction with seniors is key to making the assisted living experience a positive one. "Everyone who lives in the community is a family member, making sure they are making the right decision for their benefit, not ours," she says.
And Straight should know firsthand what it's like to be part of the community—she lives there with her husband. "I don't think you can be in the position we are in and not have a real caring for the citizens. We are here for them, whatever they need. If they are having an emergency, it's not a security guard, not some random home health aide; it's someone who knows each of the residents on a personal level."
Continuing Care
The Evergreens in Moorestown is a continuing care retirement community that houses seniors at various stages in their life, providing everything from assisted living to nursing care thanks to an integrated campus that houses a bank and a music venue as well as a new, state-of-the-art 85,000-square-foot health center.
The Evergreens is one of the few continuing care retirement communities in the region, meaning residents range from seniors in need of health care to those just looking for companionship. Having a single location provide this varying level of services is just one of the factors that makes the "neighborhood" so attractive.
"Moving from a home occupied for many years is the greatest challenge for people moving into a continuing care retirement community," says Doug Halvorsen, president and CEO. "A continuing care retirement community stabilizes the cost of running a household."
Once they've made the decision, Halvorsen's staff works to cater a quality of life that is essentially handpicked by the resident. "They choose what interests they want to pursue, how they dine, where they like to go, with whom they engage socially, and what cultural and recreational opportunities they wish to explore. Health care is customized to fit their needs and those services are usually found on campus."
No matter if you're a child seeking options for a parent, or a proactive senior mapping out your future, the key to growing old gracefully is lots of research.
Comfort and Care
…Special Advertising Section from the pages of South Jersey Magazine…
Trust your loved ones in the hands of these area professionals.
Brandywine Senior Living
Mount Laurel
1 (877) 427-2639
BrandyCare.com
Offering exceptional Independent Living, Personalized Assisted Living, and Supportive Services for seniors. You'll rest easy knowing they can meet your every need. Call today to schedule your personal visit.
Brendenwood
Voorhees
(856) 424-7773
BrookdaleLiving.com
Serving the rehabilitation needs of the community since 1995 for inpatient and outpatient services. They have been awarded accreditation from CARF (Commission on Accreditation of Rehabilitation Facilities) & full accreditation from The Joint Commission.
Marlton Rehabilitation Hospital
Marlton
(856) 988-8778
MarltonRehab.com
Moorestown Visiting Nurses Association
Moorestown
(856) 552-1300
MoorestownVNA.org
Samaritan Healthcare & Hospice
Marlton
(856) 596-1600
SamaritanHealthcareNJ.org
Spring Hills Senior Communities
Cherry Hill
1-800-239-5434
SpringHillsCherryHill.com
The Evergreens
Moorestown
(856) 439-2000
Evergreens.org
VITAS Innovative Hospice Care
Servicing all of South Jersey
1 (800) 93-VITAS
Vitas.com
Yardley Commons
Voorhees
(856) 772-1313
YardleyCommons.com
Published (and copyrighted) in South Jersey Magazine, Volume 9, Issue 5 (August, 2012).
For more info on South Jersey Magazine, click here.
To subscribe to South Jersey Magazine, click here.
To advertise in South Jersey Magazine, click here.