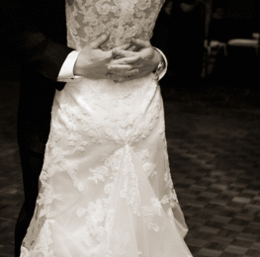 Big Ticket Weddings
What does $38,000 get you anyway?
Want your wedding reception to have an ice sculpture with your own custom monogram? Or a photo booth with all the trimmings? That's so last year. These days, anything goes when it comes to wedding planning, and South Jersey vendors are more than happy to oblige—especially with this year's amplified budgets.
Recent industry surveys detail everything from which colors are in style (purple) to which month is most popular for saying those special vows (September), even the average engagement length (Garden State couples wait 16 months). They also show two very interesting things: Wedding budgets have increased for the first time since 2008 and South Jersey in particular is the fifth highest spender in the whole country. Couples spend an average of $38,103 to get married here—more than the $37,000 average in Philadelphia, but about $27,000 less than in Manhattan. When it comes down to it, that's a great thing for local businesses and for couples looking to have that once-in-a-lifetime experience.
Wedding forecast
The general consensus among the area's vendors: Upgrades are key. For the women of Haddonfield-based Two Little Birds Planning, they've seen an increase in couples choosing to hire professional event planners, no matter the cost.
"We have seen that people have been spending what they can on their weddings, but specifically that they have saved more or are having both sides (bride and groom) contribute to the expenses," says co-owner Caroline Covelli. "This is great for wedding vendors because couples are understanding that great services cost a little more and that's OK."
Adds co-owner Jaclyn Fisher, "We think that people see the value in hiring a professional to take care of the details to save them time and stress. Since each couple is different, we can really be as involved as they'd like."
Couples have long turned to wedding planners for a full day of coordination, including everything from choreographing wedding party movements and coordinating vendor setup. So, just what are the betrothed spending their money on these days? For some, it's all about a la carte options to help personalize their day. Conceptualizing themes like a Roaring '20s affair or choosing to enhance the décor to match a desired look have become more common. Some brides are even turning over one the most sacred rites of passage—choosing the bridal attire.
"Some people are foodies, some are all about the entertainment, some have to have the most amazing photographer. But all couples seem to value having something that sets them apart and makes their wedding a little different … having some personalized touches that make the wedding about them and their love. But when it comes to vendors—the food, entertainment and photography seem to be the focus," says Covelli.
"Budgets are definitely higher now; we did see a lot of very basic, simple weddings through 2008 and 2009, but they're really starting to bounce back," says Cory Gosik, event coordinator for Sensational Host Caterers. Whereas before it was "I'll pay for the standard package but that's all I'm doing," now couples opt for a custom plan for the whole wedding, he says.
Popular choices include upgraded food selections, like a "dessert shooters" station, a signature cocktail hour, or bringing in interactive photo booths that hook straight into Facebook. And now, parties are lasting much longer, with couples "willing to pay for the extensions of those parties."
Why the upswing? Partly the economy coming back, partly influence from TV or wedding planning programs and websites like Pinterest, Gosik says. "Now every bride and groom wants the wedding to reflect their own theme, and that adds up pretty quick."
Little details, big picture
Beyond the big expenses—a caterer, a photographer, the big white dress—small details can add up, too. It's something that can be easily overlooked when trying to navigate through the higher level decisions. And waiting until the last minute could mean a less-than-desired outcome.
Party favors have seen a shift from personalized chocolate bars and the like to more upscale options with couples handing out everything from fancy cake servers and Murano glass wine stoppers to porcelain dishes and bottles of perfume.
Transportation is another area where brides and grooms are looking to put their own stamp on their wedding day. That means skipping the limousine for something more unique like a trolley car; or taking the bridal party out of the equation entirely and instead having the husband and wife make a statement by arriving in a chauffeured Rolls Royce.
And while many wedding venues offer a cake as part of their standard package, couples looking for something a little less vanilla are instead paying premiums for everything from multi-tiered themed creations coated in fancy fondant to cupcake towers brought in from their favorite bakery.
Capture the moment
Brittany Pugh and Michael Reilly know a thing or two about sifting through the seemingly endless options when it comes time to planning a wedding. The team that makes up Moorestown's Brittany Lee Photography regularly works with couples on a series of packages and upgrade options. Respecting one's wishes and offering professional expertise is a balance, one made easier by the fact that Pugh and Reilly are an engaged couple themselves.
One trend they have noticed is that high-end photography has taken precedence with some couples, perhaps even more important than choosing a venue, picking out a dress or deciding on a honeymoon destination.
"I think ever since Facebook became popular (event/wedding) photography has changed so much. People started realizing the real need for high-quality images. Because once your wedding day is over, you only have the photos to show for it," and your album becomes seen by far more people than ever before, says Pugh.
Beyond just the typical pose-and-smile shots, now brides have opted to add on "trash the dress" sessions, deconstructing the fancy wedding dress at a beach or fashionably urban location. Other trendy options include scheduling an additional formal photoshoot a week or two before or after the big event, "so you don't have to worry about keeping hair and makeup fresh during the actual day," Pugh says.
That popularity also means photographers in South Jersey book up quickly—Pugh says she's already booked through the end of this year and is taking appointments for 2015. "We always tell people, as soon as you get engaged, do two things: Book the DJ and the engagement photographer. That can make or break your wedding day."
Though all these the trendy details may add up to a bigger price tag than before, in the end, planners say the wedding is really about making lasting memories—fancy ice sculpture or not.
The Big Day
A Special Advertising Section from the pages of South Jersey Magazine
The people to turn to when it comes time to say "I Do."
Aimee Michelle Bridal
Cherry Hill
(856) 795-6600
Anu Medical Spa
(856) 809-0909
Voorhees
AnuMedicalSpa.com
Appearance Dermatology LLC
(856) 751-9560
Marlton
DrToome.com
Creations Medical Spa
Collingswood, Marlton, Sewell
(856) 589-1151
CreationsMedicalSpa.com
Davis Cosmetic Plastic Surgery
Cherry Hill
(856) 424-1700
DavisCPS.com
Family Jewelers
Marlton
(856) 893-6337
Familyjewelers.com
Published (and copyrighted) in South Jersey Magazine, Volume 9, Issue 5 (August, 2012).
For more info on South Jersey Magazine, click here.
To subscribe to South Jersey Magazine, click here.
To advertise in South Jersey Magazine, click here.