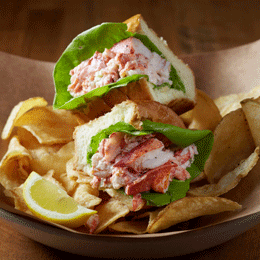 Bonefish Grill
Breaking the Chain: Bonefish Grill
500 Route 73 N.
Marlton
(856) 396-3122
2 ½ forks
A good chain restaurant is hard to find. One worth your time walks a balance between quality and predictability, representing a promise that your experience will be the same whether you've made a reservation near home or out of state.
A great chain restaurant transcends that, whisking you away from Route 73 and its heavy blanket of all-American large-scale eateries, so your experience feels as genuine and unique as the favored indie bistro. Unfortunately, some don't quite live up to that ideal.
Bonefish Grill, which splashed onto the scene in Saint Petersburg, Fla., in 2000, now has 158 casual seafood restaurants scattered across the country, with just two in our area: Deptford and Marlton. I visited the latter location on a muggy Wednesday evening, enticed by tales of sustainable seafood and a fresh approach to the average dinner out.
Weeknights, it seems, are invariably busy here, with an older crowd packing it in for happy hour specials from 4 to 6:30 p.m.—$5 appetizers that include the infamous "bang bang" fried shrimp coated in a creamy sauce, or a clever pop of sashimi-grade fish encased in cucumber slices. The wait for a dining room seat can climb to upward of an hour, but high-top bar tables are easy to come by in the sleek pine-colored bar area. Not a dealbreaker if you don't mind getting a bit social.
Such a humid evening called for a summery drink and the bar's list of fruity cocktail specials sounded promising. In hindsight, any of the seasonal beers on tap would have been smarter over the saccharine black cherry, guava mojito (artificial tasting) or the generously-poured white sangria (vague hints of mango, but with one lone orange slice instead of juicy booze-soaked fruit).
The menu favors seafood in many forms, served fried, sautéed, grilled and baked, though pastas and center-cut sirloin also make appearances. An appetizer of fluffy, no-filler crab cakes were loosely packed and came with a spicy tomato remoulade. Four bacon-wrapped scallops were perfect for a quick bite while chatting, but I could do without the syrupy mango salsa and garnish—the main ingredients are good enough to shine on their own without embellishment.
Those briny mollusks made another appearance, grilled on a skewer with four plump shrimp over a wood-burning grill. Diners are given a choice of signature sauces to accompany 10 choices of fish. After sampling them all, I'd recommend the addicting chimichurri, an Argentinean condiment of fresh parsley, oregano, garlic and chili, typically used on grilled steaks.
But for every strength—a highly-trained server, a quickly refilled water glass—there were missteps that just shouldn't happen in a corporate dining environment. Plating was sloppy, with fingerprints unwiped from dishes' edges and slapdash garnishes throughout. Timing was poor, with entrees arriving a full 30 minutes after the appetizers had been cleared. And somehow, simple dishes of fresh grilled fish felt heavy, overly tampered with and under seasoned.
"I usually never put salt on my food …" began my apologetic dining partner before requesting salt and pepper shakers for her bland Gulf grouper, grilled and served with a turkey sausage succotash and lemon butter sauce. A simple New England lobster roll special was far better; large chunks of cold-water lobster tucked into classic white bread, with lettuce and little else. The accompanying house-cut potato chips were some of the best, and crunchiest, I've ever eaten.
For a new take on an old-school favorite, the towering peanut butter and jelly dessert was the highlight of my meal. Dense bread pudding sat in a moat of warm raspberry jelly sauce, topped with a hefty scoop of peanut butter ice cream. Each bite evoked visions of childhood excess and soon we were in that sugary food coma I remember so well. The tart Key lime pie with graham cracker crust was partially neglected, but only because we'd eaten more than our fair share already.
That's the thing about restaurants like Bonefish—even if there are nitpicky details that don't measure up, one can't help but clean plates. And we did, and likely will again. Among South Jersey's chain culture, you could do worse.
Published (and copyrighted) in South Jersey Magazine, Volume 9, Issue 5 (August, 2012).
For more info on South Jersey Magazine, click here.
To subscribe to South Jersey Magazine, click here.
To advertise in South Jersey Magazine, click here.