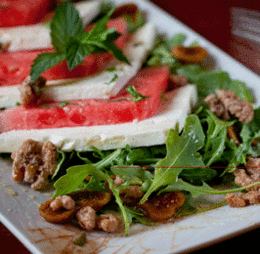 Cravings: Salads
5 SPOT – SALADS
Just because you want to eat healthy doesn't mean your meals have to be boring, flavorless drek. Case in point: the salad. Across South Jersey, calorie-conscious diners are chowing down on selections far more advanced than just some leafy greens with croutons and ranch dressing. Next time you head out for lunch, check out one of these five salads that will more than satisfy your appetite.
P.F. Chang's: Seared Ahi Tuna Wasabi Salad
The sushi-grade ahi tuna is delicate and delicious, but it's also seared to order, meaning the fish is sliced fresh before being laid atop mixed greens and tossed in a wasabi dressing that's given an acidic boost thanks to some lemon. The Promenade at Sagemore, 500 Route 73 S., Marlton, (856) 396-0818
Italian Affair: Magna Grecia
At this red gravy outpost, they combine eight different kinds of greens and load them up with eggplant, zucchini, portobello mushrooms and gorgonzola cheese, and finish with drizzles of balsamic dressing. 900 Delsea Drive N., Glassboro, (856) 881-2121
The Bistro in Haddonfield: Feta Watermelon Salad
(pictured) If ever there was a salad to indulge in come summertime, this is it. Chunks of watermelon and feta nestle with arugula, candied walnuts and sun-dried figs, while the lavender-infused honey and fresh mint give the salad incredible depth. 59 E. Kings Highway, Haddonfield, (856) 354-8006
Healthy Garden Restaurant: Turkey Caprese Salad
Here, they take the traditional mozzarella, basil and tomatoes and give it a gourmet twist by adding homemade turkey breast, avocado and za'atar—a very distinct and unique spice. 200 Haddonfield-Berlin Road, Voorhees, (856) 616-9300; 73 E. Main St., Moorestown, (856) 234-2522
Zinc Café: Blackened Chicken Salad
The subtle spice from the chicken is offset with avocado and cheddar cheese, while bacon and a black bean corn salsa help bring the dish together before it's finished with a jalapeno ranch dressing and served over romaine. 679 Stokes Road, Medford, (609) 953-9462
FAST FOOD
Laurel Creek Country Club, where you can order up a dry-aged NY strip or luscious truffle fries after a day of golfing, wowed the American Culinary Federation at a national convention this year and walked away with the Achievement of Excellence Award, given to foodservice pros after five years of demonstrated culinary excellence.
Collingswood's IndeBlue just unveiled their new outdoor deck, overlooking Collins Avenue with seating for 20 people. Now you can catch a cool breeze while digging in to your chicken madras.
CocoFrüt debuted in July at the Cherry Hill Mall with a unique concept: Belgian waffles and chocolates transformed into sweet treats on the go. Look for chocolate-covered waffles on a stick or made into ice cream sandwiches.
Though they're keeping mum on the official location, Tampa-based Burger 21 is set to open in Voorhees next year as part of its first national expansion. The upscale burger joint, from the owners of The Melting Pot, will feature 20 types of burgers, including beef, turkey, chicken, shrimp and tuna varieties.
IMBIBE
Any mixologist worth their salted rim knows how to pull off a great cocktail for any season. At the newly-opened Grand Lux Café in Cherry Hill, their bartenders are no exception. We loved this refreshing take on a whiskey smash: caramelized pineapple slices muddled and topped with small-batch Basil Hayden's bourbon, served on the rocks with pineapple leaves.
Side Dish: Recipe for Success
A new culinary arts center in Mount Holly has us wanting to sharpen our knives and head to class.
In the gourmand-driven age of "food as art," a shiny new venue in Mount Holly embodies that concept with a 100-seat demo theater, kitted out with a long marble counter facing the audience, flat screen televisions on the walls, and cameras from all angles to capture the chef's every movement across the stage—er, kitchen.
It's not an outpost of the Food Network studios—it's part of Burlington County College's new and growing culinary school, billed as a multi-million dollar investment to serve the rapidly growing food service, hospitality and tourism sectors in our area. The audience is a class full of students, and the chef is a teacher working her way through the morning's lesson.
BCC's Culinary Arts, Hospitality and Tourism program was conceived more than six years ago in response to strong industry growth across the country and in the state, but was kicked up for the move to its current, state-of-the-art location in July 2011.
"The program was completely re-written to suit the building," says chef and program director Elizabeth Dinice. The 19,000-square-foot center is a $9 million renovation that includes numerous professional workspaces, high-tech demonstration kitchens, a dining room for special events, resource spaces, a student-run café and a retail store. There, students collect hands-on experience that will carry them through to careers in their chosen field, not just textbook instruction or in-classroom exercises.
"We want them to have as many real-world experiences as they can, because there is really limitless opportunity for them outside of school," says Dinice.
It's true: The foodservice industry is one of the few growing in the state. Restaurant jobs represent 8 percent of employed residents, with a predicted 7 percent growth between 2011 and 2021, accounting for roughly 20,900 new jobs, according to the 2012 Restaurant Industry Forecast.
Falling in love with the craft
Dinice, a former broadcast engineer, has been teaching since 2006 but cooking since she was 15. "I cooked for my college cafeteria, I worked as a bagel baker to pay for grad school—but I quit cooking to go into broadcasting, and then realized it wasn't making me happy," explains the chef, who now owns roughly 1,500 cookbooks. "So I started working in a kitchen at night, apprenticing at what is now the Institute of Culinary Education."
As head of the BCC program, Dinice has established a curriculum that fits the impressive educational space. "We do not have a typical student; we have everyone from vocational high school students, kids right out of high school, to career-changers in their 50s," she says. Currently, there are 120 students enrolled.
In an upstairs "kitchen laboratory" lit by floor-to-ceiling windows, refrigerators and large shelves of white dishes line the walls. An enormous Berkel mixer sits in one corner, waiting to churn out pounds of bread dough. Six workstations with gleaming stainless steel stoves dominate the space, where 16 first-year students take Culinary 1.
Nearby, a student resource room has a large collection of old and new cookbooks, reference materials and dozens of food magazines, along with a long row of lockers to store chefs' whites and students' personal items. A production kitchen on the first floor overlooks downtown Mount Holly and neighbors a school store selling knife kits and art supplies. Just a few steps away is the TV-quality demonstration theater, and the student-run café, Vaulted Cuisine—which is completely booked up with reservations this semester and is sold out until the fall.
Students here can opt for a degree in culinary arts, pastry arts, or casino and resort management, completed either full time over two years, part time, or through the newly added evening courses that appeal to professionals trying to switch careers while working during the day.
Besides learning the proper way to cube and dice potatoes, the course map stirs in appropriate classes in arts and humanities, science and mathematics, while imparting a thorough understanding of both front- and back-of-house operations.
"We basically want to get students wherever they want to go," explains Dinice, whether that's an upscale casino kitchen in Atlantic City, managing a catering company or working as chef de partie at a local country club. The school works closely with local and out-of-area restaurants to place graduates in varied and rewarding job openings every semester.
"But we also teach our students that you don't just have to be a cook in a restaurant; you can do so much," Dinice says.
It's a diverse educational experience that prepares students to jump apron first into a culinary or hospitality career. Luckily, those jobs are becoming far more plentiful in our region, and are likely to stay that way
Want to turn up the heat?
If donning a toque for a day seems like your thing, the Culinary Arts Center offers non-credit workshop courses to improve your existing skills, offer a glimpse into cultural cuisines, or even teach novices how to boil water. Recent highlights included a five-week artisan bread course, a class on baking and decorating cakes with French buttercream, and even a single-session crash course called "Eek! My Apartment Has a Kitchen"—perfect for recent grads about to leave the nest. Visit BCC.edu for more information or call (609) 894-9311 to request a brochure.
Published (and copyrighted) in South Jersey Magazine, Volume 9, Issue 5 (August, 2012).
For more info on South Jersey Magazine, click here.
To subscribe to South Jersey Magazine, click here.
To advertise in South Jersey Magazine, click here.