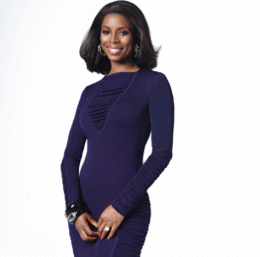 Living the Dream
Tasha Smith brings a bit of South Jersey to Hollywood.
As an actress, Tasha Smith has gotten to experience quite a bit since leaving her native Camden for Los Angeles at age 19. She's guest hosted on late night TV, mentored future runway fixtures on America's Next Top Model, appeared in countless roles and starred in films alongside the likes of everyone from Bruce Willis to Tyler Perry, the latter of whom she's worked with on several projects including the current TBS hit show For Better or Worse, currently in its second season. After seeing her mother struggle with drugs during her childhood and later battling her own addiction, Smith was compelled to clean up her life and share her story with others to help them avoid similar pitfalls. Today, she mentors rising talent through actors' workshops she holds across the country in L.A., New York and Atlanta. We caught up with the 41-year-old to discuss her career, pursuing dreams and her first-ever fragrance.
SOUTH JERSEY MAGAZINE: So, you have a new fragrance called US, how did that come about and what was the inspiration behind it?
TASHA SMITH: I could never find a fragrance I loved and my husband suggested that we come up with our own and make it organic and unisex; and we did.
SJM: You've worked alongside some big names during your career, but how has it been to work with Tyler Perry, easily one of the hottest names in the industry right now?
TS: It's a tremendous blessing working for Tyler Perry; he's extremely creative and a wonderful human being. I'm so blessed to work with him.
SJM: What do you enjoy most about For Better or Worse? The show speaks to so many people on different levels that they can relate to.
TS: I enjoy [my character] Angela; she's so much fun this new season. She's not as dramatic, but funny and silly. She reminds me of I Love Lucy.
SJM: How does your approach to TV and film differ and do you have a preference?
TS: I love them both … the television schedule is a little different from film, but they both are rewarding.
SJM: You grew up in Camden, which is a tough place to live, but what are some of your fonder memories of South Jersey?
TS: My friends, Joyce, Darlene, Robbie, my family.
SJM: Were you involved with acting while you were living here?
TS: Minor commercials and things like that. I did a Krass Brothers commercial when I was a teen.
SJM: You've made it known the difficulties that you and your mother both had with drug use. Watching your mother get sober and being able to overcome your own addiction, has that made you stronger as a person and is there any carry over into your profession?
TS: Whenever you overcome obstacles in your life, you gain more courage to continue to live a wonderful life.
SJM: You moved to L.A. to pursue acting, but how difficult was it to realize that goal? Because, let's face it, lots of people share that dream.
TS: Everything worth anything can be somewhat difficult, but I believe our dreams are not figments of our imagination, but God showing us a glimpse of our future.?So we must press toward the mark of our dream.
SJM: What kind of things do you help actors with and is it important for them to have someone mentoring them who's actually been through it?
TS: I give them a structure and foundation for acting, character development, scene study, etc. And I do believe it helps that I'm living the dream they want to pursue. They must invest in themselves as well as do a great deal of work to pursue the dream in their heart.
Published (and copyrighted) in South Jersey Magazine, Volume 9, Issue 5 (August, 2012).
For more info on South Jersey Magazine, click here.
To subscribe to South Jersey Magazine, click here.
To advertise in South Jersey Magazine, click here.