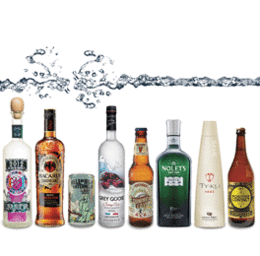 Good Buy: Drink Up
Beat the end of summer heat with any of these refreshing liquors and beers. We selflessly tackled the painstaking task of finding what's hot on South Jersey liquor store shelves for this season. All you need is a glass and a cool spot to relax.
¡Arriba!
No fiesta is complete without a quality bottle of tequila, and this summer, we're reaching for Luna Nueva. Smooth and refreshing, you can only find this brand new bottle on New Jersey shelves, and it is drawing tequila fans to the state for its sweet agave taste. 2012 Luna Nueva Silver Tequila, $30.99 for 750ml at Wineworks, 319 Route 70 W., Marlton, (856) 596-3330, WineWorksOnline.com
The Spice of Life
Add some spice to your next fruity sangria with the rich flavor from this new bottle of Bacardi. Oakheart's brand new flavor and subsequent name come from the charred oaked barrels the rum is aged in, along with a selection of fermented fruits, providing an interesting new taste to your favorite drinks. Oakheart Spiced Rum by Bacardi, $19.98 for 750ml at Roger Wilco, 600 Route 73 N., Palmyra, (856) 829-1400, RogerWilcoNJ.com
Seedless
This San Francisco-based brewery has gained some East Coast celebrity with this watermelon wheat beer. Available only during the hot summer months, this seasonal beer (that comes in cans only) is like a breath of fresh air. Light, fruity and simply irresistible. Hell or High Watermelon Wheat Beer by 21st Amendment Brewery, $10.48/6 pack at Martin's Liquors, 3601 Route 38, Mount Laurel, (856) 235-2273, MartinsLiquorsOnline.com
Berry Good
With all the crazy new vodka flavors floating around the market, it's nice to see some traditional tastes still in the mix. Add a splash of Grey Goose's newest flavored vodka to your soda for a hint of bright black cherry taste. Cherry Noir Vodka by Grey Goose, $37.99 for 750ml at Traino's Wine & Spirits, 2999 Evesham Road, Voorhees, (856) 424-4898, TrainosWine.com
Home Run
We can't help but love Victory Brewing Company—located across the bridge on the outskirts of Philadelphia—and their seasonal Summer Love Ale. We haven't been able to find a more fitting finish to a hot day than a few bottles, some friends and a Phillies' game. Summer Love Ale by Victory Brewing Company, $8.99/6 pack at Joe Canal's, 1075 Mantua Pike, West Deptford, (856) 464-8787, JoeCanals.com
Silver Syle
Serving as the latest installment to the Nolet's line, and the first silver gin out of the company, this liquor boasts Turkish rose, raspberry and peach botanicals. The fresh infusions go great with classic seasonal cocktails like the Tom Collins or a fizz. Silver Dry Gin by Nolet's, $39.99 for 750ml at Total Wine, 2100 Route 38, Cherry Hill (856) 667-7100, TotalWine.com
Caribbean Flair
The tropical coconut undertone in TY KU's new sake takes a traditionally wintery drink and gives fans something to enjoy in the heat. Serve it over ice to enjoy a fun twist on a classic summer flavor. Coconut Sake by TY KU, $17.99 for 750ml at Medford Wine & Spirits, 175 Route 70, Medford, (609) 953-8773, MedfordWine.com
Dog Days of Summer
Dogfish Brewery, located in Delaware, down the coast from Cape May, has earned a reputation for its unique brews, and their newest invention is no different. Brewed with apple cider, roasted farro, cayenne pepper and cilantro, Positive Contact's ingredients may throw you off, but the flavor is worth trying. Positive Contact Ale by Dogfish Head Brewery, $13.49/22 ounce bottle at Hops and Grapes, 810 Delsea Drive N., Glassboro, (856) 582-8110, HopsandGrapesOnline.com
Published (and copyrighted) in South Jersey Magazine, Volume 9, Issue 5 (August, 2012).
For more info on South Jersey Magazine, click here.
To subscribe to South Jersey Magazine, click here.
To advertise in South Jersey Magazine, click here.