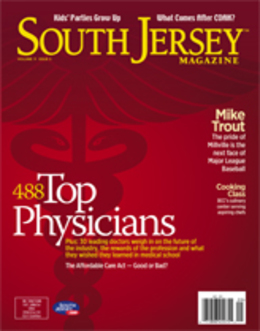 Scene: August, 2012
Click
here
for all of the photos!
Alzheimer's Association Delaware Valley Chapter's Chocolate Symphony Spring Sensation Gala
Photo 1: Andy Hunt, Chad Kurtz, Roz Ruby and Steve Feldmen
Photo 2: Charles Nix, Sandy and Jeff Brown, and Orien Reid-Nix
Photo 3: Kathy and Robert Murray (missing)
Robins' Nest 24th Annual Tee Off for Hope
Photo 4: Lenny Valentino, Derian Hatcher, Mike DiPaolo and Robins' Nest CEO Anthony DiFabio
Photo 5: Brian Crozier, Branon Gilmore, Michael Wallace and Justice John Wallace
Photo 6: Steve Juris, Keith Jovias, Rich Wilde and Bill Brandt
Shore Medical Center Foundation Cocktail Reception for new Chief Development Officer Thomas J. Mundell
Photo 7: Hayden, Neely, Thomas and Murray Mundell
Photo 8: Jim Lees, Patti Siganos, Carol Lipson and Catherine Kane
Photo 9: Thomas J. Mundell, Paul D'Amato and his wife, and Muriel Elliotne
Deborah Heart and Lung Center's Time Capsule Ceremony
Photo 10: Deborah Chairman of the Boards Paul Stendardi, President and CEO Joe Chirichella, and Burlington County Freeholder Director Joseph B. Donnelly
Photo 11: Fort Dix Elementary School fifth-grader Kayla Flora, the first-place elementary winner, with her submission of school books, with Joe Chirichella
Photo 12: Sen. Diane B. Allen, Sen. Dawn Marie Addiego, Deborah's Paul Stendardi and Joe Chirichella, and Assemblyman Scott Rudder
JDRF South Jersey Chapter 27th Annual Golf Classic
Photo 13: Joe McGowan, Dick Castro, J.R. Quinn, Frank Tiano, Charles Barry and Tom Deeney
Ponzio's Diner Presents $3,000 to Samaritan Healthcare & Hospice
Photo 14: Nick, Vi and John Fifis, John Giambanis and Robin Todd
"Temptations," a Microbrew, Cigar & Culinary Delight Tasting Event at Main Street Cigars
Photo 15: Debbi Rulli, owner of Main Street Cigars
Photo 16: Ron Applegate, Robbie Wimberly, Jim Salvano and Alonzo Doe
Komen Central and South Jersey Affiliate "Pretty in Pig"
Photo 17: Dietz & Watson and Susan G. Komen for the Cure staff teamed up to host hot dog cookouts at ACME stores across the area, raising money for the Komen Central and South Jersey Affiliate.
Published (and copyrighted) in South Jersey Magazine, Volume 9, Issue 5 (August, 2012).
For more info on South Jersey Magazine, click here.
To subscribe to South Jersey Magazine, click here.
To advertise in South Jersey Magazine, click here.