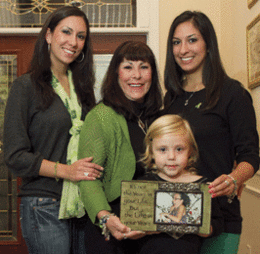 Super Women
…From the pages of South Jersey Magazine…
With or without their glasses, it's easy to recognize that super women are all around us: working moms who rush kids off to school, carefully packed lunches in hand; businesswomen who have burst through the glass ceiling; and do-gooders who make their mark in the world of philanthropy. read on to learn about the ways—both extraordinary and everyday—that these superhuman all-stars work to transform our community for the better.
Denise Morrison
(pictured) As the 12th leader in Campbell Soup Co.'s storied history, Morrison took on her latest role with the company back in August, as president and chief executive of Campbell's, overseeing the corporation's global business and corporate strategy. In addition to her many duties at the office, Morrison serves on the board of the Grocery Manufacturers Association and is the chair of its Health and Wellness Committee. Morrison has also made curbing obesity a part of her personal mission. As such, she's a founding member of the Healthy Weight Commitment Foundation, an initiative that focuses on educating the public about the dangers of obesity everywhere from the workplace to schools.
Cathi Rendfrey
As the director of the Women's Opportunity Center at the YMCA of Burlington County, Rendfrey's work help supports displaced homemakers who must obtain or upgrade their skills for transition into the labor market. In the last five years, she has secured $55,000 in educational awards for these women, while also securing $50,000 for free dental reconstructive surgery for two domestic violence victims. For her efforts, the WOC was recognized with the Anne E. Casey Strengthening Families Award, one of only five organizations in the country to receive the honor. And this past March, New Jersey's First Lady, Mary Pat Christie, chose Rendfrey as a New Jersey Hero for her contributions through the center.
Jamey Corradetti & Rebecca Powell
Corradetti and Powell grew up best friends in Franklinville, forming a bond that has stood the test of time. So in October of 2008, when Powell's father John was diagnosed with pancreatic cancer—the same disease that had taken the life of Corradetti's uncle several years prior—the longtime friends decided they needed to act. They created the nonprofit POWCOR Pancreatic Cancer Fund to raise money for the search for a cure. To date, the two local special education teachers have raised more than $50,000 at annual events including 5K walks and golf tournaments in South Jersey.
Deborah Klaszky & Susanne Rainier
Klaszky and Rainier, both of Burlington County, co-founded South Jersey Women Making a Difference in an effort to inspire other local females in our region. The idea behind the group? To provide a place where busy, like-minded women could give back to the community by helping individuals and families who have been affected by a catastrophic time in their lives. The married mothers both work full time for the New Jersey Department of Human Services, but routinely host "Girls Night Out" events for local women looking to interact and network while donating to various area causes.
Jen Baker Leonard
As a mother of five, Leonard was interested in creating a place where small children could interact and play in a safe, encouraging environment. Her desire to help youth develop and prepare for the future led her to open up Little Sport in Maple Shade, a place where area kids can play and learn together. But it's not just the kids that she's concerned about; Leonard knows full well the stress parents can feel, too. Which is why she can often be found offering babysitting services to give couples a break, reaching out personally to a local mom who looks like she needs to talk, or even running support groups after hours. Her "Champions" program caters to autistic children and their families, and she currently runs an advice column on her Facebook page.
Barbara Pachter
The Cherry Hill-based Pachter has made a career out of inspiring others to achieve professionally, whether through her nine published books or through her engaging speaking seminars, where she's stood in front of clients that include Microsoft, Chrysler, Con Edison, Wawa, Pfizer and TD Bank. The adjunct faculty member at Rutgers-Camden, where she has been recognized with a Teaching Excellence Award, has appeared on shows including 20/20 and Today to give advice on professional development and business etiquette.
Kathy Gold
Gold left the world of investment banking and portfolio management in search of a more satisfying career, and found her way into a 15-year career as a private chef and food stylist. It was then that she got the idea to create In the Kitchen Cooking School. Now in its ninth year, the Haddonfield culinary education center hosts wannabe chefs and corporate events alike. And thanks to her desire to give children healthier food choices, Chef Gold was invited to the White House in 2010 to help launch First Lady Michelle Obama's Chefs Move to Schools initiative.
Norma Roth
In 2004, when Roth was 40, doctors biopsied what they thought would be a benign tumor in her breast. It turned out to be malignant, and Roth became the ninth person in her family to be diagnosed with breast cancer. After making a recovery, the Cherry Hill resident wanted to help others faced with the same challenges. That led her to interview other survivors and physicians in the field, and to collect their tales in Pink Ribbon Journey: Stories From the Heart. The anthology, she hopes, shows the sisterhood and resiliency these women possess and will inspire others to never give up.
Jane Eyre
The romantically named 57-year-old Swedesboro resident and mother of one holds a surprising title: the nation's top female sabre fencer in her age group. It's even more impressive given that Eyre didn't take up the sport until she was 44. In addition to being the reigning world champ, Eyre has been top-ranked American fencer ages 50 to 59 for more than six years, having taken home 27 gold medals at United States Fencing Association national tournaments. The illustrator and designer by day is on the U.S.A. Fencing National Team—and coaches fencing at St. Augustine's and Swedesboro's Infinity Fencing in her downtime.
Katharyn Nicolle
En pointe ballet dancing, maintaining composure during any number of interviews and, yes, looking good in a swimsuit and evening gown are just some of the talents that propelled this Wenonah native to the title of Miss New Jersey 2011. The 20-year-old international studies major at Dickinson College is spending the year promoting literacy with Reading Is Fundamental, before she'll head back to college to complete her degree—and spend a semester studying in Bologna, Italy. Look for her this January at the Miss America competition. "Hopefully," she says, "I can put New Jersey back on the map" with a strong showing at the national pageant.
Cheryl Hassman
As the mother of a child with special needs, this Moorestown resident knows firsthand the struggles families can face. That is why she works tirelessly as a board member of the Devereux Foundation, a nonprofit behavioral health organization with a presence in 12 states including New Jersey. When she wasn't satisfied with the level of educational choices her daughter was receiving, Hassman became acquainted with the foundation. It was then that fundraising became her mission. Through her efforts, kids began to get books, computers and more for learning purposes. Thanks to her work with the group in California, Pennsylvania and now New Jersey, Hassman and her husband were acknowledged by Gov. Chris Christie for the difference they have made in raising autism awareness in the state. "I always felt the need to give back in this world, and I found my passion in a place that has become like family to us," she says.
Margo Pellegrino
A Medford Lakes mother of two has paddled thousands of miles on her outrigger canoe—including a voyage from Miami to Maine—to raise awareness and support for ocean protection legislation over the past five years. But this summer, she undertook an even bolder adventure: attempting a nonstop, stand-up paddleboarding expedition the length of the Jersey Shore from Cape May to Sandy Hook, in support of cancer research at Children's Hospital of Philadelphia. Pellegrino undertook the voyage after a friend's child was diagnosed with neuroblastoma. While Pellegrino had to pull off the water midway due to adverse conditions, her indomitable spirit offers plenty of enduring inspiration.
Linda Rosanio
After a successful, yet unsatisfying career at a Philadelphia advertising agency, Rosanio drew up the blueprint for her own business at her kitchen table. More than two decades later, her Voorhees-based Star Group has grown by leaps and bounds, and Rosanio is chief executive of the largest woman-owned marketing communications agency in the country, with nearly 300 employees and additional offices from Philadelphia to Las Vegas. She has been named one of the "Best 50 Women in Business" in New Jersey, selected as one of South Jersey Biz's "25 Women on the Go" and was honored by the South Jersey Chapter of the National Association of Business Owners as "Woman Business Owner of the Year." A past member of the Garden State Discovery Museum Center for Learning Board of Directors, Rosanio currently serves on the executive board of a local chapter of the American Red Cross.
Dr. Janine M. Sobel
A Voorhees-based psychiatrist, Sobel has been an active volunteer for the Jewish Federation of Southern New Jersey for nearly 25 years, a stint that included time serving as the group's president. During that time, she, along with her husband Mark, established endowment funds through the Jewish Community Foundation to benefit the federation's annual campaign. She is also the first chairwoman of the Jewish Women's Foundation, working to provide strategic grants for programs that directly benefit Jewish women and girls in the area and beyond. Aside from her passion for her career and her faith, Sobel, a breast cancer survivor, is actively involved with Susan G. Komen for the Cure.
Lauren Pronger
Being the wife of a professional athlete is bound to have its own challenges, but being the wife of a Philadelphia Flyer—and the captain, no less—comes with great responsibility in the community. Since moving to South Jersey after her husband, Chris, signed with the Flyers in 2009, Pronger has taken an active role in organizing events and raising funds for scores of area charities. When she's not at home in Haddonfield tending to her three children, she can likely be found spending time with youth patients at local hospitals. Pronger also serves as co-chairwoman for the Flyers Wives Fight For Lives Carnival, the annual charity event that will celebrate its 35th year next February. To date, the event has raised more than $23 million for beneficiaries including the Virtua Foundation and the Juvenile Diabetes Research Foundation.
Linda Carrick
Carrick has spent more than 25 years in the nursing field, earning both a doctorate in health care administration and a master's degree in nursing from University of Pennsylvania. Today, her dedication to helping others has brought her to Kennedy Health System, where she is senior vice president for patient care services and chief nursing officer. In that capacity, she is responsible for nearly 2,000 employees across three hospitals. Carrick, a nationally recognized speaker and author, has been cited by the New Jersey Institute for Nursing for her tireless efforts in the profession and in the community.
Joan Leonard
She was instrumental in bringing the region's first bike share program to the Borough of Collingswood, she advocates for environmentalism as a borough commissioner and she still finds time to practice as an occupational therapist treating patients with hand and upper extremity injuries. These are just some of the reasons why this mother of three 20-something sons qualifies as one of South Jersey's Super Women. The University of Pennsylvania graduate has served as the commissioner in charge of parks, recreation and public works since 1997, and is also credited with helping revitalize the downtown by restoring many rundown properties. "I don't leave Haddon Avenue much," says Leonard, who moved to town 24 years ago and lives with her husband in a converted pharmacy in the heart of downtown. "I go from Knight Park to Borough Hall to my office to the local restaurants." Leonard has also thrown herself into tree-planting initiatives, architectural preservation programs and an effort to restore Knight Park.
Nicole Bodnar
While this Washington Township mother of two defers to her police officer husband as the real hero of the family, Bodnar certainly is worthy of her own recognition. As regional administrator for 21st Century Oncology, she oversees business operations for the company's centers in both New Jersey and Maryland. Balancing her career and family is tricky enough, but Bodnar (also a member of the Garden State Rotary) still finds time to serve as an area Lead Advocacy Ambassador for the American Cancer Society's Cancer Action Network, working to promote legislative solutions in the fight against the disease. In addition, she regularly attends cancer coalitions for four counties, and spends time coordinating fundraising events to raise money for 21st Century C.A.R.E., a nationwide nonprofit organization that supports cancer education and research, and aims to ease the financial burden of those undergoing treatment.
Dr. Sandra Elder
When her sister-in-law was diagnosed with breast cancer at 32, Elder decided she wanted to help her and others in similar situations. That is why each October for the past three years her Marlton Aesthetic Dermatology practice celebrates Donna's Day, an annual event where breast cancer survivors can take advantage of her services free of charge (this year's event takes place on Oct. 29). Inspired by her late sister-in-law's courage to live her life despite her many ailments, Elder continues to honor her and the many others in our area courageously fighting the disease.
Marcy Lahav
Serving as the Katz JCC's Adult, Cultural and Judaic Department director, Lahav has a direct hand in helping enrich the lives of more than 2,000 people a year. Along with her staff, the Voorhees resident caters a multitude of activities and programs designed to meet varying abilities and interests, from current events discussion groups and community service events to arm chair aerobics and Wii tournaments. While many older adults are benefiting from Lahav's work, the feeling of gratitude is mutual. "I am just so inspired," the married mother of two says. "My goal is to educate the entire JCC staff and community to look beyond a person's age and respect the person for what they have done in their lives and who they are today."
Kate Cummings Nasto
Like most women, Nasto keeps a full schedule: working at Cooper University Hospital, attending Gloucester County College Nursing School and returning home as a loving wife and mother of two. But, no matter how busy she is, she still finds time for a cause near and dear to her heart. In 2007, Nasto's son Jake died from complications of a rare congenital heart defect. The tragedy inspired Nasto and husband Joe, along with her parents, to form Build Jake's Place, dedicated in their late son's honor to building "boundless playgrounds where kids of all abilities can play together." The first such playground will open this month at Challenge Grove Park in Cherry Hill.
Stephanie Weaver
During her time at Moorestown High, Weaver became passionate about service through her role as president of the Interact Club. After graduating from Georgetown University, she began working for the American Red Cross and within six months founded A Drink for Tomorrow, a nonprofit organization that raises awareness and funds to bring sustainable access to clean water and sanitation to impoverished communities. Thus far, the group has helped nearly 3,000 people in seven different countries gain access to clean drinking water, with additional projects in the works.
Linda Rohrer
Rohrer may be known in her hometown, Haddon Township, as the daughter of William G. Rohrer, the businessman, politician and philanthropist. But more than just an heiress to a banking and auto dealership fortune, Rohrer is a businessperson in her own right. A realtor for 35 years and president of Rohrer & Sayers Real Estate, she also administers the William G. Rohrer Charitable Foundation, whose gifts have supported Rowan University's Rohrer School of Business, among many other local institutions and organizations. Rohrer also sits on Rowan's board of trustees and the board of the Rowan University Foundation, and she's vice chairman of the Camden County Improvement Authority. But that doesn't mean she can't find plenty of time to be a doting grandmother to her 4-year-old grandson, Griffin.
Jessica Gardner
When Gardner was in college, her arthritis pain was so bad she needed to have a note taker sit with her in class. When medications and other treatments proved unsuccessful, she tried an unconventional approach: Bikram yoga. Almost immediately, she began to notice the difference in her health and overall wellbeing. Years later, she would leave her job, working as a clubhouse manager for the Atlanta Braves, to open up her own studio, Bikram Yoga Voorhees. "If it can work for me, it can work for everybody," she says. Now, she is using the same exercises that helped manage her chronic pain to better others' quality of life by promoting personal growth and creating a healing environment.
Bonnie Clark
For the past four years, Bonnie Clark has witnessed some real excitement in her job as the vice president of communications for the Philadelphia Phillies, thanks to the team's recent wave of success. The Cherry Hill resident also keeps busy thanks to her three children, but always finds time to help out others. Her role with the Phillies allows her to be involved in community outreach across a broad range of causes, and she is also a member of MLB's Baseball Assistance Team Women's Subcommittee, assisting those with financial, psychological or physical burdens by raising funds from various corporations and foundations. Clark also serves on the Board of Directors for the Kennedy Health System Foundation.
Heather Simmons
As a public relations professional working with government, municipal and institutional clients, Simmons got a taste for Gloucester County politics and saw an opportunity to serve. Today, she's attained that goal as the county's newest freeholder, having been appointed to fill the seat vacated by New Jersey Senate President Stephen Sweeney last year. The Democrat and 1991 valedictorian of St. Joseph's University was formerly an adjunct instructor at Gloucester County College, teaching journalism, publishing and feature writing. Now, as liaison to the Department of Economic Development and Public Works, she's been crisscrossing the county to meet with local businesses and find solutions for workforce development, economic improvement and environmental sustainability in county works.
Ruth "Mama" Dietz Eni
The heiress to a meaty deli fortune, this spry 86-year-old sunk her teeth into the leadership of Dietz & Watson and chaperoned its growth into a corporation with distribution up and down the East Coast. She's recently taken on the role of the company's public face, starring as Mama Dietz in a broad-based ad campaign and adding the title "Chief Mom Officer" to her existing role of Chairman of the Board. In addition to advising her own three children—chief executive Louis Eni Jr., chief financial officer Cindy Eni Yingling and chief operating officer Christopher Eni—she also takes time to answer questions as the region's most famous Mama.
Beth Robertson
When Robertson's son Cameron was just 13 months old, he was diagnosed with a rare liver cancer. But thanks to treatments, surgeries and lots of prayer, Cameron was given a clean bill of health. Determined not to let those months of suffering go to waste, Robertson joined forces with Alex's Lemonade Stand. Now, she and her son are hero ambassadors for the group, speaking at events and volunteering whenever they get the chance. Last year, Robertson targeted a goal of raising $40,000 in one year, and on her 40th birthday in August, she shaved her head as part of the fundraising efforts. To date, she has raised more than $31,000, with hopes of reaching her goal by the end of the year.
Zeynep Yurderi
In 1997, this native of Turkey came to the States to continue her education at the University of Washington, where she would go on to study business. That would serve her well in her career as director for a pharmaceutical marketing company, but her real passion was designing fashion. Today, Yurderi runs Z's Treasures in Haddonfield, a retail business featuring one-of-a-kind styles inspired by the detail and designs of her Mediterranean upbringing. Yurderi believes that a woman who looks good feels good, so if she can help other females feel empowered, she is all for it. "Women are at their peak when they feel and look sexy," she says. "With that comes confidence."
Ida Petkus
Inspired by a documentary on domestic violence she viewed while working as a media spokesperson for NJN, this Medford resident took it upon herself to spark change. That inspiration led her to open the Domestic Violence Advocacy Center in Mount Holly in 2009. The center runs a safe house, support groups and empowerment classes, helps with legal services and provides referrals, but her reach extends well beyond that. Working with both female and male victims, Petkus' agency is the only one of its kind in the state to provide interactive Internet contact with social service providers, via a live chat room. However, Petkus' signature approach lies in her face-to-face interactions with victims at her facility directly across from the Superior Court in Mount Holly.
Debbie Cannon
A Burlington County resident, Cannon is all about helping others when they need her most. She has worked as a nurse for more than three decades, spending the last 21 years in the Trauma Intensive Care Unit at Cooper University Hospital. A "first alert" nurse, Cannon is often at the door to meet incoming trauma patients, and works hard to facilitate healing for them and their families. In honor of her constant efforts to provide the best care possible, Cannon was recognized as Cooper's Nurse of the Year for 2011.
Susan McCann
As the vice president of human resources at Samaritan Healthcare & Hospice, McCann oversees functions for the area's largest nonprofit hospice with a staff of 300 across five counties, not to mention 450 active volunteers. McCann began her work at Samaritan as manager of social work and of the Center for Grief Support, providing insight and sensitivity with respect to the overwhelming physical and emotional demands of patients and their loved ones. When not in the office, McCann is busy juggling duties ranging from Brownie Troop leader to handing out baskets of food for Thanksgiving. She lives in Mount Laurel with her husband and her 6-year-old daughter.
Dr. Renuka Desai
Born and raised in Mumbai, Dr. Desai felt compelled to join members of the Cherry Hill Rotary Club as the only physician on a trip to India to help eradicate polio. There the pediatrician gave out vaccines, even going door to door to administer them. During their stay in the country, she and the group also donated clothing and money at orphanages. "Being personally a part of this effort is a transformational experience," Desai says, adding that she plans on taking similar missions in the near future.
Published (and copyrighted) in South Jersey Magazine, Volume 8, Issue 7 (October, 2011).
For more info on South Jersey Magazine, click here.
To subscribe to South Jersey Magazine, click here.
To advertise in South Jersey Magazine, click here.