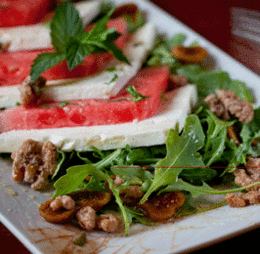 Cravings
5 Spot: Cool Treats
There's no better way to cope with the dog days of summer than with a refreshing frozen indulgence. Lucky for us, almost every town in South Jersey has just the place to find such remedies, whether you prefer yours in a cone or with a spoon. We scoped out five artisans of the ice-cold treat and came away with satisfied taste buds—not to mention a severe case of brain freeze.
1. Toppings: Frozen Yogurt Cupcakes. Ever consider putting frozen yogurt in a cupcake liner? Here you can try flavors like birthday cake and triple chocolate, complete with flavored whipped cream "icing" and toppings ranging from gummy bears to brownie bites. 4309 Dearborn Circle, Mount Laurel, (856) 222-4600
2. Al Dente Italiana: Spumoni. They make their own gelato here—and what better way to sample it than with a mix of cherry, chocolate, almond and pistachio flavors dressed up with rum-soaked cherries, chunks of chocolate, almonds and fresh pistachios? 1690 Nixon Drive, Moorestown, (856) 437-6593
3. Leo's Ice Cream Company: Yum Yum. Leo's has plenty of unique ice cream offerings, but it's the Yum Yum (specifically cherry-pineapple or cotton candy flavors) that keeps us coming back. It's like water ice, but much creamier and more memorable. 7 Tomlinson Mill Road, Medford, (856) 797-8771
4. Ice Cream Dot Cone: Mint Chocolate Chip Milkshake. This ever-popular Washington Township spot is known for other things—like homemade sour apple water ice—but this milkshake, made with vanilla soft serve, mint syrup and chocolate chips, is always in demand. 245 Fries Mill Road, Turnersville, (856) 582-6150
5. Cherry's Ice Cream and Water Ice: Peanut Butter Cup Water Ice. We've tried many selections from here, including the creamy coconut with chocolate chips and the margarita flavor. But then we had the peanut butter cup—and we haven't looked back since. 632 Haddonfield Road, Cherry Hill, (856) 665-7166
Fast Food
Culinary news to chew on Chef Mark Berenato, formerly the man in the kitchen at Tre Famiglia, is on the move. He will soon open da Soli Trattoria Rustica at 116 Kings Highway E. in Haddonfield. The name loosely translates to "alone," signifying Berenato going out on his own, he tells us.
RiverWinds Restaurant in West Deptford already boasted terrific views, but now diners are taking advantage of their expanded and resurfaced patio area, which includes tables for dining and a fire pit for brisk evenings by the Delaware River.
The River Walk Wine Festival, featuring 300 wines plus food and music, will be held on Aug. 6 and 7 at noon at Cooper River Park in Pennsauken. Tickets are $20 in advance or $40 for a two-day pass. NewJerseyWines.com
Chef Fred Kellerman, of Elements Café in Haddon Heights, will host his third annual Feast in the Field at 1895 Organic Farm in Lumberton on Aug. 28. Call (856) 546-8840 for reservations.
Catelli, the popular Voorhees restaurant, has closed its doors in the Main Street complex. The owners are currently scouting for a new location.
You'll find plenty of solid drinks at G Bar, the hip and happening spot inside Giumarello's in Westmont, but what makes happy hour here especially worthy is the well-above average fare offered. Think Blue Point oysters, eggplant Florentine, saffron mussels, meatball sliders and chipotle sweet potato fries—all at even tastier prices, ranging from $1 to $8. You'll find these items Tuesday through Friday from 11:30 a.m. to 6:30 p.m., and on the weekends from 4 to 6:30 p.m. 329 Haddon Ave., Westmont, (856) 858-9400
Fantasy Feast
One day. Three meals.Total satisfaction.
Breakfast: Loaded potato omelet from Ponzio's Diner in Cherry Hill. The potatoes are fried home-style, and centered between two eggs, with bacon, chives and cheddar cheese.
Lunch: Grilled vegetable hoagie from Scaturro's in Marlton. Here, you get a hearty dose of zucchini, eggplant, yellow squash, red onion and tomatoes stuffed into an Italian baguette and topped with fresh mozzarella.
Appetizer: Queso asado from Barcelona Bistro in Pitman. This baked brie and fruit compote starter is a creamy, tart and satisfying way to start your meal.
Entrée: Mixed mushroom risotto from Femmina Italian Grill in Medford. Portobello, shiitake and white mushrooms swim in a pool of brandy cream sauce for an earthy yet elegant main course.
Dessert: Dolce Crema gelato from Forno Pizzeria and Grille in Maple Shade. This local firm closed its Moorestown storefront, but you can still sample their gelati at this Lamberti outpost.
Mixology Monthly
The unofficial drink of Bermuda, the Dark and Stormy is a perfectly suited to the peak of summer. Ori Geshury of Cherry Hill's Mixology Wine Institute tells us the cocktail must be made using Gosling's, a very dark rum with a distinctive charred flavor. Why? Because Gosling's has registered the recipe with the U.S. Patent Office to protect it by law.
Dark and Stormy
1 oz. Gosling's Black Seal Dark Rum
2 oz. Reed's Ginger Beer
Lime
Fill a highball glass with ice, layer in rum and then ginger beer and garnish with a lime wedge.
Published (and copyrighted) in South Jersey Magazine, Volume 8, Issue 5 (August, 2011).
For more info on South Jersey Magazine, click here.
To subscribe to South Jersey Magazine, click here.
To advertise in South Jersey Magazine, click here.