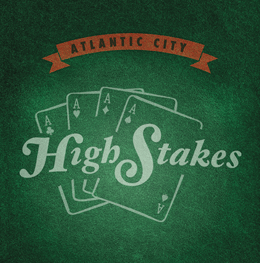 Atlantic City High Stakes
Gov. Christie has gone all-in with a 10-year plan to revitalize Atlantic City through deregulation, a state takeover of the tourism district and heavy investment in a long-stalled mega-casino in town. Will his bet pay off?
"Nobody in their right mind wants to be in Las Vegas in July— nobody." Gov. Chris Christie's face was grim as he stated the obvious to a crowd gathered on the Atlantic City Boardwalk last summer. "We need to have people come here — where they would want to be."
Christie was speaking at a hastily assembled afternoon press conference, called to announce a radical, 11th-hour plan designed to save the iconic South Jersey casino hub from irreparable financial ruin. Since then, he has presided over a historic overhaul of gambling regulations; the creation of a state-run Atlantic City Tourism District overseen by the newly powerful Casino Reinvestment Development Authority (CRDA); and the launch of a 10-year marketing campaign—a unique collaboration with private stakeholders—all designed to restore the fading gambling destination, still the second-largest in the nation, to a serious Sin City competitor. And that's not to mention his $261 million investment in the $2.5 billion Revel Casino project, in return for a 20 percent stake in, what for the past two years, has been a hulking, half-built albatross on the Atlantic City shoreline.
But what will A.C. look like come 2021, after the governor's 10-year push wraps up? Will it be America's favorite playground, or will it feel a lot like, well, Vegas in July?
The way Christie tells it, his grand vision is the only thing standing between Atlantic City and certain disaster. "We see the decline of this industry all around us, and the fact of the matter is, if we don't take steps now, we will not be the ones who presided over its decline: we will be the ones who presided over its death," he said. So, in February, he signed into law the bill that would, effectively, force a complete state takeover of Atlantic City's casino and tourism zone.
Christie points out that A.C. has been playing with a losing hand since 2007, when missed opportunities, an abysmal economy and the appearance of regional competitors colluded to drain the resort of more than a third of its business. Since then, more than $1.5 billion in revenue, hundreds of millions in tax dollars and thousands of jobs have been lost.
But if there was a single precipitating factor, experts say, it was the legalization of table gaming and slots in Pennsylvania, Delaware and other neighboring states.
"A.C. was founded on the casino-gaming model," says Donald Hoover, a professor at Fairleigh Dickinson University and associate director of the International School of Hospitality and Tourism Management. "And that sole focus was acceptable because it had a monopoly east of the Mississippi. But the strength of that concept waned as soon as it faced competition from other states."
When that competition came into play, New Jersey should have diversified. In fact, the subject came up 20 years ago, when lawmakers considered a bill to legalize sports betting ahead of the federal ban. They failed to do so, and missed a critical opportunity. That, says David Schwartz, an Atlantic City native who now serves as director of the Center for Gaming Research at the University of Nevada-Las Vegas, was a move symptomatic of Atlantic City's main weakness: a lack of strategic planning.
"By the mid-1990s, it should have been clear to everyone that there was going to be substantially more regional competition, and that A.C. needed something that no one else had. But for many reasons—some political, some cultural—the indus?try could not lobby successfully for sports betting, which would have been a game-changer," he says.
The deck was even further stacked against casinos' success by outdated regulatory practices. According to Gov. Christie's special advisory commission on Atlantic City, gambling oversight laws in New Jersey come at a cost 10 times higher than those in Nevada and other veteran gaming jurisdictions. That, the commission reported, fostered an "adversarial" investment environment that stymied development and, in turn, depressed revenues.
The CRDA began work in earnest in late April, and has already made a mark on the tourism zone, which stretches from the Boardwalk to Atlantic Avenue, and includes the beach along the northeast inlet, historic Gardner's Basin, the city's main shopping district, the Convention Center, Boardwalk Hall, Bader Field, 10 gateway roads and the Marina District, which houses Golden Nugget, Harrah's and the Borgata. The CRDA controls everything from planning and zoning, to marketing campaigns and infrastructure improvements, to trash collection and public safety. The latter two are among most immediate tasks at hand: Christie wants the zone, if not the entire city, "clean and safe."
Wresting control of a city's downtown from the municipal government may seem drastic, but officials say the move was necessary in order to create a fresh framework that will lure private investors. The payout—should the strategy succeed—will be a significant increase in jobs, development, capital investment and tax revenue, all while pivoting the resort town back onto a growth trajectory.
Funding has been allocated to improve the lighting, security and facade along the Boardwalk this summer. Another recent measure illustrating the start of this new era came last month, when vagrants living underneath the famed wooden walkway were swept out by police and directed to local social welfare agencies.
With state police now patrolling the district, an upgrade to the Atlantic City Police Department's outmoded technology was fairly inevitable as well. Soon, criminal activity throughout area will be mapped and analyzed—a crime-detection first for the city. In addition, a federal grant has been tapped to install mobile computer units in the city's patrol cars. And two new police substations, including at least one on the Boardwalk, are planned.
Also in the works is a master plan to shape the future of the Tourist District. With a primary focus on enticing new investments in gaming and entertainment development, planners are drawing ideas from the progressive turnaround initiatives that have worked in other cities, such as New Brunswick and Las Vegas, combating chronic blight. The document, due by February 2012, will also chart a path for improving public transit options and redesigning traffic flow through the city.
Whatever happens with A.C., one thing is certain. It will no longer be a cash cow that funnels tourism-based tax revenues to projects across the state. The CRDA recently approved a measure that restricts all of Atlantic City's future assets and revenue to the city itself, to fund local initiatives, such as new development near the shopping district, upgrading public spaces and parks, creating an arts district, establishing a supermarket and increasing non-gaming entertainment. For example, visitors to the resort community can look forward to live outdoor entertainment at Kennedy Plaza and Brighton Park, as the CRDA has also approved funding for free public concerts.
It's those non-casino improvements that could make all the difference. "A.C. has the potential to transition into a Vegas-of-the-East model—and quickly," Hoover says. "Nevada has understood for more than a decade that there was equal if not more revenue to be made through non-gaming options and hospitality. Out here, they began to nosedive and had to practically hit the ground before changing course."
"But the most important thing," he says, "is that it's finally happening. We're already seeing the start of a total transformation."
If Atlantic City does manage that kind of turnaround, one key will likely be marketing and advertising. Experts agree that Atlantic City's previous efforts have been rather forgettable. Gov. Christie has publicly criticized the Atlantic City Convention & Visitors Authority for spending too much on salaries and not enough on marketing. Now, the Authority's promotional duties have been usurped by the CRDA, which will market the destination through a public-private partnership. The Atlantic City Alliance (ACA), as it's called, comprises all the major players: Trump Entertainment, the Borgata, Tropicana and Caesars Entertainment, which owns Bally's, Caesars, Harrah's and Showboat.
The ACA will eventually use an anticipated annual budget of $30 million—funded entirely by casinos—to launch robust marketing campaigns that tout the city as a true "destination resort." It will also be tasked with establishing community events, such as food, wine and music festivals, and seasonal celebrations, like Mardi Gras.
Less visible, but just as vital, will be the rollback of New Jersey's notoriously strict regulations. More than 100 gaming inspector jobs have already been eliminated, as have rules regarding things like minimum staffing requirements. In addition, two new casino licenses for smaller resorts, (with only 200 guest rooms, rather than the 500 previously required), have been issued this year.
"Clearing the way for smaller investment opportunities will make a big difference," says Peter Woolley, a political science professor at Fairleigh Dickenson. "If you're going to allow gambling, then allow gambling. It makes no sense to prohibit boutique slot parlors or other small businesses from diversifying the market."
Heavy regulation has crippled many a gambling town, Woolley notes: "Almost every one of them has gotten burned by wanting to have their cake and eat it too. Las Vegas may be the only casino city that has gotten the formula right. It comes down to balancing effective oversight with having a regulatory environment that's hospitable to the industry, so it will continue to invest."
Christie has gotten the memo. In addition to spearheading the march toward deregulation, he has a bouquet of tax incentives ready for potential suitors. And if the result of his sweeten-the-deal strategy for wooing back investors to the half-built Revel mega-resort is any indication of victories to come, he's playing his cards right.
After all, Revel, in the works since 2007, will be the first major casino development in A.C. since the Borgata, claiming 20 acres across from the Showboat. Thanks to Christie's $261 million incentive—and a hefty dose of schmooze to attract new investors—the resort is on track to open next summer. Christie's hope is that it will jumpstart a flurry of other development projects.
While the aggressive revitalization plan is unfolding at a swift clip, climbing out of the red and into the black will likely be a long and arduous process. But industry analysts are quick to praise New Jersey's direct and decisive grab of the wheel.
"If anything, this plan focuses the state on A.C., and that has never happened before," Hoover says. "It's a welcoming sign to most stakeholders, and shows the investment community an unprecedented level of stability in this market. I think the takeover will prove to be a key component in revitalizing the city."
According to the state's own report, the Atlantic City "brand" still has value with customers, despite its shortcomings. And, research indicates that if the reality met visitors' expectations, there'd be sufficient demand to more than double the resort's current revenues. But every potential patron these days has a closer, more convenient place to gamble, warns Jon Hanson, who chairs the special commission behind the report.
"If the city doesn't offer reasons for people to make the trip out, the decline will continue—which is why there is no other choice but to re-establish the resort as a regional destination, complete with attractive non-gaming and hospitality options."
Hanging in the balance are thousands of jobs, millions of dollars in tax revenue and a host of other economic benefits. And that's not counting how much it'll sting if Pennsylvania's scattered casinos knock A.C. into third place among the nation's gaming markets—as they're poised to do sometime next year.
"It's a high-stakes situation and this strategy is being implemented at the 11th hour," Woolley concludes. "Hold your breath: it just might work."
Published (and copyrighted) in South Jersey Magazine, Volume 8, Issue 4 (July, 2011).
For more info on South Jersey Magazine, click here.
To subscribe to South Jersey Magazine, click here.
To advertise in South Jersey Magazine, click here.