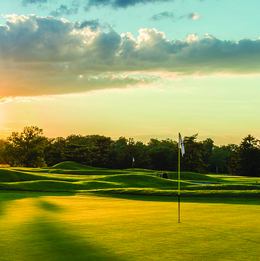 Along the Fairways
A look at the notable changes at some of South Jersey's finest golf clubs.
 When the pandemic took over last spring, folks couldn't wait to get out and about and find a slice of normality to life. Which is why it wasn't surprising that the golf course became such a popular escape once restrictions were loosened and players were welcomed to return. With everyone from regular golfers to those showing an interest in the game clamoring for tee times, area courses have been busy. We reached out to several clubs, both private and public, from across the tri-county region and down the Shore to find out what notable things are taking place for this season. 
PRIVATE
LAUREL CREEK COUNTRY CLUB
Despite the pandemic disrupting wedding plans, Laurel Creek has pivoted to offering "micro" receptions to interested parties looking for a smaller event. This summer, the club is adding two more pickle ball courts and beginning the rebuild of its poolside restaurant which will add more dining space and feature a brick pizza oven. Golf memberships are currently full, but house and social memberships are still available. 
MEDFORD LAKES COUNTRY CLUB
The club added a new roof to its clubhouse and renovated other areas including the bathrooms and the men's locker room lounge. Additionally, James Cunningham has joined Medford Lakes as its new greens superintendent.
MEDFORD VILLAGE COUNTRY CLUB
The biggest news at Medford Village has been the hiring of Greg Matthias as the new head golf professional with Alex Smiarowski coming on board as the assistant golf professional. The club also welcomed Dan Stevenson as its new bar manager. Members can now use the ForeTees Operational platform to access tee times, make dining reservations and more and plans are in the works to expand the current tees to allow for championship length play.
MERCHANTVILLE COUNTRY CLUB
On the dining side of things, Tom Radziak recently became executive chef and is manning the kitchen. Merchantville also launched a new website to better engage visitors and allow for more functionality. The club is hoping to reintroduce its cornhole and bocce leagues this season and it is currently exploring options to add a new state-of-the-art irrigation system.
MOORESTOWN FIELD CLUB
Now possessing a liquor license, Moorestown Field Club has both new indoor and outdoor bar areas which will be under the watch of new bar manager Dawn Rivell. Members will also be able to enjoy the two new bocce ball courts (with evening leagues) and two new pickle ball courts. Moorestown Field Club has also added a new putting green and updated the landscape around the course. The dining area now offers extended hours and new lunch and dinner menus, including expanded children's offerings. 
RIVERTON COUNTRY CLUB
Fairly new general manager Joe Mendez is overseeing the restoration of the course with the remaining holes to be completed over the next year, coinciding with the clubhouse renovation and remodeling. For those interested in becoming a member, nitiation fees and minimums have been waved on the preview programs through June 2021.
PUBLIC
DEERWOOD COUNTRY CLUB
Superintendent Brandon Perrine and his crew were hard at work with several projects along the course, including the removal of more than 200 trees, adding new contours to every grass playing surface and the reclamation of numerous overgrown areas. Perrine also was part of a committee from the Golf Course Superintendents Association of America that helped develop statewide best management practices for the industry. Head golf professional Greg Farrow has also hired all new staff for the pro shop. 
PITMAN GOLF COURSE
After completing a renovation project at the 5th green complex, improvements will continue in 2021 with plans to rebuild the 8th hole in an effort to restore some original features while improving better turf growth and improved drainage. Over at Bogey's, the clubhouse restaurant, new outdoor areas offer guests a chance to sample new chef John Mejlak's menu.
RANCOCAS GOLF CLUB
Garrett Montgomery is Rancocas' new general manager and Gregory Armbruster has also come on bard as the club's new superintendent. Notable improvements encapsulate all of the bunkers along the course being fully renovated and 15 of the 18 holes receiving lots of drainage work. Rancocas is now also owned by the same group that oversees Golden Pheasant Golf Club in Lumberton and The Links Golf Club in Marlton. 
VALLEYBROOK GOLF CLUB
Valleybrook has added new tee boxes on holes No. 1 and 10 and is new offering a new young professionals membership option. Renovations to the facility include improvements and updates to the bathrooms as well as the men's locker room. Meanwhile, new hires include Joe Lazar as executive chef and Brad Miller as the director of golf.
WHITE OAKS COUNTRY CLUB
White Oaks has been acquired by Empire Golf Management, which also manages Centerton Golf Club in Pittsgrove. Mitch Primas will lead golf operations and John Baio Jr. will be the director of agronomy. Executive chef Tom Baglivo has created a new lunch and dinner menu and the restaurant is currently in the first phase of its restaurant renovation that began in January and will continue through the fall.
AT THE SHORE
AVALON GOLF CLUB
The club has recently revamped the entire cart path and made some other notable changes throughout the course, including the bulkhead now found on the hole No. 11. They've also added practice nets by the starter so people can hit before their round and the parking lot has been expanded. New hire Matt Lindolm is now part of the course maintenance crew.  
GALLOWAY NATIONAL GOLF CLUB
To better accommodate those who prefer to spend time outdoors after their round, Galloway National has decided to add a pavilion to its back patio, according to director of golf Jason Lamp. 
GREATE BAY COUNTRY CLUB
The Pub Bar has a new lunch menu and extended hours that run Tuesday through Sunday from noon until 5 p.m. The bar is now also open until 7 p.m. and Friday and Saturday night dinner service has also returned. 
HARBOR PINES GOLF CLUB
Harbor Pines is celebrating its 25th anniversary this year and is in the midst of upgrading and expanding its outside porch and the clubhouse grill. Other planned renovations include a new pro shop, a dedicated grill room and the addition of an outdoor deck for dining and live entertainment. New chef Andrew Cohen has revamped the menu and the club will also now feature daily happy hour specials from 3 to 5 p.m. with half-priced appetizers, $5 cocktails, $4 wines and $2 draft beers.
HIDDEN CREEK GOLF CLUB
Hidden Creek is part of the Dormie Network of golf courses across the country and the company has spent the past year making significant investments to help members get the most out of the onsite experience. To that end, the club will add 36 new beds with three new 12-bedroom houses to the location to complement its eight-bedroom Lodge.
LINWOOD COUNTRY CLUB
A membership is no longer required to be able to dine at the club and all the social events have also been opened up to the public. Last year, Linwood debuted The Fox Den, an al fresco dining option located right on the course. This year, the space will expand with a new bar, additional seating, a fire pit and live music on the weekends. Four new pickleball courts are also being added and a $200 pickleball membership is being offered.
MAYS LANDING COUNTRY CLUB
In addition to adding a fleet of new carts for this year, money is being spent to help improve just about every aspect of the course from the tees to the fairways and greens. In the past the greens have been very sensitive to heat and drainage issues, so the club has been working to address those challenges by introducing some new maintenance practices. 
MCCULLOUGH'S EMERALD GOLF LINKS
This year, McCullough's changed its 10 Round Card program to offer two choices—both cards are redeemed before 8 a.m. or after noon and you may redeem up to two rounds per day. The five-day, 10-round card is valid Monday through Friday and the seven-day option is valid the entire week. 
THE SHORE CLUB
This year the club will spend $2 million in renovations and upgrades to the facility and course, including the installation of a brand-new Toro irrigation system. And the folks behind Peter Shields Inn and Fins Bar and Grille in Cape May will be taking over operations of the restaurant this year with a new concept called Good Lies Bar and Restaurant. 
STONE HARBOR GOLF CLUB
Stone Harbor is currently in the middle of a five-year improvement plan to the course. The most recent projects have consisted of changes to holes No. 10, 12 and 18. The work includes everything from expanding fairways and shifting cart paths to the adding and removing of trees, creating kicker slopes and bunker renovations. 
VINEYARD NATIONAL AT RENAULT
Vineyard National is nearing the completion of an extensive bunker and sand trap repair project that saw nearly all being replaced with new sand, new drainage and a slight redesign of the layouts. The cart path is also undergoing repairs as the course is set to be re-rated by the USGA this spring.
Click here
to subscribe to the free digital editions of South Jersey Magazine.

To read the digital edition of South Jersey Magazine, 
click here.
Published and copyrighted in South Jersey Magazine, Volume 18, Issue 1 (April 2021).