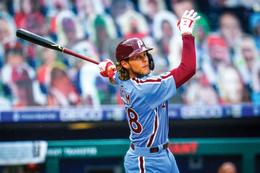 Eyes on the Prize
There may be a lot of hype surrounding Alec Bohm, but the young Phillies third baseman is not letting the pressure affect him.
Baseball fans in South Jersey and the Philadelphia area who live and die with the Phillies have heard this story countless times before. There is always a talented young player working his way up through the organization who promises to be the next big thing, whether he was a high draft pick or someone who dominated at every stop of the minor leagues. But for every homegrown star like Jimmy Rollins or Cole Hamels who turns out to be worth the hype, there seem to be 10 Maikel Francos or Tyler Greens who fizzle out after a few seasons and never reach the level they were projected to.
It is way too soon to tell which path third baseman Alec Bohm will end up taking, but at this point it is safe to say that the hope of a beleaguered fan base is warranted. After getting called up to the majors last August in a 2020 season shortened by the pandemic, the No. 3 pick of the 2018 draft went on to slash .338/.400/.481 with 23 RBIs in 44 games, tying for second in National League Rookie of the Year voting. Bohm reminded fans of Chase Utley with his quiet intensity, Jayson Werth with his lanky frame and flowing locks, and Rollins with his ability to deliver in the clutch.
No less an expert than Bryce Harper was impressed with the 24-year-old's first season in red pinstripes. He called his young teammate "a possible MVP" in the future, and Harper should know, considering he won the award himself in 2015.
"To hear that from a guy who's done it, it definitely fires you up," Bohm says. "It makes you think about all the stuff you've done. You like to think you're good as a player but when other people recognize you and a guy that good gives you a tip of the cap, it's pretty special. Those are the kinds of things that keep you pushing forward and keep you going."
If Bohm is feeling any type of pressure by the expectations thrust upon him by Harper's prediction or the hopes of Phillies fans, he does not show it. On the field he has the same demeanor whether he just struck out or drove in the winning run with a walk-off single, and in a recent interview heading into his sophomore season he took the same approach, choosing his words carefully and making sure to stay humble and respectful. Perhaps those values come from his Midwestern roots, as Bohm grew up in Omaha, Nebraska, and starred in college at Wichita State University before coming to the Phillies.
His laid-back personality should not be mistaken for indifference, however. Bohm clearly intends to leave his mark on the game and has lofty goals for what he hopes will be a long career in Philadelphia. He spoke with us about his memorable rookie season, his desire to explore around the Delaware Valley and his charitable foundation.
SOUTH JERSEY MAGAZINE: How was your offseason? Were you able to get back home to Nebraska?
ALEC BOHM: I spent a month or two in Nebraska and then I came back [to Florida] in December. I didn't do a whole lot. I went and saw a couple of buddies but most of it was spent at home, relaxing and enjoying some down time and working out.
SJM: Coming into this season you knew you were going to be the third baseman and hitting in the middle of the lineup. Did it feel different compared to this time last year, when you were still trying to establish yourself as a big-leaguer?
AB: In that sense, I guess it did a little bit. There's a little bit less unknown because I got my feet wet and that sort of thing. Now I'm more focused on proving it and backing up what I did in the short sample size last year and carrying it over and having a strong full season.
SJM: Looking back, it was a crazy year to make your debut with the pandemic going on and no fans in the stands. Were you just happy to get the call-up last August, regardless of what was going on around you?
AB: Yeah, definitely. I was just happy to be playing baseball in general. On top of that I was grateful I was able to get to the big leagues and play last year and get that experience. It was strange going from being at the alternate site and not really playing a normal minor-league season and all that. … [My first game with the Phillies] was really my first game all year other than spring training. It was pretty crazy but still a good experience even with all the restrictions.
SJM: You doubled in your first career at-bat, and even though your family wasn't able to see it in person, there's a great video on social media of your parents and girlfriend celebrating. Was it special to see how they reacted to that moment?
AB: It was really cool. It was kind of a bummer that nobody could be there and all that but at the end of the day, it is what it is and you have to take what you can. I had a bunch of people reaching out and congratulating me and I was grateful for it.
SJM: In your rookie season you quickly made a name for yourself by hitting in clutch situations and using the entire field. Has that always been your approach at the plate?
AB: Yeah, it has. I was pretty happy with how I did. My mindset every day was to go up there and have a good at-bat. Whatever happened in that at-bat, it was done so I moved on to the next one. I tried to string together good at-bat after good at-bat and stay productive every time I walked up to the plate to help the team. It's a pretty deep lineup so all I needed to do was find a way to get on and keep the lineup moving. There's plenty of people behind me to move me around. I didn't try to do too much and that's always been my approach, but even more so last year. I wanted to stay relaxed, be myself, not try to do too much and take what they gave me. You can't try to hit a five-run homer or get three hits in one at-bat or do anything super special. I tried to keep it simple and do what got me there. Of course, I'll make adjustments when the game tells me I need to. That's the way I look at it.
SJM: Is there pressure playing third base for the Phillies since Mike Schmidt, arguably the greatest third baseman of all time, played for this organization? Have you ever met him?
AB: I have met him up at the stadium, probably a couple years back now. He is arguably one of the best third basemen ever, but honestly I don't feel any pressure from that. I see it as more of, we had the guy in our organization who paved the way and left a pretty good path to show guys how to do it. I have that to lean on more than pressure.
SJM: Do you feel most comfortable at third? I know you've played some first base too.
AB: I have played some first base and I'm not uncomfortable there but I would say I'm more comfortable at third. I've played it more in my life.
SJM: What have you learned from being around veterans like J.T. Realmuto, Bryce Harper, Andrew McCutchen and Didi Gregorius?
AB: Lots of stuff. The one thing I really get from those guys—they're MVPs, they've been to All-Star Games, they've won, they have all the personal achievements you can think of—but above everything they teach us younger guys that no matter how good you are, they're still really good people and great teammates and care about you. That's what I've taken away from those guys. No matter how good they are and what they've done and how much money they make, they're still really good people in general outside of the game.
SJM: It seems like a good mix of veterans like that and young, up-and-coming players like you.
AB: For sure. It's a really good clubhouse and everybody gets along. For me being a young guy and this being the first group I came up around, I feel really lucky because they were too good to me. Whenever you need something, they can just tell.
SJM: When did you first start to have this dream of becoming a big-leaguer?
AB: I don't really have that cliché story, per se. I played all the other sports growing up, but when it was the offseason for baseball I was still playing baseball and doing baseball work. When it was the offseason for the other sports, I wasn't playing those sports or practicing those sports. I always put more focus into baseball and I guess coming through high school I realized I could keep playing. I stopped the other sports and kept playing baseball and I wanted to play as long as I could. I just kept going and here we are.
SJM: Did Wichita State do a lot to prepare you for this opportunity?
AB: Yes. I learned a lot at Wichita, grew up there and did all the things I needed to prepare for professional baseball there. The coaches were good at not letting you get complacent. Whenever you heard things or saw rankings come out, they would never let you think you were too good. They really kept you in line and made you work every day. I got a little bit of that pro ball atmosphere; just the routine of showing up every day and working. I got exposed to that more so in college than I think you can at a lot of places and I think that's something that really prepared me for the next level, for sure.
SJM: You have those Midwestern roots from where you grew up and where you went to college, but how are you adapting to the East Coast? Have you gotten to explore Philadelphia and South Jersey yet?
AB: I didn't get a chance to explore much last year. I was just going from the park to the hotel to the bus. I didn't get out too much but it's real easy adjusting to Florida [for spring training] for a Midwest guy, no doubt. … One of the fun parts about what we do is we get to travel around and explore and see a lot of cool, different places. I'm looking forward to seeing some stuff I haven't seen yet.
SJM: You're going to have some great road trips this year, including one in July when you go right from Wrigley Field in Chicago to Fenway Park in Boston.
AB: We made a two-day stop at Fenway last year and that was really early. I think it was one of my first road stadiums. That was really cool getting to check that out up close and personal. I always imagined what it was like being on these fields instead of seeing it on TV and it's really cool being able to step into these places you've seen from afar.
SJM: Did you know much about the Phillies from their great years with Chase Utley, Jimmy Rollins and Ryan Howard?
AB: Yeah, everybody watched them because they were winning and they were in the World Series. I wasn't necessarily a fan but I remember seeing Ryan Howard hit homers. It was a fun team to watch. Top to bottom, they were pretty good.
SJM: Have you thought about playing in front of crowds like they did during playoff baseball?
AB: Oh yeah, the atmosphere looked unreal for those World Series games. That's something we all dream about.
SJM: What are your interests away from the game?
AB: Right now you're just kind of stuck with your thoughts and whatever you have inside your place. I watch a lot of sports now that it's back and I enjoy that. I play some video games. But [I haven't been doing] a whole lot recently. I get outside and do some fishing and that sort of stuff.
SJM: What is the first thing you'd like to do when the pandemic is over?
AB: I actually like my alone time. I like being low key and just hanging out. I stay away from the busy, fast-paced stuff and do my own thing. Obviously, nobody likes this but it hasn't really thrown a wrench in much of my plans now that we can play. When baseball wasn't here I was staring at the wall, beating my head against it and wondering what I was going to do. But now it's all good.
SJM: You had the makings of a Jayson Werth-style haircut last year. Is that something you're going to stick with as a good luck charm?
AB: It's not short but it's not super long right now. It's a little bit in between. I cleaned it up getting ready for the new year and I'll let it go and see where it gets this time. I don't really ever have a plan. Sometimes I wake up and I'm tired of it so I decide to get it cut that week. When we were playing 50 games or 55 games [in college] you could ride the wave and not get a haircut all season so it wouldn't mess with your mojo. But when you're playing for six, seven or eight months, it's a little tougher.
SJM: I wanted to ask you about the Alec Bohm Foundation, a charity you started with your parents. What was the inspiration to do it?
AB: I have this platform and the ability to do it, and there are little things I can do here and there that might not make a huge difference, but they might end up making a huge difference. Anything that I can do to help people who need it, I've always felt that's something I should do and it's something I want to do. I like helping out with my old [high] school, doing stuff for them. Seeing how excited people get and how appreciative they are, even if it's just some jackets for the high school team or whatever, I enjoy that. Fans can get some memorabilia out of it. I don't just want to sell my stuff, but you can make a donation and get [a jersey or ball]. It kind of pushes other people to do the right thing and help out where they can. I'm looking forward to [it growing]. Hopefully, it turns into something that can make a difference for people.
SJM: It seems like your parents have had a huge influence on you with the charity and obviously overall as well.
AB: I'm an only child so it's just them and me. They've done a ton for me going back all the way to when I was 8 years old, driving me to tournaments and getting all the baseball equipment and spending all those hours with me. I really appreciate everything they've done for me.
SJM: Can we expect to see them at Citizens Bank Ballpark this year?
AB: They'll be there the day before they're allowed. They're itching to come. They were really bummed last year so they're excited. They drove me to tournaments and watched my whole life, and last year they weren't able to watch so they didn't know what to do.
Click here to subscribe to the free digital editions of South Jersey Magazine.

To read the digital edition of South Jersey Magazine, click here.
Published and copyrighted in South Jersey Magazine, Volume 18, Issue 1 (April 2021).
For more info on South Jersey Magazine, click here.
To subscribe to South Jersey Magazine, click here.
To advertise in South Jersey Magazine, click here.