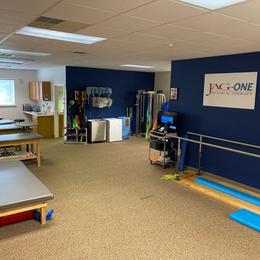 Stronger Than Ever
JAG-ONE Physical Therapy brings its commitment to clinical excellence and patient-focused care to the South Jersey region.
Rudy Christopher has lived and worked in South Jersey for most of his life. Now, after more than two decades as a private physical therapist, he is now a member of JAG-ONE Physical Therapy, one of the state's largest New Jersey-based providers. He is a vital part of the team integrating JAG-ONE's award-winning physical therapy care into the South Jersey market.
The Medford resident and community fixture has treated a variety of patients from professional athletes to grandmothers at the various South Jersey and shore locations of his company, Integrity Physical Therapy and Integrity Rehabilitation; in December 2020, those Integrity locations joined the JAG-ONE Physical Therapy family. Such a move provided South Jersey residents the unique opportunity to retain Integrity's personalized care and community model yet greatly benefit from the expertise and resources that a larger company such as JAG-ONE can offer to every patient and community member.
"I want people to sense and ultimately know that they are in the right place for their rehabilitation. Physical Therapy in itself is challenging; patients need to understand that they will be receiving the highest quality care while having fun on the road to recovery," Christopher says. "They will receive state-of-the-art, clinically excellent care in an environment that not only will be enjoyable but also foster the energy to drive a patient to work to achieve the JAG-ONE tenet to 'Get back to the life you love.'"
Having established its reputation in northern New Jersey and New York over the past two decades, JAG-ONE's acquisition of Integrity presents an opportunity for the company to expand its resources in South Jersey, providing local communities access to an in-network, unparalleled physical therapy experience. It's a partnership that Christopher is thrilled about.
"JAG-ONE is all about the people," he says. "And it's a clinician-run practice. Clinical excellence and clinical care are very important to them, which was important to me in finding the right partner."
Big Names, Personal Treatment
One of JAG-ONE's biggest appeals was that Christopher could continue prioritizing patients' personalized care. Another was its notable names: Befitting a client roster that includes professional teams such as the New Jersey Devils and New York City FC, JAG-ONE has a dream team all its own.
JAG-ONE Physical Therapy CEO, John Gallucci Jr. is a frequently sought medical expert who's shared his insights on national news platforms such as ESPN and is currently Major League Soccer's medical coordinator. Senior Regional Clinical Director, Jim McNulty, started his career with renowned sports-medicine figure Pat Croce. McNulty has worked with Philadelphia's professional and collegiate teams, including more than 20 years with the 76ers' as team physical therapist as well as director of sports medicine.
It is McNulty and Christopher who are primarily growing the practice's presence in South Jersey.
"What excites me about JAG-ONE is the vast spectrum of clinical leadership and expertise," Christopher says. "John is a noted author and has led the company to be the most-awarded physical therapy practice in the tri-state area. And although Jim won't toot his own horn, he's a tenured sports medicine clinician with vast experience in treating patients of all ages and abilities, including his long-standing role in professional sports with the 76ers."
With its team's extensive experience, JAG-ONE understands the agony of being sidelined as a professional athlete or individuals eager to return to work or their hobbies. It helps guide patients' expectations and convey the long-term benefits of a short-term pause.
"If you explain all the reasons why they will not play tomorrow, but there is a plan supported by outcomes data of thousands of patients before them, 95% of them appreciate it and understand the process," Christopher says. "It helps to put yourself in their shoes as much as you can."
Physical Therapy as a Team Effort
As individuals may seek the intervention of a physical therapist to assist with an injury or dysfunction as the first source of medical intervention, it is crucial to establish a trusting two-way relationship with all patients, as the patient is a key component of the rehabilitation team. Knowing as much about a patient as possible provides not only the emotional support they need but also a better understanding of their overall goals.
"It's really important to us to become part of that team, not just with the person themselves, but also with their health care practitioner and specialists," Christopher says. "Once people know we're all on the same page for their benefit, it goes a long way."
And if rehabilitation services aren't right for someone, JAG-ONE will advise them on what is.
"Physical therapy isn't the answer to everything, so we'll do an evaluation first," he explains. "If we can assist you to 'get back the life you love,' we will. We have developed a strong network of various health care providers ranging from physicians, massage therapists and alternative medicine providers who assist our team to ensure a positive rehab experience: If we can't help someone get to their goals, we're going to help them find someone who can."
JAG-ONE also offers community initiatives, teletherapy, training programs and educational opportunities beyond therapy. They facilitate even more support around an individual, while also empowering them to have more control over their well-being.
Working Within the Community
Christopher praises Burlington County's "family atmosphere" and remains committed to serving as a medical resource to the local community. JAG-ONE Physical Therapy prides itself as an in-network provider for physical and occupational therapy and encourages the community to take advantage of direct access, allowing you to schedule an immediate appointment at any one of our locations.
After all, integrity is still the name of the game.
"My core values, which really line up with JAG-ONE Physical Therapy's mission, are to always do the right thing, do your best and take care of each other," Christopher says.
JAG-ONE Physical Therapy
JAGONEPT.COM
Click here to subscribe to the free digital editions of South Jersey Magazine.

To read the digital edition of South Jersey Magazine, click here.
Published and copyrighted in South Jersey Magazine, Volume 18, Issue 1 (April 2021).
For more info on South Jersey Magazine, click here.
To subscribe to South Jersey Magazine, click here.
To advertise in South Jersey Magazine, click here.