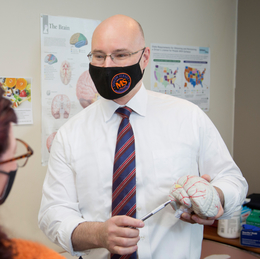 An Expanded Level of Care
With the introduction of Transcranial Magnetic Stimulation, the South Jersey MS Center at Bromley Neurology increases its state-of-the-art treatment capabilities.
When Dr. Steven Bromley founded the South Jersey MS Center at Bromley Neurology back in 2015, he did so with the grand vision of being able to provide expert, personalized care to the region not only for multiple sclerosis but a wide range of neurological disorders. It was his mission to improve the quality of life for his patients, knowing firsthand that their ailments can often be debilitating and make everyday functions a real struggle.

Fast forward to 2021 and Dr. Bromley has achieved that goal and much more. With five clinicians over three locations, his vision has blossomed into the largest private practice for neurology in South Jersey and earned a national reputation for offering groundbreaking treatment and therapies for a variety of conditions that affect both the nervous system and immune system. MS being a classic example in that the person's own immune system attacks the brain, brain stem and spinal cord.
South Jersey MS Center operates like an urgent care for patients who can stop in whenever they are having trouble. It also has one of the largest, private infusion suites in the state and can infuse anything from normal saline for hydration to vitamins for immune system support and a range of medications, including the newest biologic immunotherapies.
"The idea that your own immune system is the enemy is problematic because you don't want to treat it by destroying your immune system," Dr. Bromley says. "The newest drugs are biologic in nature, which means they essentially are proteins just like we have in our own body. They're monoclonal antibodies that target some specific aspect of your body, and then your own immune system kicks in and helps you along."
And though a large focus of the practice centers around treating MS, his highly skilled team holds multiple board certifications and manages all kinds of complex neurological conditions from seizures to dementia, neurodegenerative disease, movement disorders, migraines and neuropsychiatry. "We are also proud to say that we are the doctors for other doctors, and the level of our care is respected in the medical community," Dr. Bromley says.
In fact, the center has been the first in all of New Jersey to provide many cutting-edge therapies for its patients, including Intravenous Biological infusions and phase IIIb trial medications. More recently, the practice continues to stay on the cutting edge with the introduction of Transcranial Magnetic Stimulation (TMS) therapy and its new TMS Care Center.
This state-of-the-art treatment is a painless, non-invasive therapy designed for people with chronic treatment-resistant illness.
"It is for people who can't tolerate or don't get help with routine medications," explains Dr. Bromley. "It can be effective in treating OCD, neuropathic pain, migraines and even dementia."
TMS is also FDA-approved for use to help treat major depression, which has been a game changer because anywhere from 10 to 30% of depression patients never respond to anti-depression drugs at all. TMS therapy helps with these treatment-resistant patients, providing up to 70% improvement and over 40% with full remission.
"Used effectively, TMS is extremely safe and well-tolerated," says Dr. Bromley. "It is a brain stimulation technique using strong magnetic fields—like those used in MRI machines—over the scalp in very specific areas. TMS does not require surgery or implantation of electrodes. One simply has an electromagnetic coil placed against the scalp. Then, the electromagnet painlessly delivers a magnetic pulse that stimulates underlying nerve cells of the brain."
A standard treatment takes minutes, requires a number of sessions to maintain the effect, is medication free and allows one to continue with their normal activities immediately after being treated.
"This therapy is revolutionary," Dr. Bromley says. "Many of our patients are already on too many medications. The goal is to get them off of these. It is nice to have a safe and effective non-drug way of changing brain chemistry and potentially improving patients' conditions and their lives."
It's just another example of the quality care being offered by the South Jersey MS Center and how Dr. Bromley is helping give patients a whole new outlook on life.
"With access to modern therapies, there's no reason to not live a long, happy, normal life. As I tell my patients, if you remain on top of things and do what you need to do to take care of your body, you can do well. I want them to take control of the disease and not let it control them. The only way to do that is to have access to the modern tools available to treat it."
South Jersey MS Center and TMS Center at Bromley Neurology
Locations in Audubon and Linwood | (856) 546-2300

Click here to subscribe to the free digital editions of South Jersey Magazine.

To read the digital edition of South Jersey Magazine, click here.
Published and copyrighted in South Jersey Magazine, Volume 18, Issue 1 (April 2021).
For more info on South Jersey Magazine, click here.
To subscribe to South Jersey Magazine, click here.
To advertise in South Jersey Magazine, click here.