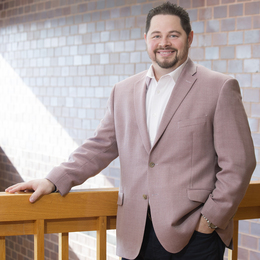 Sponsored Content: A Winning Combination
The path to a loan may come with obstacles, but Chris Murray and his team at CrossCountry Mortgage act as trusted guides on the journey.
As a former all-state baseball player at Cherokee High School who went on to a Division I college career at George Mason University, Chris Murray knows all about handling pressure. But instead of staring down a fearsome hitter from the pitcher's mound or trying to work his way out of a bases-loaded jam, these days he is using the lessons he learned from those tense situations to help people navigate the stressful process of buying a home.
Murray, a loan originator with more than 15 years of experience in the mortgage industry, is the point person for The Murray Team at CrossCountry Mortgage in Moorestown. His diligent work ethic and compassion are crucial assets for those preparing to make one of the most significant purchases of their lives.
"I take an empathetic approach because it's a major milestone in someone's life no matter how many times they've done it beforehand," he says. "This is the place they will call home, it's a major financial commitment and it's a process they may not fully understand. When you mix all of that together it brings out a lot of emotion. We help them manage those emotions and get from point A to point B as smoothly as possible."
Like many in the industry, Murray did not necessarily plan on becoming a loan officer but was offered an opportunity in 2005 when a friend opened a mortgage company in Delaware. He quickly discovered a passion for the field and took great pride in being a trusted guide for clients during each step of the journey.
In May 2019 Murray joined CrossCountry, a nationwide, full-service lender with a sterling reputation, and he continues to be available at all times for his customers while stressing the importance of open communication. Having endured the ups and downs of the profession—from the recession in 2008 to the current COVID-19 pandemic—he is ready to offer a solution whenever an issue arises.
"It's a huge help having been through thousands of transactions at this point," he says. "I think that experience is so important because you can genuinely explain things to people and confidently tell them what they're going through is normal.
"The most valuable information I can provide to my clients is that which allows them to make a clear decision. I find that anxiety levels really drop when people feel they have control of the numbers. When they understand what's going on, why it's going on and what the guidelines are, they don't feel like they're being sold a bill of goods."
That transparency is clear from the very first consultation with Murray, when he often has to break down the myths about getting a mortgage, namely that putting 20 percent down is always required or that you need perfect credit. Rather than just punching numbers into a computer program, he can explain what type of loan may be best for a particular client and consider their monthly budget.
"You have to engage in the mortgage process and having a professional to walk you through is really important," he says. "Clients need guidance on what documents are needed, why they're needed and when they're needed. We also share with them how much power they have in getting to the finish line. We must give proper direction but we need their cooperation too, and with that the process can become very smooth."
Murray believes a thorough pre-approval is key to providing a clear picture of the loan and an understanding of any issues that must be addressed. "One of my pet peeves in our business is that sometimes the pre-approval letter can be treated without the care that it needs," he says. "The pre-approval is what sets everything else into motion. When the proper information is gathered and the important questions are answered, it sets the boundaries for the sales price range, allowing the client to make an offer on a home and move closer to their dream."
Eric Guggenheim, a financial advisor at Ameriprise Financial, met Murray several years ago through a business networking group and has referred many of his own clients to work with him when buying a new home or refinancing a mortgage.
"Believe it or not, there aren't many people who have a loan officer, so it's extremely helpful to recommend someone they can trust," Guggenheim says. "Chris always receives great marks from my clients. Whenever there is an issue it's resolved quickly and to their satisfaction, and that's the important part to me. Issues are always going to arise; how they're handled is the separator."
Murray credits his team for having the same commitment to service, and the collaborative approach includes defined roles for each member. Together, they are ready to assist clients in a hot market with historically low interest rates.
"Whether it's a first-time homebuyer, a person buying a second home, someone buying an investment property or someone looking to refinance, we have a suite of products that cater to a lot of different scenarios," Murray says. "We want nothing more than to see them at the closing table. Understanding the ride they are on during this process, we will be there to hold their hand as long as they need it."
The Murray Team | CrossCountry Mortgage
302 Harper Drive, Suite 301 | Moorestown
609-922-2630 |
MurrayMortgageTeam.com
NMLS251895
Click here
to subscribe to the free digital editions of South Jersey Magazine.
To read the digital edition of South Jersey Magazine,
click here.
Published and copyrighted in South Jersey Magazine, Volume 17, Issue 10 (January 2021).
For more info on South Jersey Magazine,
click here
.


To subscribe to South Jersey Magazine,
click here.


To advertise in South Jersey Magazine,
click here.