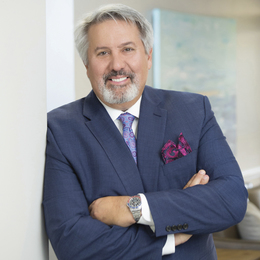 Sponsored Content: A Skilled Advocate
In lieu of false promises, personal injury attorney David Karbasian vows to fight for his clients with honesty and integrity.
In the competitive field of personal injury law, many attorneys will make outrageous claims about the large settlements they can deliver or try to gain attention with flashy commercials on television. That approach has never been David Karbasian's style, however. Nearly three decades into his career, he prefers to stand out with a proven track record, a dogged work ethic and a determination to stand by his clients.
"I think what people like about me is that I'm not going to falsely promise them that they can collect millions like some of the lawyers you see on TV do," he says. "I've had those cases, however, not everyone has the same case or the same injuries. What I do promise clients is that I will fight for them.
"I try to be a calming influence on them, explain the process and that it takes time. They get hurt through no fault of their own and all of a sudden they're in pain; they can't work and they don't know how they're going to pay their bills. It's a battle of attrition as insurance companies will try to wear you down. You have to be patient and prepared to be in it for the long haul."
It is clear that Karbasian has the same passion for his job today as when he first graduated from law school 28 years ago. After working as a defense attorney for insurance companies, he joined a plaintiffs' firm before founding the Law Offices of David J. Karbasian, PC, to focus on personal injury for those injured in car accidents, slips and falls, construction site accidents, animal attacks and in any other ways.
Having worked on both sides of the aisle and participated in a wide range of cases, his breadth of knowledge goes a long way for clients facing a turbulent period of their lives and an uncertain future.
"I always wanted to start my own firm and use my experience to help people," Karbasian says. "I finally took my shot in 2005, opened up my firm and it has been very rewarding.
"My experience as a defense attorney is absolutely a benefit to my clients. I understand the insurance carriers: what they do, when they do it and why they do it."
Although some people are hesitant to contact an attorney because of the cost, Karbasian's consultations are always free. Even after an agreement has been signed, if the client's physical and mental condition improves and his services are no longer required, he will gladly move on knowing he or she is well.
But he stresses that it is crucial to reach out immediately in the aftermath of a personal injury, such as a fall in a supermarket.
"That is very important because then you have the opportunity to preserve evidence, retain an expert and get him or her out there to assess the site," he explains. "A lot of times they make corrections or repairs afterwards because of course they don't want anybody else to get hurt. They also sometimes cover things up, so it's important to get someone out there right away."
After Karbasian has taken a case, he commits fully to it and is accessible to his clients for the duration, keeping them informed throughout each step of the journey. He is not afraid to represent his clients in Court and take the case to trial.
"You have to let insurance carriers know that you are willing to try the case," he says. "I'm a big believer that once you're in for a penny, you're in for a pound. I'm all in once I take your case."
Karbasian, who also offers representation for traffic tickets, DUI offenses as well as for victims of nursing home neglect, believes in giving back to the community as well. He was named 2019-20 Knight of the Year by the Knights of Columbus Council 6520, a prestigious honor that recognized his service to his community and his contributions to a number of charitable causes.
"I have always done by best to help those less fortunate." he says. "That carries over into my practice too. I strive to get my clients the best results possible."
Law Offices of David J. Karbasian, PC
900 Kings Highway N., Suite 308 | Cherry Hill
856-667-4666 |
KarbasianLaw.com
Click here
to subscribe to the free digital editions of South Jersey Magazine.
To read the digital edition of South Jersey Magazine,
click here.
Published and copyrighted in South Jersey Magazine, Volume 17, Issue 10 (January 2021).
For more info on South Jersey Magazine,
click here
.
To subscribe to South Jersey Magazine,
click here.


To advertise in South Jersey Magazine,
click here.