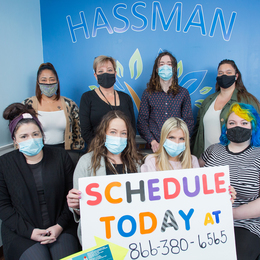 Sponsored Content: Moving Science Forward
Hassman Research Institute continues to play an important role in the development of new medications and therapies, including COVID-19 vaccines.
Hassman Research Institute (HRI) is a leading clinical research organization based in South Jersey, with two large campuses in Marlton and Berlin. They have over 35 years of experience in conducting clinical trials with the mission to always improve the quality of life for all patients that they serve.

Clinical trials are vital to developing new medications and therapies to improve patient care. Before a new drug is FDA-approved it must be thoroughly researched through a phase process. Hassman Research Institute is a part of that important research process by conducting clinical trials, which are studies that are done in people to determine the safety and efficacy of drugs. Their expertise and experience in clinical trials has led them to be awarded various Phase III COVID-19 vaccine trials. "The focus, as always, is to ensure the vaccine is safe while also being effective in protecting participants from COVID-19," says Dr. Howard Hassman, Chief Scientific Officer at HRI.
Clinical research on a COVID-19 vaccine is bringing our world hope. Multiple pharmaceutical companies have publicized that their vaccines showed positive high-level results from their Phase III clinical trials. The vaccines that are available now received emergency FDA authorization. Some of the vaccines proved to be up to 90-95% effective, which are high efficacy rates. While it may have been overlooked before, these COVID-19 vaccine trials truly highlight the importance of clinical trials in advancing medicine. HRI is excited to continue their COVID-19 research studies and be a part of this amazing work that can positively affect people's lives. "It is a wonderful time to be in research. We are all excited to be on the forefront and cusp of a revolutionary vaccine that literally can change the face of the earth. I hope that our work will help save lives," says Dr. Michael Hassman, Medical Director and Principal Investigator for HRI.
All the employees came together to make this clinical trial possible in an efficient and safe way. Their teamwork has allowed them to enroll a large volume of patients in a short amount of time, all while following COVID-19 safety guidelines. Continuing to research this virus and possible vaccines is pivotal, and HRI is so thankful to those who have participated in their COVID-19 trial thus far. Scientists and researchers would not be able to successfully develop a safe vaccine at such a quick rate without all the volunteers.
While the COVID-19 vaccine research is of the utmost importance right now, HRI continues to conduct trials in a number of other significant areas.

All of their research is focused on psychiatric and general medical ailments, including but not limited to schizophrenia, bipolar disorder, major depression, post-traumatic stress disorder, generalized anxiety disorder, addiction, dementia, Parkinson's, diabetes, migraines, Asian-bridging (where they study the safety, absorption, metabolism, and excretion of a compound targeting different Asian sub-cultures) and many other diagnoses. They also conduct Phase I research that targets healthy volunteers to explore if a compound is safe for use among humans.
For all of their studies, participants are compensated for their time and HRI offers free transportation.

If anyone is interested in participating in a COVID-19 clinical trial, they can easily contact a recruiter at HRI at 1 (866) 380-6565 to get more information. They can also visit HRITrials.com to learn about all their current enrolling studies.
Hassman Research Institute
A Division of Apex Innovative Sciences
175 Cross Keys Road | Berlin
401 Route 70 N., #100 | Marlton
856-566-9000 |

HRITrials.com
Click here
to subscribe to the free digital editions of South Jersey Magazine.
To read the digital edition of South Jersey Magazine,
click here.
Published and copyrighted in South Jersey Magazine, Volume 17, Issue 10 (January 2021).
For more info on South Jersey Magazine,
click here
.


To subscribe to South Jersey Magazine,
click here.


To advertise in South Jersey Magazine,
click here.