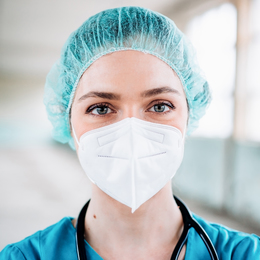 What Lies Ahead
Though the pandemic drastically changed 2020, a look at the tri-county region shows reason to be optimistic about the future.
If there's one lesson that 2020 taught us, it's that life is highly unpredictable. But while the COVID-19 pandemic has had a direct effect on all of our lives, there is hope on the horizon as vaccines and other medical treatments continue to advance. So, we made our way around the tri-county region to see what exciting new developments are in store for 2021 and to find out how resilience and resolve are propelling the South Jersey region forward.
In 2020, New Jersey's largest county continued to see economic growth in housing, transportation and warehouse distribution, and the trend should continue through this new year.
"Assisting small businesses in Burlington County and helping new ones launch or move into our county has been a major priority for the board of county commissioners and the Bridge Commission, and we're proud of the county's record of success. Even with the economic devastation the pandemic caused, we had many new businesses open here last year," says Burlington County Commissioner Director Felicia Hopson.
Commercial development in the area of e-commerce and distribution has been a major economic driver, with 21 new warehouses and distribution centers totaling more than 9.75 million square feet of space completed or underway in 2020. The county highlights

organic produce and foods distributor Misfits Markets' new 245,000-square-foot, state-of-the-art center in Delanco and the 913,000-square-foot Prologis distribution center that opened off Route 130 in Burlington Township as two major completed projects.
Burlington County Regional Chamber of Commerce President Kristi Howell says the county's turnpike and Route 295 access points, as well as the responsiveness of the communities, make it the ideal hub for these projects. However, she also states that demand for certain towns has changed.
"Marlton and Mount Laurel are always in demand, but due to COVID-19 demand has changed," she says. "The need and desire for office parks is fading, but transportation and logistics are growing. Florence and Burlington Township continue to be great locations and are in demand. Burlington City is completing riverfront housing and [is focused] on revitalizing High Street with efforts to bring that walkable downtown community. These are definitely towns to watch," she says.
Howell's reference to Pearle Point Apartments, a 184-unit luxury complex on the Delaware River waterfront in Burlington City, is one of 17 housing
projects in various stages of development that will amount to more than 3,800 future homes, apartments, condominiums and townhouses. This also includes The Gables at Mount Laurel,

a 500-unit residential development under construction off Marne Highway and Hartford Road.
Mayor of Moorestown Nicole Gillespie says there are plans to transform parcels of Moorestown Mall into a mixed-use complex with residences, a hotel and the potential for medical facilities. "We'd like to create a town center experience on that property," she says.
Centerton Road in Moorestown will soon see a luxury 55-and-over project called Parkers Bend Retirement Community, spanning 32 acres with 130 units. Additionally, to meet its affordable housing quota, the town will have an 82-unit, 100% affordable housing development behind Parkers Bend called Heritage Village.
A DOT grant is going toward a face lift in the Lenola region of Moorestown—adding trees, redoing sidewalks and installing bike lanes—giving it a downtown feel. "We're awaiting final design approval soon and construction will begin late this year or early 2022," says Gillespie.
While there is much to look forward to, businesses in the community have not been without their challenges as a result of the pandemic.
"We know our businesses have struggled during the health crisis and we're taking action to bring them more help. Through the Burlington County Bridge Commission, the county offers businesses impacted by the pandemic zero-interest loans to help them retain jobs and pay for pandemic-related expenses, and we are now pursuing funding for direct business grants and housing assistance. The county is also helping to promote our small businesses with our Shop Burlington County First initiative, the return of Burlington County Restaurant Week in 2021 and a Winter Holidays in July promotion," Hopson adds.
Despite the pandemic putting a strain on the health care systems and economy, Camden County is thriving in several ways. Several new businesses didn't let the coronavirus stop them from opening in 2020, several new projects are on the horizon for 2021 and county officials are full speed ahead with combatting COVID-19.
Jefferson Health-New Jersey completed its new Patient Pavilion at Jefferson Cherry Hill Hospital at the end of 2020. This multi-year, $250 million campus transformation features 90 all-private rooms and advanced technology aimed at improving patients' comfort and convenience.
"Our Cherry Hill hospital is a total transformation of the campus," says president and CEO, Brian Sweeney. "It's been a project over four years and had numerous phases. First was the parking garage and then the physician offices, all built for specialties like GI, ENT and a surgery center was built as well. And then the hospital, which has a campus feel and offers all the services any community member needs. Whether it's ambulatory, surgical or requires a stay in the emergency room, it's all there in one place, close to home."
"This pandemic has shown that we need to be prepared for anything, and it's tremendous that our three main health care systems—Cooper, Jefferson and Virtua have all made the investments necessary for our residents to have the best care available," says Louis Cappelli, director of the county commissioners.
Camden is experiencing growth with many companies moving to the city, such as ResinTech which moved from Berlin Township, and the opening of the city's first hotel in 50 years—the Hilton Garden Inn Camden Waterfront.
"Additionally, just two or three weeks ago, the Camden planning board approved the development of Matrix Development, an e-commerce warehouse and distribution center on Admiral Wilson Boulevard on a site that's been vacant for decades," adds Cappelli. "It will create hundreds of new jobs once it's constructed, it's significant."
Big things are also happening in Somerdale. The biggest project currently underway in is Reserve at Grace, the redevelopment and reuse of Our Lady of Grace Church along the White Horse Pike. The site is being converted into a mixed-use space consisting of 37 active adult units, 46 market-rate units, a clubhouse, retail space and a restaurant.
"The beauty of the project for us is we took a non-ratable, no tax-base structure that's been there for 60 plus years, and now it's going bring new revenue dollars to the community," says Mayor Gary Passanante.
"Somerdale has been tremendous in revitalizing and developing spaces. What's important about the Reserve at Grace is that type of creative project could be used as an example as to how to redevelop vacant and outdated properties up and down the White Horse Pike," says Cappelli.
Despite the pandemic, there were signs of growth all around Gloucester County in 2020, especially in the always-expanding areas of education and medicine. And with COVID-19 putting a renewed focus on both public and individual wellness, it's an opportune time for the county to lead the way in transforming our health care landscape.
Ground was broken at Rowan College of South Jersey (RCSJ) in Deptford to do just that. The two-story, 56,545-square-foot Rowan Medicine Center slated to open in the spring will help bring the future of medicine to the region. The first floor of the center will not only offer services in family medicine, pediatrics, osteopathic manipulative medicine and pain management, but it will also be the site of the Rowan Integrated Special Needs (RISN) Center, which will provide primary and behavioral health care services to treat physical, intellectual and developmental disabilities.
Additionally, the building's second floor will be home to the nationally acclaimed Rowan University School of Osteopathic Medicine (RowanSOM), something that greatly excites Robert Damminger, director of the board of commissioners.
"This is the first of its kind in the county and the state," Damminger says. "It's the first medical school that houses four independent physicians' offices and state-of-the-art classrooms built on a county college campus."
Damminger says these advancements are important in the development of the Southern New Jersey region and are expected to add more than 36,000 jobs over the next few years, an employment increase of 4.2%.
A second medical-related building, an Allied Health Center, jointly located on the RCSJ campus and a sister campus in Cumberland County was put on hold due to the pandemic, but is now back in play after having its funding reinstated.
To further build on this eds and meds foundation, the county is expanding its reach with the

Academy of Applied Technology and Advanced Manufacturing, thanks to $500 million made possible by the Secure Our Children's Bond Act. The money will be used to provide students on the main Gloucester County Institute of Technology campus the opportunity to receive additional technical training on a shared-time basis through the district's Collegiate High School experience and the Work and Learn Consortium in partnership with RCSJ.
"The [academy] will allow students to engage in course work that will expose them to emerging technologies and advanced manufacturing processes. Students who enter this program will acquire the skills necessary for employment in a wide variety of occupations," Damminger says.
The RCSJ campus is also where you'll find the county's new economic development center. The 15,633-square-foot space will be the home for the Gloucester County Department of Economic Development, the Gloucester County Workforce Development Board and the American Job Center of Gloucester County. It will also be the new headquarters for the Gloucester County Chamber of Commerce which welcomed Janet Garraty as its director late last summer.
In other health care news, Jefferson Health-New Jersey's Washington Township location is in the midst of a $222 million transformation that will culminate with the opening of the Silvestri Tower this July. The seven-story, 240,000-square-foot patient pavilion will offer the latest in medical care.
"
Some of the most advanced services we provide are in Gloucester County," Sweeney says. "The growth in Washington Township and the community has been remarkable. This allows us to be in the position where all the development with businesses and residences that are happening all around the hospital, we are there to support them and to grow with them in the future."
Elsewhere around the county, there's been notable projects taking shape like the announcement of a $250 million investment in a manufacturing facility at the Paulsboro Marine Terminal to build components for offshore wind turbines that will supply the entire United States. It's the largest industrial offshore wind investment in the U.S. and is expected to fuel significant job growth.
Add to that new retail and dining options popping up across the area and the growing demand for commercial space—Amazon opened up large delivery centers in West Deptford and Logan Township in 2020—and Gloucester County is poised for continued success in 2021.
"I am very proud of everything Gloucester County established in 2020 and that momentum will continue in 2021," Damminger says. "These projects add jobs to our economy and further establish [the county] as a regional economic engine."



Click here

to subscribe to the free digital editions of South Jersey Magazine.

To read the digital edition of South Jersey Magazine,

click here.



Published and copyrighted in South Jersey Magazine, Volume 17, Issue 10 (January 2021).

For more info on South Jersey Magazine,

click here

.


To subscribe to South Jersey Magazine,

click here.


To advertise in South Jersey Magazine,

click here.