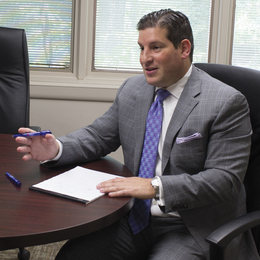 Sponsored Content: A Trusted Advocate
From criminal defense to real estate transactions and personal injury, Gelman Law is a full-service firm that fervently fights for its clients.
Before building a majestic office building on one of South Jersey's busiest thoroughfares, before earning a reputation for aggressively and passionately defending his clients, and before establishing an outstanding track record of success, David Gelman was just a young lawyer with lofty dreams.
Four years ago he made the bold decision to leave the Burlington County Prosecutor's Office, switch gears and open his own firm specializing in criminal defense. Little did he know just how far Gelman Law would come in a short period of time.
"We started from the ground up," he says. "It was just me and an assistant in the beginning and we've really blossomed since then. We've opened a new office in a prime location and added more attorneys and staff. Every year it gets better and better and we're excited about the future."
Born and raised in South Jersey, Gelman is a proud graduate of Moorestown High School. His collegiate studies took him to the Midwest, where he obtained his undergraduate and law degrees at the University of Arkansas before returning home to embark on his professional journey.
"It's almost like I've come full circle," he says. "I didn't have any idea where I'd be when I was in high school and college, so coming back home and starting my practice here has been wonderful. It's great to be involved in the community and make a difference."
As a criminal defense attorney, Gelman represents clients in a wide range of cases ranging from drug offenses to DUIs, assault, theft, sex crimes, domestic violence and more. He finds it rewarding to give a voice to those who can't speak for themselves and face long odds to being vindicated.
His tireless efforts on their behalf often result in positive outcomes where charges are reduced, downgraded or dismissed.
"There are a lot of injustices that defendants face and a lot of times they can't defend themselves," Gelman says. "The deck is often stacked against them when it comes to the criminal justice system. That's really what attracted me to this area of law. I felt I could be a great fighter for defendants in any area of criminal defense, whether it's just a traffic ticket or much more serious matters."
Gelman's experience as a prosecutor also gives him a unique perspective, which can be beneficial to his clients. He spent nearly five years on the other side of the aisle and has appeared before some of the most well-respected judges in the area.
"My work in the prosecutor's office helps tremendously, because I'm able to look at it from both sides," he says. "I can see exactly what a good prosecutor would look for in a good defense and I can take that knowledge and put it toward our defense.
"The judges know that I'm honest, that I'm going to fight hard for my clients and do the best job for them. Judges respect that. They understand that we're there to get the job done and do it the right way."
Despite his reputation in the criminal defense arena, Gelman is also proficient in real estate and business transactions as well. Gelman Law is a full-service firm that also offers assistance in personal injury, workers' compensation, wills and estates, and more. "Whatever issues you have, our firm has individuals who specialize in it and we have the best people to work on your case," he says. "I make sure of that—I won't hire anybody who won't be the best at what they do."
Gelman is licensed in New Jersey and Pennsylvania and represents clients throughout South Jersey from his firm's beautiful headquarters on Route 70 in Cherry Hill. The site of a former PNC Bank, the facility has been completely renovated and is now known as the Gelman Building. The only remnant remaining from the bank is a safe which now acts as a centerpiece of the conference room.
"A lot of time and money have gone into that office and the feedback has been absolutely tremendous," he says. "The exposure is fantastic and seeing my name up there on the Gelman Building is really neat and makes it fun to show up for work every day. It's important because when people come into a law office sometimes they might be nervous and they want to walk into a really nice place. They don't want a little hole in the wall."
Gelman envisions the practice being a fixture in the community for generations to come.
"Think about us as your family's law firm," he says. "We're a young firm that is going to grow with the area and be here for a long, long time. People will be with us for their lives and then hopefully their children's lives and grandchildren's lives."
Click here
to subscribe to the free digital editions of South Jersey Magazine.
To read the digital edition of South Jersey Magazine,
click here.
Published and copyrighted in South Jersey Magazine, Volume 17, Issue 9 (December 2020).
For more info on South Jersey Magazine,
click here
.


To subscribe to South Jersey Magazine,
click here.


To advertise in South Jersey Magazine,
click here.