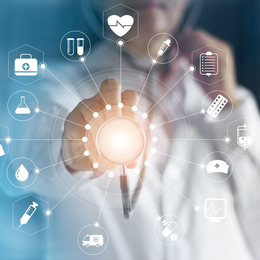 Moving Medicine Forward
A look at advancements that are propelling the health care industry.
How are you treating patients who have had COVID-19?
We are seeing patients with lingering symptoms post-COVID such as extreme fatigue, shortness of breath, brain fog, depression and cognitive impairments. A neuropsychological evaluation is a great first step in creating an individualized treatment plan to recovery. Patients are also seeing results with psychotherapy, physical and occupational therapies along with speech therapy to treat deficits in mobility and function and improve communication skills.
Dr. Sheryl Berardinelli
Senior Neuropsychologist | Bancroft NeuroRehab
Locations in Southern and Central N.J.
What do you see as one of the advancements in health care as a result of COVID-19?
The greatest advancement is the advent of telehealth services. It coincides with Medicare's push on Remote Patient Monitoring (RPM) services that allow measuring patients' vital signs from home. For the first time, doctors can now measure a patient's vital signs from home via cellular devices such as blood pressure, blood glucose levels, weight management, etc. Medicare studies have shown that patient outcomes improve dramatically while driving down health care costs. Our practice has already signed up 2,100 patients.
Medical Director | Relievus
How has fertility care changed in the past several years?
Great improvements in the area of fertility care include genetic testing of embryos and embryo and endometrial synchrony. These have to do with ensuring the correct number of chromosomes and ensuring the right timing for pregnancy. Transferring a single chromosomally normal embryo at just the right time results in very high pregnancy rates. At RMANJ we provide this type of care and only transfer single embryos to ensure a safe pregnancy outcome.
Reproductive Medicine Associates of New Jersey
Are there any new treatment options for patients suffering from disc degeneration or herniated discs?
Our office has introduced spinal decompression therapy to allow us to expand the patient population we treat. This computer modulated traction procedure allows us to offer an additional option for patients suffering from disc degeneration and disc herniation resulting in neck, arm, back and sciatic pain. Advancements in the areas of diet, nutrition and exercise allow us to approach patient care from a holistic or whole-body perspective. The result is a more mobile, pain-free and healthier you.
How can palliative medicine improve my quality of life?
Palliative medicine, also known as comfort care, is a medical specialty for anyone who is living with serious illness. It focuses on easing pain, relieving symptoms and managing the side effects of treatment. Palliative medicine differs from hospice in that it can be accessed from the moment of diagnosis, throughout curative treatment and into recovery. Another key component of palliative medicine is advanced care planning to outline a person's wishes for future health care.
800-229-8183 | SamaritanNJ.org
What are the most recent innovations in neuro-immunology?
Recent revolutionary advancements are with biologic infusions for conditions like MS, myasthenia gravis, migraine and even Alzheimer's disease. In fact, the infusion soliriswas the first new therapy in 70 years approved for myasthenia gravis, and the first new therapy for neuromyelitis optica ever! The infusion vyeptiapproved earlier this year is given only four times per year and can prevent migraines safely for most people. The infusion aducanumabis one of several in its class that helps your own immune system eliminate the proteins that build up in the brain and may cause dementia.
Steven M. Bromley, MD, FAAN
Director | South Jersey MS Center and Bromley Neurology, PC
Is there a quick and painless approach to pediatric ear tubes?
Dr. Ryan Walker is the first physician in South Jersey to do pediatric in-office ear tubes using the Tula System. The Tula System allows ENT physicians to comfortably place ear tubes in children during an office visit without the need for general anesthesia. Parents can remain with their children throughout the procedure and there is no downtime. Dr. Walker is using an innovative approach to ear tubes that is quick and painless.
Has Inspira Health contributed to medical advancements in response to the pandemic?
Inspira Health's decades of experience with clinical trials allowed it to quickly pivot into COVID-19 studies. Early in 2020, Inspira's research team was enrolling patients into 24 trials, 14 of which were cancer related. Since then, Inspira's Clinical Research Office has opened six COVID-19 treatment studies. In one, a study of neutralizing antibodies, Inspira joins just nine other study sites worldwide. In another COVID-19 trial, Inspira enrolled the first patient in the nation. Inspira enrolled more than 100 patients in the highly publicized convalescent plasma study.
Sami Abate, PDH, MSHS, MSN, RN, CRN
Director of Clinical Research | Inspira Health
Click here
to subscribe to the free digital editions of South Jersey Magazine.
To read the digital edition of South Jersey Magazine,
click here.
Published and copyrighted in South Jersey Magazine, Volume 17, Issue 9 (December 2020).
For more info on South Jersey Magazine,
click here
.


To subscribe to South Jersey Magazine,
click here.


To advertise in South Jersey Magazine,
click here.