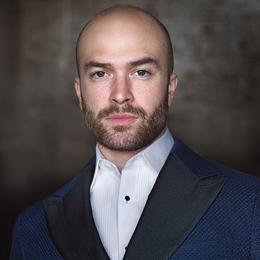 Finding His Voice
A renowned opera and concert vocalist with a Grammy on his résumé, South Jersey's John Brancy is fighting for the arts community and discovering new paths during the pandemic.
It does not seem like much of a stretch to say that John Brancy was blessed with a voice from the heavens. It is the kind of voice that can move those listening to it whether he's performing Tchaikovsky on stage, singing about World War I on a critically acclaimed album or just sharing a story over the phone from the other side of the country.
The 32-year-old Mullica Hill native has used that natural tool, along with a whole lot of hard work, to reach the peak of his profession. Hailed as one of the leading baritones of his generation, the Julliard-trained opera and concert vocalist has performed all over the world and won his first Grammy Award earlier this year for his role in the Boston Modern Orchestra Project's The Fantastic Mr. Fox.
The Grammy has Brancy setting his goals even higher—like joining the exclusive EGOT club, a group of artists who have won the Emmy, Grammy, Oscar and Tony awards. Its members include such show biz legends as Mel Brooks, Audrey Hepburn and Andrew Lloyd Webber, and Brancy sees no reason why he can't one day be among its ranks.
"My goal is to get a Tony next, so I have to find a project for that," he says with a laugh. "Obviously, if you get the Grammy and the Tony, then you have to get the Emmy and the Academy Award. I guess I have to get all of them. I'd love to get more Grammys—that would be wonderful—but I'm going to challenge myself and try to get all of the statues."
Of course, those plans are currently on hold. While 2020 started out with a professional high point at the Grammys in January, the rest of the year has been a struggle for Brancy. With his entire season canceled due to the COVID-19 pandemic, he is a singer without a stage.
He has embraced his new role as voice teacher to make ends meet, but he continues to worry not only about himself but other artists who are feeling the effects of the coronavirus on their livelihood.
"We need support; the arts in America are in dire financial straits right now," he says. "This is the lifeblood of our country. We are hurting terribly and Congress and the Senate need to act to pass a once-in-a-generation bill for the arts specifically and for arts institutions to keep their artists from going hungry and losing their homes."
In a recent hour-long interview from his home in Los Angeles, Brancy spoke passionately about that issue and many others, including his love for South Jersey, how his education at Clearview Regional High School shaped his career and the bond he has formed with the military through his albums with close friend and collaborator, pianist Peter Dugan. The first of those albums, titled A Silent Night: A WWI Memorial in Song, was released in 2017. The follow-up, Armistice: The Journey Home, came out in 2019, and a live version recorded at The Kennedy Center will be available this spring.
(Editor's note: some of Brancy's answers have been edited for clarity and space purposes.)
Adjusting to the pandemic…
I have really been on the road full-time since 2013, so about seven years. It came to a screeching halt. I had performances in Milan, in Germany, in London and at the Met, which was a really big deal for me. All of that fell through, and most of it is actually canceled, not postponed. A lot of those companies did not have fail safes for this situation, so they couldn't pay out the performers even a percentage of what their fee would have been. They claim something called force majeure, which is a French term and basically means force of nature—unforeseen circumstances which prevent someone from fulfilling a contract. So most of these companies just said, 'Sorry, force majeure.' So I've been scrambling to make money in the economy that we're in.
Becoming a voice instructor…
I have done my best to stay afloat and I've started teaching voice lessons. That's been something that has really been a silver lining for me throughout this time. I'm working with a lot of incredibly talented young singers. I have one student who's only 9 years old who I work with twice a week and that's been a really interesting experience for me. I'm also working with people in the later part of their life. I have a couple people in their 40s and 50s who always wanted to sing but never really pursued it and I'm helping them find that spark again. It's been a real joy for me to do that and bring that levity to people's lives weekly.
The mentors who inspired him…
As an artist you always have those individuals along the way who leave an imprint on you and impart the important thing they need to teach you. Back when I was at Clearview, from my middle school years until the end of high school, I was working with Anthony Sears and Jack Hill. The two of them had such high-level music training in how they were training the choirs at the time. I was given such a great opportunity to work and express myself as an artist early on through the public school system. Clearview really was a reason why I was able to pursue it as a career. I will never forget that; it will always be part of my story. Beyond that, going to New York and studying at Julliard, I met many teachers. I had my voice teachers who I worked with who imparted incredible information to me, but I also had my piano teachers, my theory teachers and my acting teachers and even my dance and movement teachers. There was kind of a small army of people at that school who showed me how to do what I wanted to do and to maximize my ability as a performing artist.
I'm pretty confident that it's going to come back and it's going to be really, really exciting when it does. We're going to bring it back live, but we're also going to have all this new knowledge in terms of what's out there in the virtual space. … I really think it's going to be an exciting time after the pandemic is over to be in the arts and to invest in the arts as well. I think it's something communities should start looking toward investing into; even smaller communities like South Jersey. South Jersey has an immense opportunity, from the stages at the casinos in Atlantic City, specifically, and the stages throughout the Jersey Shore. These locations could be filled with new types of performance. I think that classical music and new classical music, new opera and contemporary works would actually do really well in South Jersey. These are dramatic works; these are exciting new pieces written by living composers, male, female and the like. It might be time to embrace an artistic, virtual and digital renaissance in South Jersey.
His love for his hometown…
I'm here [in California] because there's a large entertainment component to being in Los Angeles, obviously. But my parents still live in Mullica Hill and a lot of my friends are still in South Jersey. Before the pandemic I would frequently be there visiting and driving around, and going to Village Bagel.
World War I albums and performances…
Our initial interest, Peter Dugan and myself, is we wanted to have a program that had a lasting effect and was something we could end up recording and reach as many audience members as possible. But we never imagined what we could do with something like this. It ended up being a five-year journey and it's still ongoing because we have another aspect of the project that we're still looking to finish. When we were in the thick of it and we were touring, creating the first album and performing at various major venues throughout the country and the world, we didn't know it was going to lead us on this path. It was revealing and it was exciting. We were getting a Ph.D. in this four-year period of history; learning about the war, learning about these composers, learning about this type of music, learning about the culture. It was an in-depth analysis of this time culturally.
I'm not sure how many people from South Jersey have gone to Julliard; I would like to know that figure. It's highly competitive but you go there as a specialist. If you want to be a rocket scientist or you want to create robotics, you go to MIT. I went to Julliard because I wanted to be the best singer I could be.
Favorite places to perform…
Carnegie Hall is obviously my favorite place to perform, but I also love Disney Hall here in Los Angeles. Another very small hall but really beautiful is Wigmore Hall in London. Carnegie has always held a special place in my heart because it was the place where I gave my first professional performances.
I never even considered it. It was a great experience, it was a great performance and I thought the album was excellently produced by Boston Modern Orchestra Project and Gil Rose, the conductor and producer. They did an incredible job but I never thought that was going to win a Grammy or even be nominated.
Being congratulated by Gov. Phil Murphy…
It was a really incredible thing when I got called from the governor after winning the Grammy. That was amazing. My agents told me someone was going to call me, but they couldn't tell me who it was, and it was going to be an unknown number during a certain time frame on a certain day, and I had to answer my phone. It ended up being the governor and I had a conversation with him about the importance of the arts. I'd love to talk with him about it again. Maybe I can be brought on as an adviser. [Laughs]
The next phase of his career…
I'd love to be a part of the musical theater world. My idea would be either to revive something old or create something brand-new. That's my hope in that world, to be part of a fantastic new project and be in the original cast of something. It would be very exciting and I think it's possible. It really depends on where I'm at and who's interested in a Grammy-winning baritone. I'm available for hire. [Laughs]
Click here
to subscribe to the free digital editions of South Jersey Magazine.
To read the digital edition of South Jersey Magazine,
click here.
Published and copyrighted in South Jersey Magazine, Volume 17, Issue 9 (December 2020).
For more info on South Jersey Magazine,
click here
.


To subscribe to South Jersey Magazine,
click here.


To advertise in South Jersey Magazine,
click here.