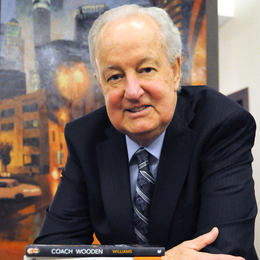 Dare to Dream
More than 30 years after leaving his home in Moorestown to bring the NBA to Orlando, Pat Williams still looks back with affection on his time in South Jersey. But he is also eyeing the future with his latest expansion project.
Pat Williams and his grandiose dreams have been synonymous with Central Florida since the late 1980s, when he was an instrumental figure in the founding of the Orlando Magic. Basketball fans throughout South Jersey, however, still remember him fondly for delivering the last NBA championship to our area.
As general manager of the 1983 Philadelphia 76ers, Williams helped construct a team that included Julius "Dr. J" Erving, Maurice Cheeks, Andrew Toney and Bobby Jones. Moses Malone, a dominant center and the final piece of the puzzle, was added before that season, which culminated with a four-game sweep of the Los Angeles Lakers in the NBA Finals.
Williams, a Philadelphia native who was raised in Wilmington, Delaware, ended up being the GM of the Sixers for 12 seasons before heading south just a few years after the championship season. Although he has called Florida home for three decades, he still has strong ties to this region and has wonderful memories of the many years he lived in Moorestown while with the Sixers. He had a young family at the time, which eventually grew to include 19 children—14 of them adopted—and 17 grandkids.
He spoke to us about a simpler time in South Jersey, the Philly teams he still roots for and his latest mission: bringing Major League Baseball to Orlando.
I know you are a Floridian now, but do you still have an affinity for the Delaware Valley?
I grew up in Wilmington, Delaware and Philadelphia was a second home as a kid growing up. … I've got deep, deep roots there and I follow things very closely. I still root for the Philly teams; I can't root for the Sixers anymore but I still root for the Eagles, the Phillies and the college teams.
What part of South Jersey did you call home?
We lived in Moorestown and loved our time there. We loved the whole South Jersey area. That area was home for 12 years, from '74 to '86. Then in the summer of '86 we moved [to Central Florida] to take on the expansion challenge with Orlando. It was a big risk to walk away from all those years in Philly and come down here with no guarantees or assurance of anything. But the NBA was fortunately in an expansion mode and that's how Miami, Orlando, Charlotte and Minnesota got into the league. It was quite a historic time in the world of basketball.
What stands out from your time in South Jersey?
Back in that time there were a lot of open fields and a lot of produce areas. I remember fresh corn in the summer and all the South Jersey vegetables and horse farms. I understand it's been built up dramatically, but we had great affection for Moorestown.
I'm sure you know that basketball fans here are still grateful to you for the 1983 championship.
That was a special year. That was the year Moses came and really carried us. It was probably Julius's last spectacular year, although he played for a few more seasons. Cheeks and Toney were at their peak and Bobby Jones was a special player. It was a marvelous group and everything broke right for us. There were no injuries that season and it was actually a perfect year. It's hard to imagine a year quite like that. That championship still rings in the minds of Philly sports fans, even though the Eagles have gotten one now and the Phillies got another one. That was the last basketball championship and it's still fresh in people's minds.
I know you return to the area every year to emcee the Philadelphia Sports Hall of Fame induction ceremony, and your original poems celebrating each year's honorees are a big hit. Were you able to do that this fall?
They had me video the poem and send it to them since the ceremony was virtual, so I was able to talk about Kobe Bryant and the others who went in. I'm just so sad that [the in-person ceremony was canceled]. That's a highlight of my year, coming up there every November and seeing old friends from Philadelphia and the new inductees. It's always such a special evening. I'm glad they were able to pull it off and look forward to everything being back to normal next year.
Even though you're a Basketball Hall-of-Famer, I understand that you have a passion for baseball which has fed your project to bring an MLB team to Orlando.
My roots are in baseball. I started my professional career in baseball. [I spent] seven years in the Philadelphia Phillies organization; two as a minor-league catcher and five running minor-league ballclubs for the Phillies. Then I made the switch over to the NBA 51 years ago. I've stayed close to the game. We've tried to bring Major League Baseball here to Orlando on two other occasions in the 1990-91 period and then the mid-'90s. They went to Miami first and then over to St. Pete/Tampa. But we're back in it and we're trying again. We feel this time we could be successful.
The Orlando Dreamers, as your potential team is called, could be an expansion team or a relocated team. What do you think it would mean to Central Florida?
I know this is a big statement, but this would probably be the biggest thing to come to Orlando since Disney. I don't mean to minimize Universal; you would probably have to include that too. But this is at that level.
Why do you think the Orlando area would be a perfect fit for baseball?
Before the pandemic there were 2,000 people a week moving to Orlando or Central Florida. That's about 8,000 a month and about 100,000 a year; carry that out over 10 years and you're talking about another million people. It's just an amazing place to be if you like growth. All you have to do is drive around … and everywhere you look there's construction going on; new neighborhoods and all the stuff that goes with new neighborhoods. It's very exciting. We have come to the point where to truly be a major-league city, we've got to have a Major League Baseball team. That's the earmark of being a big-league city so that's what's driving us right now.
You chose the name Dreamers to honor Orlando icons like Walt Disney and Arnold Palmer. Some would include you in that company as well.

I left Philadelphia 34 years ago and hooked up with some local businessmen and political leaders and they convinced me [about Orlando]. It was a hard sell; back then it was a small community and it really wasn't anywhere near what it is now. They convinced me that we could pull this off and they asked me to come down and join them. We had these big basketball dreams and we saw them come to fulfillment. This whole community really is about these women and men who have big-time dreams. So the nickname really worked for us and captured who we are.

Click here
to subscribe to the free digital editions of South Jersey Magazine.
To read the digital edition of South Jersey Magazine,
click here.
Published and copyrighted in South Jersey Magazine, Volume 17, Issue 9 (December 2020).
For more info on South Jersey Magazine,
click here
.


To subscribe to South Jersey Magazine,
click here.


To advertise in South Jersey Magazine,
click here.