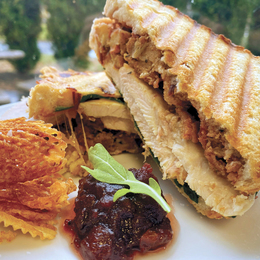 Comfort Level
Seasonal food options that satisfy the soul.
Now that the temperatures are plummeting and Old Man Winter has shown his face once again, there's no denying that comfort food season has officially arrived. And being that we are still in the midst of a global pandemic, we have been more eager than ever to seek out some feel-good food. Certainly, dining out is different these days, but the good news is there are still plenty of great options to be had locally, no matter if you are sitting inside a socially distant dining room or at your own kitchen table. We made our way across the tri-county region to satisfy our comfort food cravings and these 23 offerings did just the trick.
THE GOBBLER at Andreotti's in Cherry Hill
A Thanksgiving leftovers dream come true; this handheld has all the fixings. Sliced turkey, herbed stuffing and baby spinach are slid in between slices of sourdough that's been dressed with a cranberry mayo and pressed.
CHICKEN SANDWICHES at Cluckwerks in Haddonfield
This pop-up takeout spot from Denim's David Murray is a poultry-lover's dream. Whether grilled or fried, you have your choice of eight tantalizing offerings like the K-Town—chicken, a sweet and tangy Korean barbecue sauce, kimchi slaw and sesame seeds on a toasted potato roll.
SMOKED BRISKET CHILI at Smoke BBQ in Audubon
Aaron Clark's uses his otherworldly smoked brisket as the base for this chili that also features both black and white beans, and bacon. It's topped with shredded cheddar, a hefty dollop of sour cream and cilantro garnish.
DEVILED EGGS at The Village Pub in Swedesboro and Washington Township
These certainly aren't the same old deviled eggs that your aunt brings to every family get-together. Sweet and salty bacon is a welcomed addition and jalapeño blends well with the creamy filling.
CHICKEN POT PIE at Simply Soups in Audubon
We love the many soups served up at this cozy spot, but we "simply" can't overlook the pot pie. This stellar offering is filled with a hearty mixture of chicken and vegetables in a puff pastry and topped with garlic mashed potatoes for good measure.
MACARONI AND CHEESE at The Pop Shop in Collingswood and Medford
While this place may be popular with the kiddies, mac and cheese is a comfort food that speaks to all ages. The addition of jalapeño cornbread crumbles helps give a nice textural balance while also introducing a little heat.
SHORT RIB CHEESE FRIES at The PourHouse in Westmont
This dish is like a more refined version of poutine. Rich, gravy-soaked short rib is piled high atop crisp shoestring fries and then absolutely blanketed in a warm, melted white cheddar cheese sauce.
GRILLED CHEESE at Iron Hill Brewery in Maple Shade and Voorhees
Forget about the grilled cheeses you grew up eating. Instead think cheddar, mozzarella and gouda with bacon or fontina and goat with fig jam on sourdough bread. Don't forget the tomato soup.
SCONES at Pie Lady Café in Moorestown
Head baker Jill Ketels works wonders with baked goods and her scones are can't miss. Crispy, crumbly crust gives way to a delicate inside that showcases mouthwatering flavors like blueberry lemon and cranberry poppyseed.
PULLED PORK at Macona BBQ in Collingswood
Chef/owner Cory Reuss cooks his meat slow and low in his backyard smoker each day and the result is some of the most tender, succulent pulled pork you'll find this way of Texas. His rotating lineup of flavors keep things interesting while enhancing the smoky characteristics.
CHICKEN NOODLE SOUP at Chick's Deli in Cherry Hill
This seasonal staple is the perfect answer to winter's chill and Chick's devotees will tell you that no place does it better. Thin strands of noodles swim in a well-seasoned golden broth with sliced vegetables, chunks of chicken and lots of love.
PHO at Pho 9 in Cherry Hill and Mount Laurel
The complexity in flavors and tastes are what makes pho so irresistible and the aromatic bowls at this Vietnamese restaurant burst with vibrancy. Chewy rice noodles, bean sprouts, fresh basil, sliced jalapeños, onions and scallions are served with your choice of shrimp, chicken, brisket or numerous other options.
CANNOLI FRENCH TOAST at Sabrina's Café in Collingswood
Two indulgences in one? Sign us up. Challah bread is sweetened with silky ricotta cannoli cream before adding the finishing touches—chocolate chips, fresh cut strawberries and drizzles of warm vanilla bean syrup.
BUTTERMILK FRIED CORNBREAD at The Wing Kitchen in Glassboro and Washington Township
Chef Timothy Witcher had South Jersey foodies buzzing earlier this year when they caught wind of his fried doughnut and now his cornbread is stepping into the spotlight. Fried like chicken to create a wonderful buttermilk crust and coated in powdered sugar, it's the ultimate guilty pleasure.
SHEPHERD'S PIE at Dooney's Pub in Delran and Voorhees
As classic as pub fare gets, this dish combines beef and lamb with mirepoix in a rich gravy that is then covered with mashed potatoes and cheese, and baked until golden brown. Each forkful is a savory symphony that would satisfy any appetite.
OMELETTE SANDWICH at Ragazzi in Marlton
We'd wake up extra early if it meant we could sink our teeth into this special breakfast sandwich comprised of an omelette with pepperoni, sausage, mushrooms, onions, green peppers and provolone cheese folded in.
MEATLOAF PATTY MELT at Good Foods to Go in Mount Laurel
Juicy homemade meatloaf is lightly bathed in gravy and stuffed in between grilled rye bread with earthy portobellos and a cheesy pairing of mozzarella and boursin for a filling sandwich that seemingly melts in your mouth.
BREAD PUDDING at Aunt Berta's Kitchen in Haddon Township
We could go on and on about Aunt Berta's turkey wings or fried whiting fish, but no meal is complete until you finish it off with some bread pudding. Made with French bread, raisins, peaches and hits of cinnamon, it's a sublime dessert that hits all the right notes.
SHRIMP AND GRITS at Kitchen 87 in Mount Holly
Too often grits can be a flavorless afterthought, but thankfully the folks at Kitchen 87 know how to make them sing, especially when you add a little cheddar to the silky, smooth mix. Top things off with expertly cooked shrimp and you have a match made in heaven.
DEATH BY JEFF at Phil's Deli and Market in Cherry Hill
Jeff may very well be the death of us because we can't get enough of this roast beef sandwich with gooey melted American cheese, sweet fried onions and smears of Russian dressing served up on grilled rye bread.
STROMBOLI at Nene Italian Market in Marlton
Chef Mark Berenato's grab and go spot is the place to be on gameday—or any day that he's making fresh stromboli. Choose from pepperoni, cheesesteak, Italian (our favorite), sausage and broccoli rabe or buffalo chicken.
DISCO CHIPS at The British Chip Shop in Haddonfield
This diner staple gets the royal treatment at this English-themed restaurant that takes hand-cut fries and melted cheese and drenches them with a beef and onion gravy. Who says disco is dead?
FRENCH ONION SOUP at Blue Monkey Tavern in Merchantville
A crock of Blue Monkey's French onion soup always puts a smile on our face. A cloak of slightly-browned melted cheese gives way to a robust broth with caramelized onions and homemade croutons.
Click here
to subscribe to the free digital editions of South Jersey Magazine.
To read the digital edition of South Jersey Magazine,
click here.
Published and copyrighted in South Jersey Magazine, Volume 17, Issue 9 (December 2020).
For more info on South Jersey Magazine,
click here
.


To subscribe to South Jersey Magazine,
click here.


To advertise in South Jersey Magazine,
click here.