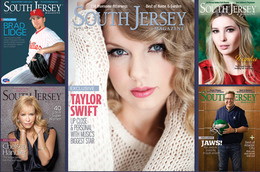 A Year To Remember
It was a year of high hopes—in sports, at least, those were ultimately dashed—and economic uncertainty, of rising South Jersey stars and dark horse candidates made good. In short, 2010 was a year of surprises, discoveries and expectations defied. As we look ahead to 2011, we take a moment to reflect back and update our most important stories from the past 12 months. And, we ask local leaders in politics, business, medicine and education to share their insights into what's coming in 2011. It's set to be another banner year.
January
One year ago, we had the chance to sit down with newly acquired Philadelphia Flyer Chris Pronger to find out how he was adjusting to his new team and life in South Jersey. While the Haddonfield resident has a stone-cold reputation on the ice for his physical and intimidating style of play, the man teammates affectionately call "Prongs" showed us his softer side when talking about his family life. When we visited with Pronger at the Skate Zone in Voorhees, the Flyers were in the midst of a tough stretch of games and the team was floundering. But by the end of the season, the team would find itself in the Stanley Cup Finals. They eventually fell to the Chicago Blackhawks in six hard-fought games.
February
A recently married Ivanka Trump returned from her honeymoon in time to speak with us for our cover story, about her life beyond The Donald's shadow. "I have learned to be confident in my abilities and see my father's great success as an opportunity to further challenge myself," she said. That has included jewelry and shoe lines—she'll launch her own brands of handbags and outwear this year, too—as well as putting her own mark on her father's real estate holdings. Also in February, we checked in with Cherry Hill native and NFL analyst Brian Baldinger, who correctly predicted that the New Orleans Saints would win the Super Bowl. He did not, however, foresee Michael Vick's current role with the Eagles—but, then again, neither did anyone else. We spotlighted Bobby Ryan, another Cherry Hill native and an NHL player with the Anaheim Ducks who skated with the U.S. Olympic team in Vancouver and netted one goal and one assist in a Silver Medal effort. We also examined how the recession was affecting local arts centers in South Jersey. According to Ed O'Malley, chairman of the board for the Lenape Regional Performing Arts Center, a capital campaign to raise nearly $300,000 should mean that soon professional performances will once again hit the Marlton stage. Currently the board is exploring awarding naming rights for the theater, which is still hosting high school productions.
March
Just a few short years after first gracing our cover, Cherry Hill model and former Miss FHM Lauren Harris returned to South Jersey Magazine as part of our Spring Fashion issue shot at the Aloft in Mount Laurel. Since the shoot, Harris has turned up on billboards for Trump casino properties and continues to work on WMMR's Preston and Steve show. We were the first to let you know about Parth Singh Parihar, the Washington Township High School junior who scored a perfect 2400 on his SATs. He has applied to a number of colleges, but hasn't yet decided where he's headed this fall. Local PGA golf pros helped us rank the best courses in our area, from public to private and those down at the Shore. When Trump National Golf Club Philadelphia made the list, it prompted Mr. Trump himself to personally call our editor-in-chief and say thanks.
April
The arrival of April meant it was time for the Phillies to once again take the field, fresh off of back-to-back World Series appearances. During spring training, we chatted with closing pitcher Brad Lidge and his wife Lindsay. Lidge who was coming off a season in which he struggled mightily, told us about his need to get back to winning form. He went on to bounce back in a big way, posting 27 saved games and striking out more than 50 batters. We also talked one-on-one with then Eagles quarterback Donovan McNabb about his newly formed partnership with Virtua. Though he's now with the Washington Redskins, McNabb's still committed to helping the healthcare group raise funds for its new NICU in Voorhees. He will once again co-chair the hospital's gala in March and is expected at the unit's opening in April. We also learned this month that McNabb's onetime teammate Jon Runyan would be running for Congress, a move that would pay dividends in Novem­ber when he unseated Democratic incumbent John Adler for the Third District seat. And, we let you know about Edgewater Park native Michael Giacchino, who took home an Oscar last year for his score for Up. He'll be busy again in 2011: He has been tapped to work on Pixar's Cars 2 and the latest Mission: Impossible installment.
May
In May we introduced South Jersey to Brit Morgan, a Marlton native and Cherokee graduate who had been struggling to make it in Hollywood when HBO and True Blood came calling. After blowing audiences away as werewolf Debbie Pelt, Morgan's star is shining bright. She just wrapped two independent films—in one, she stars alongside Hilary Duff and plays Charlie Sheen's girlfriend—and she will reprise her role on the upcoming season of True Blood, which starts filming this month. We also caught up with local product Brian Zoubek, fresh off his NCAA championship with the Duke Blue Devils basketball team. Zoubek was drafted by the New Jersey Nets—but, alas, did not make the team roster to start the season. However, the Haddonfield native's hometown once again ranked as No. 1 in our annual Top Towns roundup.
June
We welcomed summer with a gritty article on local native John Gowdy, a world-renowned sand sculptor. Not only was he responsible for our June cover art, but more recently he has taken home a number of sand-sculpting awards. Now, he hopes to see the world championships of sand sculpting come to Boardwalk Hall in Atlantic City, the town where sand-sculpting was born. June also kicked off the second annual South Jersey Magazine Top Chef competition, with 15 local cooks vying for the title. Ultimately, Chef Jack Connor of Café Madison in Riverside took home this year's crown in a closely contested final battle with Chef Mark Berenato of Tre Famiglia in Haddonfield. Speaking of Top Chefs, we were the first in the area to spotlight Willingboro native Kevin Sbraga (pictured, right) as he competed on the hit Bravo TV show. Sbraga not only went on to win the competition, but he was also later named to the magazine's first-ever Power Players list. He plans to open his own restaurant in the area in the near future.
July
When we last updated you on the state's plans for legalizing medical marijuana, it looked like the law—signed by an exiting Gov. Jon Corzine—was in danger of going up in smoke. Since taking office, Gov. Chris Christie has been critical of the plan, citing the need for stricter regulations on distribution and acces­sibility to prevent the abuses seen in other states like California. However, a determined New Jersey Senate voted last month to overturn Christie's proposed restric­tions. While the debate con­tinues, the law should finally take effect this spring.
August
In August we got to know Myron Rolle, a South Jersey native who starred on the football field at Florida State, but put his career on hold for the chance to become a Rhodes Scholar. Because he took time away from the gridiron to focus on his studies, his draft stock took a hit. Nevertheless, Rolle was indeed drafted into the NFL by the Tennesse Titans. Adjusting to the pro game has taken time, and Rolle was signed to the team's practice squad, but his penchant for hard work should lead to a spot on the field in the near future. We also examined Kyleigh's Law, which requires teen drivers to display a red sticker on their license plates. The law was inspired by Kyleigh D'Alessio, a Jersey teen killed in a 2006 crash, in which a fellow teen was at the wheel. Some parents have argued the stickers make their children obvious targets for predators, and have fought to have the law repealed. But, for now, the red reminders remain.
September
In the run-up to football season, we headed up to Eagles training camp to talk football with fullback Leonard Weaver. The fan favorite inspired us with his many community service efforts including teaching eighth-grade students at Henry L. Bonsall Family School in Camden. Unfortunately, Weaver was severely injured in the Eagles' first game of the season and was knocked out for the year. Since then, he has had two surgeries and is currently rehabbing. While some thought his gruesome injury could threaten his career, Weaver plans to be ready for the start of next season. Meanwhile, the winners of 2010's Top Talent, also featured in September, have been up to big things. Both teenager Nicole Fahs and the band Northway have recordings in the works, while singer/songwriter Amy Faden has been playing shows throughout the area. Singing group Kneehigh Spunk has a performance slated for later this month in Philadelphia. Check out their new song "Wave" on iTunes. As well, we were lucky enough to talk with not only the creator of HBO's new hit series Boardwalk Empire, but also the local author who inspired the show. The big-budget period piece was critically acclaimed but got mixed reaction from audiences. No matter: the show will return with a second season later this year.
October
Chelsea Handler is one of the hottest names in show business, but the New Jersey native took time out of her hectic schedule for our October cover story. Handler makes no apologies for her blunt style of comedy and has been a force in late night television in recent years. While bigger names battle it out on the networks, she rules cable, maybe even paving the way for Conan O'Brien to make the jump to TBS after his ouster from The Tonight Show. Since our interview, she's launched her own book publishing imprint and continued to dominate late-night. Following in Handler's trailblazing footsteps, we highlighted 40 Super Women in our area from all walks of life.
November
Two words summed up our November issue. Taylor. Swift. The mega star graced our fall cover and let us into her world just days before her latest record was released. The album went platinum in its first week—the biggest debut for any record since 2005—proving that she is far and away the biggest star in music today. Swift reflected on days spent at her family vacation home in Stone Harbor as a youngster and what it means to be a role model for so many young fans. It's hard to believe she just turned 21 last month.
December
Just last month we updated you on our local business climate, unveiled our first-ever power list, and tracked down the latest news in A.C. As well, we got in depth with Ron Jaworski, a fixture in the football world and a successful local businessman. Despite juggling his gigs at ESPN and NFL Films, Jaworski also runs five area golf courses and a charitable foundation partnered with the United Way. The most impressive thing about Jaws may just be that, while his schedule remains jam packed, he puts family first.
Leaders on… Business
We check in with our local Chambers of Commerce on the economic outlook.
"We know that a number of printers, telecom companies and IT firms have seen an increase in business during the fourth quarter of 2010. We also know that many temporary firms have had a very successful year. With a good retail season still going forward those factors will likely lead to an increase in permanent hiring beginning the first quarter of 2011. Growth in specific industries during 2011 should lead to a more robust economic recovery in our market area."
—Art Campbell, President, Camden County Regional Chamber of Commerce
"Businesses need to continue to find better ways to connect with centers of influence; our Chamber provides that opportunity…. The Chamber's goals for the upcoming year are to continue to grow and, with new members, to provide more opportunity for our members to make better business connections. We will be adding new targeted networking groups, a Buy Local Community Portal [and] expanded affinity partnerships. And [we'll] help keep our members informed of important governmental issues on both the county and state levels."
—Les Vail, Executive Director, Gloucester County Chamber of Commerce
"[The biggest challenge in the coming year will be] growing business in New Jersey. I think Gov. Chris Christie and Lieutenant Gov. Kim Guadagno are working to face the challenge through programs like the Business Action Center and Choose New Jersey. But as a business community, we have to start championing the positives of living, working and playing in New Jersey. We also have to take an active part in recruiting businesses and working with those who want to stay here."
—Kristi Howell-Ikeda, President and Chief Executive, Burlington County Chamber of Commerce
Leaders on… Education
From high school to higher education, there are challenges and opportunities ahead.
"Even in difficult economic times, opportunities for growth exist. Individuals and organizations may need new approaches to securing those opportunities. Rutgers–Camden intends to participate fully in South Jersey's collaborative efforts to advance our families and neighborhoods…. Rutgers–Camden will continue to expand its enrollment from the record-setting 6,300 students in fall 2010. We will work on developing new services for our students while attracting top research and teaching professors to our faculty. Rutgers–Camden will partner with communities across southern New Jersey to apply our considerable intellectual and human capital toward issues confronting our neighbors; for example, we will continue to work with the City of Camden on a wide array of issues including government services. Finally, we intend to advance our plans to open a full-fledged Rutgers School of Nursing right here in South Jersey."
—Wendell Pritchett, Chancellor, Rutgers University–Camden
"The biggest challenge for public school districts [in 2011] will be to craft a budget that maintains the integrity of the programs that have successful track records. We will continue to promote the success of the Lenape Regional High School District, our staff and, most importantly, our students to help ensure community support for quality public education. I believe that we can address these issues by continuing to 'live within our means' while still providing the highest quality education in the region. We also must continue to maintain open communication with parents and the community by providing access to information at every level."
—Emily Capella, Superintendent, Lenape Regional High School District
"Institutions of higher education will continue to change to meet shifting student expectations, evolving technology, and decreasing public funding. I think changes for the field, overall, will be slow, as higher education is an age-old social institution with fundamental practices—such as face-to-face dialogic learning—that are not quickly adaptive. However, I believe that if you look at any one educational organization in 2011, you will see attempts to alter the structure and practice of learning….
Students are extremely interested in and excited by the idea of what we might call 'interdisciplinary learning.' Many individual students don't see their life goals as corresponding neatly with a typical segment of academic pursuit. Instead, they have envisioned life trajectories that cross multiple areas. Programs that approach education from a more interdisciplinary stance are likely to create high levels of student interest."
—Lorin Basden Arnold, Dean of the College of Communication at Rowan University
Leaders on… Health Care
Physicians and industry leaders weigh in on the state of the medical field in South Jersey.
"My expectations for 2011, as far as cardiac care is concerned, is higher care through the use of Electronic Medical Records (EMR), which allow the cardiologist to streamline patient care. Use of EMR makes the patient encounter seamless and allows the referring doctor to have the patient notes quicker than an office that does not employ EMR. Medical records can be retrieved while I am anywhere in the world should my patient call me with a question. It also provides charts that I can give patients, that educates them about their illness."
—Dr. Vishal Bahal, Advanced Cardiology, Swedesboro
"The volume of self-pay and charity care patients will continue to grow because of the unemployment rate and the length of time individuals are unemployed. We in the healthcare industry will continue to focus on reducing expenses and increasing revenue in light of the fact that Medicare did not increase its rates for hospital reimbursement in 2011…. The number of patient visits in hospital emergency departments nationally has increased by 20 percent over the past decade. In order to meet the volume of patients, we need to improve and streamline clinical processes and develop facilities that can effectively deal with this increased volume."
— Linda Carrick, Senior Vice President of Clinical Operations and Chief Nursing Officer at Kennedy Health System
"The use of robotics has become more prevalent in surgery, especially in the urology, orthopedics and cardiothoracic specialties. It is a very exciting advancement in our field, and will continue to grow."
—Dr. Laura Ross-Adams, Ross Center for Orthopedics
"While the Health Care Reform Act won't be fully implemented until 2014, the good news is that we should start to see improved access to health care for the underserved."
—Dr. Paul Katz, Founding Dean, Cooper Medical School of Rowan University
Leaders on… Government
Our representatives share their expectations and goals for South Jersey.
"We will continue to work hard to create quality jobs and new opportunities for our region. Projects like the Revel Casino development in Atlantic City, the newly constructed Port of Paulsboro, and the innovations out of the new Cooper Medical School and our many other institutions will provide lasting opportunities for job growth and recovery for South Jersey."
—U.S. Congressman Robert Andrews
"Unfortunately, it appears we will be facing another extremely difficult budget challenge in Trenton. More tough decisions will have to be made, but I expect many of the reforms initiated in 2010, including pension and arbitration reforms and the 2 percent cap on spending, will form a solid foundation for the rebuilding of New Jersey's economy."
—New Jersey Senator Dawn Addiego
"Our elected officials will continue working to make the needs of our constituents a reality. That means more jobs, less government spending, making elected officials more accountable to the public, and other reforms to help get property taxes under control. I anticipate that the South Jersey legislators will continue to find ways to attract quality businesses and economic development opportunities to our region. And I expect serious moves toward education reform that will improve the educational experience for our children."
—New Jersey Senator Donald Norcross
"I anticipate our biggest challenge in the coming year will be quite similar to the uphill battles we've faced for some time now. Will the economy continue to improve? … Will we get the help we need from Trenton to bring our uncontrollable, state-mandated costs down to a level we can sustain? At the end of the day, I don't think there is a simple solution. First and foremost, I will continue lobbying the governor and the legislature to enact the changes necessary to help municipalities control their costs."
—Bernie Platt, Mayor, Cherry Hill Township
"My priority for the coming year is to find new ways to empower our citizens while not increasing the burden of government. I want to see the Opportunity Scholarship Act become law, because it will give students a better education without costing the taxpayers another dollar. Finding new ways to beat old problems and encourage jobs—that's where my focus is going to be."
—New Jersey Assemblyman Angel Fuentes
"My primary goal [for 2011] is to make sure we take a fresh look at how we run our government and where we can improve it. Where can we save money? How can we do more with less, and pass savings to taxpayers? We also need to remember to protect what we have by ensuring public safety and keeping our most needy citizens from slipping too far."
—New Jersey Assemblyman Gilbert Wilson
Here are links to our "Best of" articles from 2010
Pictures of Health (our Top Physicians)
Published (and copyrighted) in South Jersey Magazine, Volume 7, Issue 10 (January, 2011).
For more info on South Jersey Magazine, click here.
To subscribe to South Jersey Magazine, click here.
To advertise in South Jersey Magazine, click here.