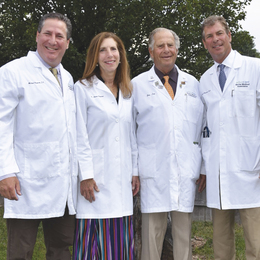 Sponsored Content: The Family Way
Behind founder Dr. Joseph Hassman and four of his children, Advocare Berlin Medical Associates has been providing the utmost in care to South Jersey residents for more than 50 years.

Although it may be hard to imagine while driving through towns like Voorhees and Cherry Hill today, South Jersey was still largely a rural area when Dr. Joseph Hassman first started his medical practice in Berlin more than 50 years ago. In those simpler times he instantly formed a bond with the members of the community, who relied on him for everything from delivering babies to treatment of common illnesses. The relationships were so strong that some patients even paid their bills with bushels of tomatoes or other crops from their farms.

Fast forward to 2020, and of course the landscape has changed drastically. Yet the practice—now known as Advocare Berlin Medical Associates—is still thriving, and Dr. Hassman continues to see patients while recently celebrating his 85th birthday. All four of his children have followed him into medicine, with three joining him at the Berlin office: Dr. Elissa Hassman, Dr. David Hassman and Dr. Michael Hassman.

His oldest child, Dr. Howard Hassman, 64, also works with the family as the chief scientific officer at the Hassman Research Institute. Elissa, 60, specializes in ophthalmology, while David, 55, and Michael, 52, focus on family medicine. All four received their degrees from the Philadelphia College of Osteopathic Medicine, just like their father.

"It's not so much that we were following in his footsteps but we all grew up knowing this is what we wanted to do," David says. "He was a role model and we all looked up to him, but there was never any pressure that this was the path we had to go on and it wasn't forced on us. Everyone did it for their own individual reasons."

Having an actual family as the cornerstone of a family practice has certainly played a part in the success and longevity of Advocare Berlin Medical Associates. "We enjoy working together," David says. "You would think it would be a bad formula but it actually works out really well. There's no doubt there are some challenges but we spend a lot of time together, both in and out of the office."

The practice has evolved through the years, especially over the last decade as it moved from a single building on the White Horse Pike to its current location on Cross Keys Road, which paved the way for significant expansion. Advocare Berlin Medical Associates is now a multi-disciplinary practice offering specialists in family medicine, pediatrics, pain management, gastroenterology, cardiology, nephrology and ophthalmology.

That kind of diversity in practitioners is rare in a private family practice and is usually only found in large health care systems. Not only does it allow for an easy flow of communication among the various physicians, but patients welcome going to the same office for all of their medical needs.

"The familiarity of it is very comforting for most people," David says. "They can see so many specialists under one roof."

With the responsibility of treating all members of the family for a number of reasons, Advocare has been fortunate to remain open throughout the COVID-19 pandemic. It embraced telemedicine at the peak of the crisis, and with more patients now feeling comfortable with on-site appointments, safety is prioritized with an emphasis on masks, hand sanitizer, distancing and other protocols.

"We're getting back to normal and about 80 percent of the office visits are now in person," David says. "But from this whole thing we've learned that telemedicine is a new avenue that won't ever go away. I think we're always going to utilize telemedicine."

Being a dependable health care provider for the community is nothing new; after all, the Hassman patriarch has been doing it for half a century. Dr. Hassman serves as the physician for Eastern Regional High School and the practice takes its commitment to the region seriously.

"There are current patients who, not only did my father treat their grandparents, but he delivered their parents. So there are three generations from the same family coming to this office," David says.

"My dad set the bar very high. He taught us how important relationships are, not only with fellow physicians but with the patient population. That aspect of practicing with people skills has definitely transcended to all of us."

Advocare Berlin Medical Associates has become a fixture in South Jersey and shows no signs of slowing down. Who knows, maybe one of Joseph's 19 grandchildren will even join the practice someday. Although several have entered into the health care field, none are slated for medical school—yet.

"We love this area; we've been here for 50 years and we'll be here for many more to come," David says. "It's been a great ride. We never would have been able to predict this, but everyone in our family relishes in it completely."
Advocare Berlin Medical Associates
175 Cross Keys Road, Suite 300A, Berlin
856-767-0077 |
AdvocareBMA.com
Click here
to subscribe to the free digital editions of South Jersey Magazine.


To read the digital edition of South Jersey Magazine, click here.

Published and copyrighted in South Jersey Magazine, Volume 17, Issue 5 (August 2020).

For more info on South Jersey Magazine,

click here
.

To subscribe to South Jersey Magazine,

click here.


To advertise in South Jersey Magazine,

click here.