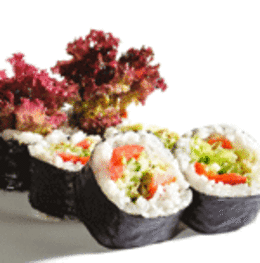 Wok—Don't Run
Woksabi Asian Bistro and Sushi Bar
Wok—Don't Run
Woksabi Asian Bistro and Sushi Bar
608 Haddon Ave., Collingswood
(856) 858-6688
Woksabi.com
2 forks
I fear that sushi has evolved to the point where it's beginning to enter dangerous territory in our little slice of America. In the beginning, it was simply enough for fresh fish to be draped atop an oblong of rice, gently smeared with wasabi, and quickly slicked with soy sauce. Even the more creative maki constructions never lost focus on the centerpiece of the thing: the fish itself. Lately, however, I've noticed a shift that, at worst, strains the bounds of good taste.
Unfortunately, the perplexingly named O WOW roll, (capitalization is Woksabi's, not mine), is a handy example.
What was advertised as "three kinds of tuna" was really just a few chunks easily overpowered by larger pieces of pineapple, all of it enshrouded too thickly in rice and cosseted in a Pepto-pink soy wrapper that was more menacing than appealing. A coconut "jam"—more thick sauce than anything, and just barely hinting at its namesake flavor—glistened on the plate and on top of the slices, which fell apart at the first bite.
This case of creative license run amok also illustrates the central problem with Woksabi, a Haddon Avenue standby with aspirations to greatness. While there are moments of surefooted cooking across the selections of sushi and Asian fusion fare, the kitchen's tendency to overstep—and fall flat—was evident on a recent visit.
Still, the OMG roll saw improvements, playing on a subtler field despite the richness of its components: a well-fried shrimp tempura, avocado and lobster salad. It was soothingly devoid of any unnecessary fireworks, and as a result was one of the more pleasant items I tasted at Woksabi.
The sushi itself was fine if unremarkable, the yellowtail hinting at piquancy, and the red snapper sexily soft in texture.
Hot and sour soup was better, reaching the de rigueur spicy notes, sure, but also retaining the song of sourness that is too often lacking in this dish.
But for every hit there was a disappointing miss. Popcorn shrimp was exquisitely fried, yes, and the batter maintained both the lightness and snap of the best examples. However, the shrimp themselves were inadequate, too small and scant in quantity to impart much flavor. Neither was there much flavor in the accompanying "spicy creamy sauce," which had precious little character. A sweet or acidic accent would have done wonders to break up the monotony of the rich fried notes.
Hong Kong chicken breast re­minded me more of a home cook's attempt at exoticism than a seasoned chef's specialty. The breast itself may well have been grilled as advertised, but it tasted as if it were baked, lacking not only the physical evidence of the grill, (it was pasty and white, save a few caramelized strips at the edges), but also the flavor. Aside from the swimming pool's worth of cloying hoisin-heavy sauce puddling the plate, there was virtually no other apparent seasoning. The only accompaniment was a wan, soggy, fried asparagus spear.
Desserts, sourced from the lovely Italian purveyor Bindi, were comforting and a bit confusing at once. While the stracciatella was pleasant enough, (essentially a gelato parfait with cocoa powder and chopped hazelnuts), it bore little resemblance or relevance to the meal that had preceded it.
While the service was helpful and attentive throughout, and the space is appealing—taking certain color cues from Philadelphia's Morimoto with its blue and green lights—a big menu and a pretty space are far from enough to keep a restaurant full in an economy like this one. The food, above all else, has to warrant that.
E-mail us at edit@southjersey.com.
Published (and copyrighted) in South Jersey Magazine, Volume 7, Issue 10 (January, 2011).
For more info on South Jersey Magazine, click here.
To subscribe to South Jersey Magazine, click here.
To advertise in South Jersey Magazine, click here.