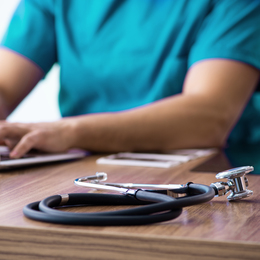 A Healthy Change
The world of patient care is evolving during the pandemic and that could be a very good thing.
While our health and well-being has been front and center during the COVID-19 pandemic, the focus has mainly been on protecting ourselves from the coronavirus, and rightfully so. But as the curve flattened and our lives started to regain some small semblances of normalcy, one of the more noticeable changes to have taken place has been the way routine medical care is being administered.
Advancing technologies and the rising popularity of telehealth have certainly made health care more accessible than ever while also allowing doctors and patients to keep in close contact during these uncertain times. However, the immediate benefit of the virtual consultations aside, there's still a need in certain circumstances for face-to-face interaction with a provider to ensure a proper diagnosis is being made.
And so, during these past few months, it's been a point of emphasis for providers to let patients know that while they have altered the approach to the care they are receiving, the quality of the care has not suffered as a result. One of the biggest worries for providers during the pandemic has been that many people are foregoing their routine care and necessary treatments out of fear of contracting coronavirus. That can cause much larger issues in the long-term if regular medical needs are being ignored or delayed.
Dr. Howard Orel, chief executive officer and president of the multi-specialty medical group Advocare, warns that prolonging necessary medical attention would be a big mistake.
"We are emphasizing the need for our patients to continue to seek care for ongoing medical issues such as diabetes and hypertension, as well as routine adult and pediatric well care, including vaccinations," Orel says. "It is also important that patients do not neglect routine screening procedures such as mammograms, lab work and colonoscopies when ordered by their physicians."
To help ease fears, health care offices across South Jersey are taking great precautions and following all safety guidelines as outlined by the Centers for Disease Control and Prevention
In addition to following proper hygiene methods, deep cleaning and social distancing practices, other steps like wearing face coverings or waiting in your car until your appointment is ready have become commonplace. Some of these new procedures are likely to become permanent.
"You are never going to see a super crowded waiting room ever again, I don't believe," says Lawrence Downs, chief executive officer of the Medical Society of New Jersey. "I have talked to several physicians in different specialties that feel, in particular for patients that are elderly or not able to ambulate, that [remote care] is going to be a great convenience for those simple issues that can be handled by a Skype call. The quality is still there and people will have to get used to a new way of getting to the doctor."
Reproductive Medicine Associates of New Jersey (RMANJ) has several locations throughout the state, including locally in Marlton. All offices are open and operating at full capacity and have made several adjustments to be more flexible while remaining committed to helping patients safely build their families.
"We are very focused on providing a safe place for people to receive treatment," says Dr. Jason Franasiak, a reproductive endocrinologist with RMANJ. "We have transitioned to telehealth visits, expanded times for patient visits in order to allow for social distancing, adhere to universal masking for patients and employees, and have COVID-19 testing performed for all patients prior to starting treatment cycles."
While the way that doctors and patients interact has certainly adjusted during the pandemic, some of the new procedures and practices are having a positive effect. The increased usage of telemedicine has been one of the most significant changes, and as providers and patients becoming more comfortable and accustomed to the experience, the expectation is that it will become more of a standard practice.
Another trend that is likely to see widespread quick advancement is the use of wearable technology to monitor patients, according to Downs. It could be a cardiac patient or maybe even someone that has tested positive for coronavirus. If the infected person has an underlying health condition that puts them at risk for a more severe symptomology of the disease, they may go home with a remote pulse oximeter that generates information reviewed by their doctor.
"You're going to see a big uptick in wearable devices in the coming years. And not just because of COVID-19, it's because the technology is good enough now that it can be used effectively," Downs says.
With a large network of providers under its umbrella, Advocare has gotten a widespread first-hand look at the benefits of remote care.
"I believe the technology will continue to evolve and improve in this area," Orel says. "Telemedicine will endure as a means to provide care to patients after the pandemic subsides when and where appropriate care can be rendered."
Because of the success of these programs, the health care industry is seeing there are ways to improve efficiency and that a one-size-fits-all approach is not realistic in today's evolving world of medicine. Ultimately, the lessons learned during the pandemic could help improve medical care in ways that were maybe not considered prior and Downs says that will a boon for the industry.
"
A lot of doctors I talked to are surprised with the number of appointments they feel they can do well, clinically, in a remote setting," he says. "But, contrast that with every physician I have ever talked to who say there will never be a replacement for seeing and laying hands on a patient. But once you have a confirmed diagnosis and are adjusting medications, a lot of that can be done by remote means. The delivery of care has changed significantly going forward."
Click here
to subscribe to the free digital editions of South Jersey Magazine.
To read the digital edition of South Jersey Magazine, click here.

Published and copyrighted in South Jersey Magazine, Volume 17, Issue 5 (August 2020).

For more info on South Jersey Magazine,

click here
.

To subscribe to South Jersey Magazine,

click here.


To advertise in South Jersey Magazine,

click here.