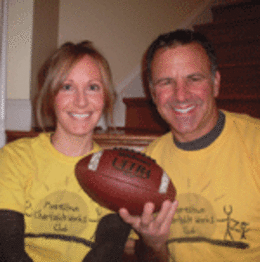 Two Worlds Collide
The Moorestown Charitable Works Club bridges the gap between neighboring communities.
In 2006, Moorestown resident Joe Ehrline had a wake-up call. It came while watching a 20/20 special, "Waiting on the World to Change," on ABC. The program contrasted the privileged lives of Moorestown's youth with the violence, hunger, homelessness and—worst of all—hopelessness of children growing up 10 miles away in Camden, the city named thrice this decade by City Crime Rankings as the Most Dangerous City in America.
"It was … a reality check," says Ehrline, a father of three. "I wouldn't say it was a sense of shame or guilt [for our good fortune], but it was an awakening to see that you could have a town so close in proximity, and yet a world apart in terms of opportunity and privilege."
Ehrline decided just waking up wasn't enough. Goaded into action by the 20/20 special, he and Kate Morken, a family friend and his daughter's former first-grade teacher at South Valley Elementary School, began brainstorming ways to reach out. They decided that, whatever they did, it would not be a one-and-done event. Instead, says Ehrline, "We wanted our children to witness us putting ourselves out there, not just writing a check while never seeing what other people's lives are really like."
So Ehrline and Morken founded the Moorestown Charitable Works Club (MCWC). The group officially launched in September 2007 and has grown to include 20 member families. The mission of the organization is to bridge the disparity between Moorestown and Camden, especially through raising funds for the Boys and Girls Club of Camden County (BGCCC). "We were captivated by the transformational work and dedication of the staff at the BGCCC, and the hope and confidence in the faces of the children [there]," Ehrline says.
Moorestown resident Chris LaDelfa and his wife Kristina joined the MCWC because its mission resonated with the lessons they want to teach their three children, Matthew, 15; Grace, 13; and Peter, 10. "Having compassion and empathy is hard to learn as an adult," Chris LaDelfa says.
The MCWC's biggest fundraising event is its annual flag football tournament, held the Saturday after Thanksgiving at Moorestown's Wesley Bishop Field. The event regularly attracts more than 1,000 attendees and has so far raised around $20,000 for the BGCCC.
LaDelfa's daughter Grace fields her own all-girls' flag team each year, and helps organize the event. Duties for Grace and other MCWC member kids range from canvassing local businesses for donations and sponsorships, to marketing the event with signs and letters, working the concession stand, cleaning up after the event and writing "thank you" notes to sponsors. "Our club is dedicated to teaching and fostering the skills that our children need in life, both personally and professionally," Ehrline says.
On tournament day, two teams from the BGCCC are also invited to play. Says Ehrline, "We make them feel special; we tell them they are our guests for the day." Adds LaDelfa, "The economic disparity between these kids and ours is apparent in the clothes they wear, but once they get out on the field and play and hear the people cheering for them, the disparity is forgotten." Ehrline and LaDelfa hope these events will broaden the horizons of kids from both towns. Coming to Moorestown for the day, according to Ehrline, "gives [the kids from Camden] a glimpse of what's possible."
Conversely, the kids from Moores?town have a chance to better understand those from less privileged backgrounds. LaDelfa says that when the MCWC kids visit the BGCCC facilities, the kids there exhibit a sort of pride of place. "They want our kids to see their basketball courts and where they play their games…. They [get] so involved in playing together, [our kids] don't want to go." When they finally do, "They will talk about their time spent there, and how different their lives are. They wonder if their friends are going to be OK."
BGCCC's executive director, Milford Liss, points out that, while the money raised by MCWC is important, (it goes towards the organization's operating expenses), even more important are the friendships the children develop. "We don't want to have wealthy kids come in and mentor our kids. We want them to be equals," he says. Liss points to the positive peer pressure that can arise when kids from his organization start to consider life beyond Camden.
"Our kids begin to see the kinds of goals their friends have. For kids growing up in Moorestown, it's not a question of if you're going to college, but where. So, the future for [BGCCC] kids begins to stretch. They start to think they can have those goals, too." The club members hope to expand their reach to other beneficiaries, but they remain committed to BGCCC and its pragmatic approach.
"The biggest impact [BGCCC] has is that, in a city with a 65 percent [high school] drop-out rate, of the ones who participate in their programs, there is a 95 percent graduation rate," Ehrline says. "That's what has to happen if these kids are ever going to break the cycle of poverty and go on to lead successful and productive lives."
Published (and copyrighted) in South Jersey Magazine, Volume 7, Issue 10 (January, 2011).
For more info on South Jersey Magazine, click here.
To subscribe to South Jersey Magazine, click here.
To advertise in South Jersey Magazine, click here.