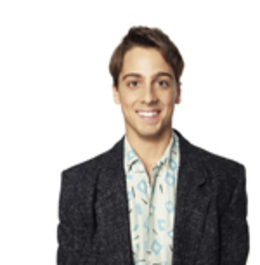 Star Turn
With major film roles and an acclaimed comic turn on TBS' Glory Daze, Cherry Hill native Matt Bush is enjoying life in the spotlight.
Until recently, when Cherry Hill native Matt Bush was recognized on the street, it was hardly an ego-boosting moment.
"It was always, 'Hey, you're that kid in the AT&T ad!'" recalls the boyish- looking 24-year-old, who played a careless teenager haggling with his mother over the use of rollover minutes in a memorable series of commercials.
But in the past few months, Bush has noticed a subtle yet significant change in those moments of recognition. Thanks to his role as a lead character in the new TBS comedy Glory Daze, the actor's name has fresh resonance: "Since Glory Daze started, I've been stopped by people on the street who say, 'Aren't you Matt Bush?' They're actually putting my face with my name—and that's huge. Not to mention very cool."
In addition to his comic turn as college freshman Eli Feldman, the affable actor has appeared in several films over the past few years. Among them was the recent Ed Burns flick, Nice Guy Johnny, in which he starred as an impoverished radio sports talker forced to choose between his passions and the responsibilities he's promised to assume.
Bush's own reality at the moment couldn't be farther from that role—on the contrary, he's finally achieving the professional success he's been working toward his whole life. Bush has had a hankering for the stage lights since he was a child, when he would work as an unpaid assistant to his father, a trained magician (and a medical consultant by trade) who had appeared on The Ed Sullivan Show as a teenager. "I was onstage with my dad when I was maybe 5 or 6," Bush recalls. "From the start, I loved it. I loved performing and being in front of an audience. It was always fun."
He got involved in school plays as a teen, and began acting in TV commercials while still in high school. Soon, Bush was landing parts in small independent films, like 2009's Adventureland, in which he played a loose-lipped kid with "no filter." As in Glory Daze, the film had Bush portraying a teenager in the 1980s. Bush says that he doesn't mind being tapped for youthful parts: "I look younger than I am, but so far that's worked to my advantage with roles I've landed."
Yet, Bush was hardly a child star. He graduated from Cherry Hill East High School in 2004 and went on to take a full course load at Rowan University, until he realized that acting was "something I could do full time and actually get paid for it."
"I took everything one step at a time," Bush says. "I didn't leave college until it was pretty obvious that I was getting steady work and had a manager who was out there pushing for me."
AT&T commercials aside, Glory Daze elevated Bush to a higher echelon of celebrity within mere weeks of its debut this past November. Set in 1986, the series revolves around a group of four freshmen at fictitious Hayes University, where they must contend with the freedom and uncertainty of living away from home. For the hyper-energetic Eli Feldman, this new start means trying on a Casanova-like persona, despite his obvious inexperience with girls.
The character of Eli has given Bush massive exposure. More than 1.8 million people saw the series premiere, and 10 season-one episodes are already in the can—the last was filmed just before Thanksgiving. Bush says it really hit him the moment he spotted his face (along with those of his three co-stars) plastered on a massive billboard towering over Times Square. "The first time I saw it, it was absolutely surreal," Bush says. "It was like 'Wow—can that really be me up there? Crazy.'"
He adds that, while he's enjoyed his film roles, sitcoms present a new opportunity: the chance to create a character that will evolve over time. "With a movie, you have a couple of hours to portray this person during a very finite time period," Bush explains. "With a TV show, the character is constantly evolving and changing. And the audience gets to be part of that character development in the intimate setting of their living room. It's like you become a family member almost—someone they care about."
Bush tried out for the role of Eli—who memorably danced in his underwear, a la Tom Cruise in Risky Business, in the first episode—specifically "because I thought he's a fun character."
"We've all spent so much time in our underwear for the show that that particular scene wasn't as hard to do as you might think," he adds. "Everything about the experience has been a tremendous amount of fun. The other guys starring in the show are about at the same place in their careers as me, so we've really connected on the set."
Next up for Bush is another teen turn: the starring role in the movie High School, scheduled for a spring 2011 theatrical release. Bush plays a high school academic superstar who gets high with the town stoner—Oscar winner Adrien Brody—flunks a drug test, and comes up with a scheme to preserve his impeccable record.
"I get to play the straight man, which is always fun," Bush says.
These days, Bush splits his time between his home in New York and California where Glory Daze is filmed. But, he adds, "South Jersey will always be home." He comes back to visit family and friends whenever possible.
In the past few years, Bush's career has taken him from straightforward commercial work to high-minded indie films to crowd-pleasing comedy. As for what's next, not even he knows. "I'm very open to wherever my acting takes me, as long as I can do work that makes me proud," Bush says. "I want to always look back with no regrets."
Published (and copyrighted) in South Jersey Magazine, Volume 7, Issue 10 (January, 2011).
For more info on South Jersey Magazine, click here.
To subscribe to South Jersey Magazine, click here.
To advertise in South Jersey Magazine, click here.