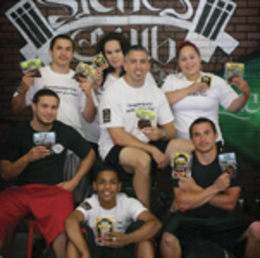 Southern Exposure
Fit Club
There are several kinds of outsiders that venture into North Camden's rougher apartment complexes. Among them: Do-gooders and pest exterminators.
The first time Steve Liberati set foot in the neighborhood, it was as the latter.
But as Liberati, a fitness enthusiast and personal trainer who was helping out with his father's pest control company, returned week after week, he got to know the neighborhood kids.
"I saw the kids who were out there and had good attitudes and good heads on their shoulders, but the environment was not good," he says. "I asked them about sports and they saw that I was into working out, and asked me about that. So we exchanged ideas."
What they came up with was Steve's Club, a program that now involves about 75 to 100 Camden teens each year with CrossFit, a highly regimented strength and conditioning program.
The program, which started out of a Camden community center in 2006, now has its own facility in Pennsauken, shared with CrossFit Tribe, a gym Liberati runs.
"It works out great because they feed off each other. The kids come in and they see the adults come in after working all day and still being very committed to their training," he says. He's even held career days, so the teens can learn about new career paths.
The Steve's Club regimen also includes nutrition. When Liberati, an adherent to the so-called paleo diet—which advocates eating the types of foods cavemen could hunt or gather, like meat, nuts or berries—found his disciples' school lunch options lacking, he and his wife began assembling their own vacuum-packed bags of beef jerky, nuts and dried berries.
Today, Liberati sells these Paleo Kits, along with grain-free granola bars and cereal, online at Steves Original.com and at CrossFit gyms across the country. Proceeds help support Steve's Club's operations. Liberati has also signed on four CrossFit affiliates to his newly launched Steve's Club National Program.
But in Camden, Liberati is as committed as he is realistic. "I know I'm not going to save everyone here," he says. "It's more about the impact I have on a small number of kids [than about reaching everyone]. I wanted to spend a lot of time with each kid."
Did You Hear?
"New Jersey is about the people who live here. I've been inspired and moved by so many outstanding individuals who are truly making a difference in communities throughout the Garden State."
—New Jersey First Lady Mary Pat Christie on the launch of her own website, an online hub for state pride and recognition of local heroes.
Take Five
If $4 bridge tolls give you agita, then brace yourself. It's about to get 25 percent worse. The beleaguered Delaware River Port Authority (DRPA) recently passed toll and fare increases to fund repairs and to pay down its substantial debts. Here's how it affects you.
$1: Increase in Delaware River bridge tolls as of July 1.
10%: Increase in PATCO fares also due in July.
$1 billion: Amount the DRPA will invest in the next five years to repair its four bridges and upgrade PATCO's 120 train cars.
$1.4 billion: The DRPA's debt load.
47%: Portion of tolls that goes to servicing that debt.
Pulling Some Strings
They say talent runs in families. That must be the case for Cherry Hill's Michael Ludwig. The son of the Lansdowne Symphony Orchestra's music director is a violin virtuoso in his own right. The former 14-year associate concertmaster at the Philadelphia Orchestra has been performing as a soloist with orchestras around the world. His recent recording of The Red Violin with the Buffalo Philharmonic hit the Billboard 100. And now, Ludwig's latest release, The Beethoven Violin Concerto and Dvorák Romance, performed with the Virginia Symphony, is out on CD. MichaelLudwig.com
Data Point
2.86: Average 2010 earned run average of the Philadelphia Phillies' top four starting pitchers: Cliff Lee, Roy Halladay, Roy Oswalt and Cole Hamels. Thanks to a deal struck in December, Lee, who maintained a 1.13 ERA for the Phils in 2009, returns to the team this spring.
What's in a name?
South Jersey has always had a strong sense of place—yet, it seems to be in the midst of a perpetual identity crisis. Just look around: You may think you live in Marlton—or is it Evesham? Your mail may be addressed to Sewell, but does that place even exist?
The jumble of interlocking place names in South Jersey may be mystifying. Yet in many cases we can—as in so many other facets of life—blame the postman.
"Where there are those interchange of names, it goes back to simply the postal decisions: a post office name was given to an area, and that became even more prominent when we went to zip codes," says Burlington County historian Joe Laufer.
Established in 1787, Evesham once encompassed Medford, Mount Laurel and parts of Lumberton and Hainesport. But the heart of town became known for the marl—a mineral fertilizer—mined in the area. So when the post office was established in 1849, "The postmaster said, 'Let's call this area Marlton.' … So Marlton really is only the name of the village, which consisted of about five streets at the heart of Evesham Township," Laufer explains.
Laufer himself lives in one of these phantom townships: Vincentown, which is, technically, just a part of Southampton. Yet somehow, he manages to find his way home each night. "It's more an accident of signage than anything else," Laufer says. (To make matters worse, there's Westampton and Eastampton, but if he tries to get to Northampton he'll be driving awhile: that township has vanished into history altogether.)
The same thing happened to Washington Township, where mail is addressed to Sewell, or Turnersville or Blackwood. "Sewell was part of Mantua and Deptford; only when Washington Township was developed did they start using the Sewell mailing address," notes Barbara Price of the Gloucester County Historical Society. Presumably, the goal was to differentiate from the state's five other Washington Townships.
Then, there are the looming peaks of Mount Laurel, Mount Holly, Mount Ephraim, Mullica Hill, Pine Hill and Cherry Hill. Mount Laurel, for one, got its name from a local schoolteacher who was impressed by the stands of laurel growing on the mountain. Wait—what mountain? "Well, it's a hill," Laufer concedes.
It may appear our place names are all decided—yet with township consolidation plans afoot who knows? One thing's certain: there are plenty of names to go around.
Street Level
Cherry Hill
Temple Emanuel's longstanding world record of 541 simultaneously spinning dreidels was surpassed by a determined group of Hanukkah celebrants at New York City's Yeshiva University.
Turnersville
Prince Chunk, a tabby cat famed for his 44-pound stature, has died.
Glassboro
Two Rowan University engineering students have designed a robot that can solve a Rubik's cube in 15 seconds. As if we didn't feel inferior already.
Marlton
A woman was arrested before she could sign for a FedEx package containing 14 pounds of marijuana. The accompanying shipment of Doritos was delivered right on schedule.
Washington Township
Rioting fans threw trashcans and loose change at a police officer trying to break up fights in the stands at a Washington Township-Williamstown high school ice hockey game.
Beyond the Boardwalk
Local author Nelson Johnson watched his best-selling history of Atlantic City blossom into the hit HBO series Boardwalk Empire this past fall. Now he's hoping to piggyback on that success with a new book, The Northside: African Americans and the Creation of Atlantic City (Plexus Publishing, $24.95). The history tracks the growth of Atlantic City's black community from the 19th century onward, including the birth of A.C. tourism, the struggles for civil rights and the ambience of trendy integrated nightclubs. TheNorthsideBook.com
The Department of Divine Interventions
$220,000: The amount Haddonfield cardiologist Dr. Nicholas DePace paid for an incredibly rare Honus Wagner baseball card, ensuring that the Roman Catholic nuns who sold the card could remain solvent.
Outside the BoxSet
Thirty-three years ago, Frank Stefanko spent two weeks photographing rock's biggest star, at locations around South Jersey and Camden, and at his house in Haddonfield. Now, those iconic photos of Bruce Springsteen have re-emerged as part of a belated 30th-anniversary box set edition of Darkness on the Edge of Town. Stefanko is also known for his photos of another South Jersey great, Patti Smith. "Bruce Springsteen went backstage to visit Patti at one of her shows, and Patti said to Bruce, 'You're going to be famous someday—my friend Frank from South Jersey said so,"' Stefanko recalls. So later, when Springsteen was seeking a photographer, she put the two in touch and rest was rock history. The set includes three DVDs, three CDs and an 80-page book of notes and photographs, including Stefanko's previously unpublished shots.
Names to Know
Noted Voorhees youth marketer Tina Wells has turned her savvy for all things tween toward the latest installment in her Mackenzie Blue book series. Mackenzie Blue: Mixed Messages (HarperCollins) is geared toward kids ages 9 to 12.
Sister Helen Owens, the vice president of mission for Lourdes Health System and the visionary behind the Lourdes Wellness Center, which provides nutrition, stress management, holistic care and more, is marking 51 years of service to the community.
Steven Bollar, the principal of Mount Laurel's Hartford School, uses his 6-foot-7 stature as a jumping off point to inspire students and staff as Stand Tall Steve, a motivational speaker with a passion for creativity and individuality.
Tune in! Dr. Steven Davis of Davis Cosmetic Plastic Surgery is set to appear on an episode of the syndicated Dr. Oz Show in mid-January.
Evesham Township Manager Tom Czerniecki was presented with the Outstanding Manager's Award for 2010 by the New Jersey Municipal Management Association.
Camden County College student and softball player Samantha Torres of Pennsauken, and assistant softball coach and Centenary College M.B.A. student Maureen Shockley of Magnolia, have landed the coveted role of Phillies' 2011 ball girls.
The Academy of Vocal Arts recently staged the world premiere of Haddonfield native Margaret Garwood's opera The Scarlet Letter.
Prosthodontist Dr. Jack Piermatti, managing director of Dental Arts of South Jersey in Voorhees and a faculty member at UMDNJ-New Jersey Dental School, has been named to the Board of Directors of the American Board of Oral Implantology.
Published (and copyrighted) in South Jersey Magazine, Volume 7, Issue 10 (January, 2011).
For more info on South Jersey Magazine, click here.
To subscribe to South Jersey Magazine, click here.
To advertise in South Jersey Magazine, click here.