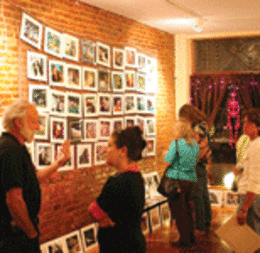 Paint by Numbers
South Jersey's artistic renaissance just might be our engine on the road to economic recovery.
Discovering Collingswood's Second Saturday was a bit of a happy accident for then-Philadelphia artist Chris Eckenrode, who stumbled across the monthly event while visiting the downtown a few years ago.
Assembled up and down Haddon Avenue were local crafters and artists displaying works in a variety of mediums. Street musicians attracted crowds. Galleries and shops opened their doors wide to display paintings and sculptures by local artists.
"I loved the idea of this small-town feel, so close to the city, with galleries and people out and about on a Saturday night," says Eckenrode, 37.
Eckenrode liked it so much, he moved to Collingswood. He has been an active Second Saturday exhibitor for two years.
"One of the most satisfying aspects of being an artist is interacting with people and getting their reactions to your work," Eckenrode says. "So this event allows an artist of any experience or background to show their work to the public, get feedback and maybe even sell a piece or two. That energy keeps me coming back, and makes every Second Saturday its own unique ex­perience."
That level of enthusiasm is inspiring many South Jersey towns to carve out their own artistic niches. Galleries and art centers are opening their doors from Collings­wood to Millville; enterprising artists are taking advantage of new, alternative exhibition spaces; and First Friday and Second Saturday events in places like Haddonfield, Haddon Township and Collings­wood are coalescing into vibrant monthly scenes. As a result, an artistic renaissance is sweeping South Jersey—and transforming its towns for the better.
"It's like locally grown food: it's become extremely desirable to people," says Janet Jackson-Gould, chairwoman of the Medford Arts Center, which was founded 11 years ago by a group of committed volunteers. "People have realized the advantage of getting something local and fresh; of having regional artists available in a local area. People now value their time, and driv­ing into the city and paying the high cost of parking really is a disincentive."
Part of the inspiration for this artistic evolution has been the success of such efforts in Philadelphia, with its vibrant arts scenes in Old City, Northern Liberties and Fishtown. The Philadelphia Mural Arts Program also attracts thousands of visitors each year, and the interest in public mural arts has trickled eastward to South Jersey. The Mount Holly Mural Arts Program, for example, has completed five murals throughout this Burlington County downtown. There's also a sixth mural in progress, and a seventh in the planning stages, according to artist Lynn Lemyre. She hopes to create a walking tour for the murals as well.
The Delaware Valley is also home to some of the finest art schools in the country, so there is no shortage of artistic talent. "The world is getting smaller," says Diane Macris, administrator for the Gloucester County Cultural and Heritage Commission. "We are experiencing a younger group of artists who think globally, have had a great education and have returned to southern New Jersey. They have embraced nontraditional venues and diverse opportunities to create their art."
Those venues in­clude smaller galleries, like the Rulon Art Studio in Swedes­boro, and art fairs in Gloucester County downtowns like Pitman and Glassboro, both of which are ready to embrace the economic boom that can follow a trendy arts scene.
"There seems to be a realization of what an arts or cultural scene can do to bring business into our communities," Macris says, "and, more importantly, how the arts experience can elevate our quality of life, how they can teach and heal individuals and communities."
Sandra Turner-Barnes, executive director of the Camden County Cultural and Heritage Commission, adds that many local arts centers are collaborating to reach larger audiences and bring in more artists.
"The art scene has changed over the last 10 years, in that communities and artists are coming together to address the need for more art," Turner-Barnes says. "You see more murals now than ever, in even the smallest, poorest communities. Also, smaller galleries in more well-to-do communities, such as EveArts in Haddonfield, as well as the larger Markeim Arts Center in Haddonfield, work hand in hand to address the need for expression by artists of all ages and cultures."
Of course, the economic downturn has had an impact on the area arts scene. Over the past five years, some smaller galleries in Haddonfield and Collingswood have closed their doors. Still, some see a silver lining, and hold out hope that the small galleries forced to close will return in time. "Local art scenes that come out of a local community are being valued in a very profound way," says Jonathan Elliott, marketing and communications manager of Discover Jersey Arts, a nonprofit arts promotion group based in Burlington County. "With the changes in the economy, people are traveling less. Things are being valued differently, and experiences are being placed much higher." In theory, that could mean a revived interest in visiting local galleries.
"With the downturn in the econ­omy, people are looking to stay closer to home and need a sense of community," Macris says. "And artists need reasonably priced studio space." The potential for symbiosis is self-evident.
As well, the immediate economic impact from a thriving arts scene cannot be ignored, Macris says. According to a study performed by The Richard Stockton College of New Jersey, the average day-tripper to Camden County or Gloucester County spends $126.45. In October, more than 800 visitors attended the Olde Kings JazzFest in downtown Swedesboro, according to Macris, taking in the arts and music scene—and bring­ing an estimated additional $121,160 into the local economy in a single evening.
"It has a real role in economic development," Jackson-Gould says. "There's a lot of research around that shows that. Towns like Collingswood have used the arts to revitalize their downtowns. We hope to be a part of that effort in Medford Village."
If art-as-economic engine worked in places like Old City and Northern Liberties, it just might do the same here in South Jersey.
"A thriving arts scene makes our communities great places to live and visit," Macris adds. "Corporations look to establish themselves in strong cultural hubs so they in turn can attract desirable employees. Along with the aesthetic sensibility that artists bring to a community, many are entrepreneurs who, if encouraged and supported, can bring unique and diverse small business into the downtowns."
Off the Wall
From galleries to arts centers and college campuses, here are a few of our region's art venues.
Center for the Arts in Southern New Jersey
Local artists show their work at this 200-year-old brick farmhouse, where classes in painting and drawing are available. The center holds 12 exhibitions per year, a new one each month. 123 S. Elmwood Road,. Marlton, (856) 985-1009, CFASNJ.com

Dr. Ross Beitzel Art Gallery at Gloucester County College
With approximately 500 pieces of artwork valued at a quarter of a million dollars, GCC's permanent art collection is more substantial than that of many four-year colleges. 1400 Tanyard Road, Sewell, (856) 468-5000.

Hopkins House Gallery
Visual art exhibitions, jazz concerts, poetry readings and literary events are on offer at this home of the Camden County Cultural & Heritage Commission. 250 S. Park Drive, Haddon Township, (856) 858-0040, Arts.Camden.Lib.NJ.us

Markeim Art Center
Gallery exhibits, visual art classes for adults and children, musical performances and special needs programs are available to both members and the public. Lincoln Avenue and Walnut Street, Haddonfield, (856) 429-8585, MarkeimArtCenter.org

Medford Arts Center
The Medford Arts Center, now in its second year, offers exhibitions, classes, concerts, literary events, summer art camps and more. 18 N. Main St., Medford, (609) 654-6033, ArtsInMedford.org

Perkins Center for the Arts
Pottery, painting, dance and music—Perkins Center for the Arts offers something for everyone. In addition to its Moorestown location, Perkins also has a satellite location on Irvin Avenue in Collingswood. 395 Kings Highway, Moorestown, (856) 235-6488, Perkins­Center.org

Stedman Gallery at Rutgers-Camden Center for the Arts
Head to the Stedman Gallery to see changing exhibitions covering a broad range of time periods, media and artistic styles. 314 Linden St., Camden, (856) 225-6245, RCCA.Camden.Rutgers.edu

Wheaton Village
Visitors can watch world-class glass artists at work or tour the Museum of American Glass. While you're there, explore South Jersey's cultural traditions in the Down Jersey Folklife Center. Educational programs are also held throughout the year. 1501 Glasstown Road, Millville, (800) 998-4552, WheatonArts.org.
Published (and copyrighted) in South Jersey Magazine, Volume 7, Issue 10 (January, 2011).
For more info on South Jersey Magazine, click here.
To subscribe to South Jersey Magazine, click here.
To advertise in South Jersey Magazine, click here.