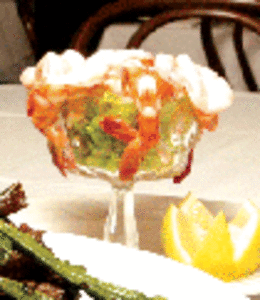 Top Shelf: Library 2
Top Shelf: Library 2
306 Route 73, Voorhees
(856) 424-0198
LibraryTwo.com
3 forks
The lights are low in the Library 2. Bookshelves line the walls from floor to ceiling, rows of faded volumes packed so tightly that there's nary a centimeter to slide in a CliffsNotes. Brass sconces cast a sepia glow over the stalwart steakhouse. Wooden tables and chairs, the kind you'd expect to find in an old English rectory, fill two dining rooms, and loyal customers, the kind that have been coming here since the place opened 35 years ago, fill the chairs. The Library 2 looks as if it has been preserved in amber—which is a huge part of its appeal.
Another part is the food. The menu is meat-and-potatoes, literally and figuratively, augmented by a bountiful salad bar that looks like it was fashioned from an old trading vessel. If you've been to Library 2 or its counterparts in Williamstown and Egg Harbor Township, then you know the ordering protocol. If you're a first-timer (like I was) the hostess will be glad to explain as she seats you and tucks a blank guest check between the salt and pepper shakers.
"Go up the salad bar whenever you're ready," she explained. "When you want to order dinner, head to the window and tell the chef what you'd like."
"What window?" I wondered for a moment. Then I saw the cutout at the end of the salad bar, partially blocked by a gaggle of execs studying wall-mounted menus advertising steaks and chops. Take your time, gentlemen. There's a salad bar with my name on it. Great bowls of iceberg, spinach and romaine get you started, followed by a bevy of toppings (beets, blue cheese, mandarin oranges, dried cranberries and baby corn, just to name a few) and a dozen-plus dressings, of which my favorite was the sweet-and-sour pineapple vinaigrette. A salad bar is an inherently limited conceit, but Library 2's succeeds in the areas it should: variety, freshness and fullness. And the selection of breads—especially the outstanding chocolate-brown pumpernickel—could fill an entire bakery.
After polishing off our salads, we headed to the window to order. It connects to the kitchen, where the staff in black shirts bustle and the white-jacketed chef/order-taker shows whole beef tenderloins and sides of sirloin the business end of his knife. The beef is cut to order. Eight ounces? A pound? Slice! Thwack! The steak is cut and tossed on scale, and then directed toward the stove.
You can't observe the rest of the process, but after tasting that gorgeous sirloin, I'm pretty sure it doesn't involve salt and pepper. A liberal application would really give these steaks some crust and texture. Mine was perfectly cooked to the requested medium-rare and cutting was smooth—until the knife tangled with one particularly obstinate sinew. Retro chicken Kiev, one of the few non-beef options, was better, the knife freeing a cascade of molten herbed butter. Encased in a jacket of breadcrumbs, it delivered a contrast of crunch and tenderness.
Appetizers and sides, also ordered at the window, were a similarly mixed bag. Least satisfying were the scallops wrapped in bacon: the mollusks were overcooked, the accompanying tomato béarnaise sauce had separated, and, with four pieces per order, it made for a skimpy dish. You're better off with the shrimp cocktail—cool butterflied crustaceans hinged like candy canes over the rim of a zippy ketchup-and-horseradish-filled martini glass. Also ap­pealing were the requisite potatoes: a football-sized sweet potato came topped with butter and cinnamon, while the traditional baked potato prompted the arrival of a caddy stocked with bacon, sour cream and chives.
After all that food, finishing two desserts was a tall order. I barely made a dent in the double slabs of moist, cinnamon-scented Jewish apple cake (warmed up and a la mode, at the server's suggestion). But the delicate pumpkin cheesecake is so fluffy you'll want to shout about it—library silence be damned!
E-mail us at edit@southjersey.com.
Published (and copyrighted) in South Jersey Magazine, Volume 7, Issue 10 (January, 2011).
For more info on South Jersey Magazine, click here.
To subscribe to South Jersey Magazine, click here.
To advertise in South Jersey Magazine, click here.