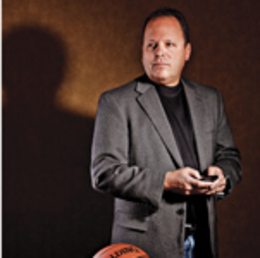 Shot Caller
Super agent Leon Rose reps everyone from LeBron James to Carmelo Anthony, but his home team will always be Cherry Hill East.
Leon Rose will do just about anything for his big-name NBA clients: fly around the world to represent them; partake in marathon negotiating sessions; handle the endless minutia of endorsement contracts.
Yet even Rose has his limits—so, please, just don't ask him to skip a Cherry Hill High School East boys' basketball game this winter.
"I won't miss a Cherry Hill East game this year," says Rose, who has designed his schedule around the team's key Olympic Conference games. "I let all the guys"—the guys being clients like LeBron James or Allen Iverson—"know that, barring an emergency, I will be at the East games."
After all, just as important to Rose as any of those international stars is East's senior point guard, Sam Rose.
That, of course, is Rose's son, and a key player on the Cherry Hill East basketball team, which is a serious contender for this year's South Jersey Group 4 title. This is a special year for father and son, not to mention for their shared mentor, Cherry Hill East's veteran coach John Valore. Rose, a 1979 graduate of East, played as a point guard under Valore. Now his son is taking up the same position.
Basketball saturates Rose's family, his pastimes, his passions. But it's easy to forget all that in light of how it has driven his career.
It's not a stretch to say that Rose is the most successful player agent in the NBA, at least if judged by the number of high profile players he represents. His clientele now includes superstars such as Carmelo Anthony of the Denver Nuggets and Chris Paul of the New Orleans Hornets.
But Rose, who turns 50 in March, is not the stereotypical agent. He is neither loud nor blustery, and he prefers to stay in the background. Yet he has earned a reputation as a master negotiator. He has represented players at the lower echelon of NBA hierarchy all the way up the biggest stars the sport has ever seen.
"The best part of the job is the relationships and having the ability to be involved in players' lives and hopefully playing a small part in their careers and helping them grow," says Rose.
Perhaps because he has never lost sight of his love of the game, he understands those players better than other agents might. After Rose graduated from the Cherry Hill East squad, he moved on to join the basketball program at Dickinson College in Carlisle, Pa. And later, while Rose was attending law school nearby at Temple University, he returned to his high school's basketball courts to serve as an assistant coach under Valore for three seasons.
Even after he graduated from law school and landed a job as an assistant Camden County prosecutor, Rose kept his hand in the game, as an assistant coach for two seasons at Rutgers-Camden, under the late Pony Wilson.
Rose wanted to stay in coaching, but recognized that it wasn't the most lucrative profession. In 1994, he got a window into an alternative career. That was the year when Rose helped negotiate his first NBA contract, for former LaSalle standout Lionel Simmons. Bill Simmons, Lionel's uncle and a friend of Rose's, asked Rose to negotiate the deal. After going through that process once, Rose was hooked.
A year later, he landed his first client, Rick Brunson, an undrafted basketball player from Temple University who went on to enjoy a long NBA career.
Over the subsequent years, Rose's client roster ballooned to include some of the greatest athletes ever seen on the court. Four years ago, Rose outgrew his solo operation and merged with Creative Artists Agency (CAA), the world's leading full-service entertainment and sport agency with offices in Los Angeles, New York, Nashville, London and Beijing. The company represents more than 650 athletes.
Of course, Rose, true to his local roots, never considered leaving Cherry Hill. Despite his success, he has remained the same—a South Jersey guy who has never strayed very far from his roots.
"I was born and raised and my roots are here, my family is here," says Rose, who with his wife Donna, also has a daughter Brooke, a sophomore at Cherry Hill East. "I love the community, and it's home—that's the best way to put it."
One can imagine the perks of the job—like invariably great seats to NBA games. But there's also a downside to life as a power agent.
"It's the 24-7 nature of it," Rose says. "The lack of boundaries and the time needed, it's a sacrifice your family has to make."
As many sacrifices as he makes, Rose builds his schedule around family functions, including those Cherry Hill East basketball games. Moreover, during the off-season, Rose coaches East's summer league and fall league teams. "I love working with the youngsters," Rose says.
Despite all the famous athletes he has represented, it is coach Valore who Rose admires most in the sporting world.
"To have the chance for my son to be able to be around a person like that, who taught me so much and instilled so much in me, is the greatest feeling and experience I could want," Rose says.
The respect between Valore and Rose is so deep that Rose was named the godfather of Valore's son J.C shortly after graduating from high school in 1979. Valore's pride in his mentee hasn't faded over the years.
"You couldn't have a closer relationship than Leon and I have," Valore says. "He has been family ever since his senior year of high school. He has been very close and we never drifted apart, and that has been special."
Published (and copyrighted) in South Jersey Magazine, Volume 7, Issue 10 (January, 2011).
For more info on South Jersey Magazine, click here.
To subscribe to South Jersey Magazine, click here.
To advertise in South Jersey Magazine, click here.