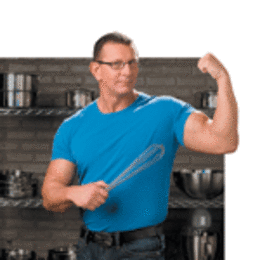 Headliner: Grill Sergeant
Absecon's Robert Irvine combines his military discipline and culinary skill on two shows coming to Food Network this month.
Robert Irvine honed his culinary abilities while serving as a cook in the Royal Navy. Eventually, he moved from the mess hall to the kitchens of some of Atlantic City's biggest casinos, before becoming a fixture on Food Network and opening his own restaurant in Hilton Head, S.C. This month he returns to the small screen with two shows, joining fellow chef Anne Burrell on the cooking competition show Worst Cooks in America, (Jan. 2), and starring in a new series, Restaurant: Impossible, (Jan. 19). On the latter, each episode will follow Irvine as he takes over a struggling restaurant and relaunches it on a budget less than two days later. The first episode will feature Villari's in Palmyra. We chatted with the muscle-bound cook about working under pressure, being a celebrity chef and whose food he would love to eat.
SOUTH JERSEY MAGAZINE: What new challenges are you faced with on Restaurant: Impossible, as compared with your previous show Dinner: Impossible?
ROBERT IRVINE: The two shows are very different. There's no real consequence on Dinner: Impossible…. On Restaurant: Impossible, my reputation as a chef is on the line. I have 36 hours and $10,000 to make over someone's life. [On the new show], yes, I know where I am going, but I don't know what I am getting into until I meet the people and see the food, the restaurant, the service, and then I make a determination. The people who own the restaurant don't get a say, and they don't see it until I relaunch.
SJM: You've had to cook on the clock on Dinner: Impossible and now you are remaking restaurants in two days! What's the most stressful meal you've ever had to prepare?
RI: They're all stressful for me. When people know you are a chef, they tend to expect more from you than if you went to dinner at someone's house. What is blowing someone away? I believe in simplicity: season it correctly, cook it correctly.
SJM: You're known for cracking the whip in the kitchen. Does that tendency come in handy on Worst Cooks in America?
RI: Oh absolutely. What's interesting about being in the military is you can command people. In all these shows, it's a tough love situation. We take 16 people from all walks of life and we teach them.
SJM: What's the worst dish you ever made?
RI: I tried to cook with cinnamon and nutmeg—I don't know what to do with it.
SJM: Given your experience cooking in Atlantic City, what do you think of the current dining scene in town?
RI: What I love about that area, there are casinos that can afford beautiful restaurants, but there are so many mom-and-pop restaurants. I got to Atlantic City in 1997. It wasn't about food; it was about money. People started to say they wanted better restaurants. The past 20 years have been amazing there, they are a food destination now. People are demanding better things now. You can't get away with just a mediocre cheesesteak.
SJM: Would you ever open up a restaurant in Atlantic City?
RI: I would. I intend in 2011 to branch out. We have another restaurant opening up in Hilton Head, more of a seafood style. I don't want to do it too fast, I don't want too many restaurants. Who knows, I might even hire somebody from Worst Cooks in America. By the end of it they are not the worst cooks!
SJM: Do you embrace or reject the celebrity chef moniker?
RI: I was a chef way before I was on television. I don't consider myself a celebrity; I consider myself a cook.
SJM: At age 15, you entered the Royal Navy and began your culinary training. Did your friends think you were crazy?
RI: I joined the Sea Cadets, a Cub Scout type of thing, so my natural progression was to go into the Navy. They gave me the tools to do what I do today, and I would have never thought I would be pulling on the leadership skills [learned there].
SJM: It appears you are as serious about your fitness as you are your cooking. Did you ever think about doing a cookbook/exercise DVD combo?
RI: Funny you should say that. I am actually working on a book now called Fit Fuel. I do take care of my body.… I was voted one of the top 25 fittest guys in the U.S. [by Men's Fitness]; it's what I get comments on all the time. I don't work out a lot: I work out every day [laughs]. It also relieves pressure. I don't take days off, and so that's what keeps me ticking. I always work out before I have a full day.
SJM: If you could have any person cook a meal for you, who would it be and why?
RI: Nelson Mandela would be the first one. I would just love to sit and talk to him over whatever type of food. The second would be Michel Richard from Citronelle in D.C. That is my hero right there.
Published (and copyrighted) in South Jersey Magazine, Volume 7, Issue 10 (January, 2011).
For more info on South Jersey Magazine, click here.
To subscribe to South Jersey Magazine, click here.
To advertise in South Jersey Magazine, click here.