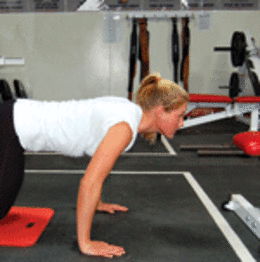 Going to Extremes
From the whimsical to the hardcore, here are 10 novel fitness options to start your year on the right track.
Each year on Jan. 1, we make a resolution to devote more time to the assortment of exercise artifacts collecting dust in our basements: the Ab Rockets, NordicTracks and Jane Fonda Aerobic Steppers of resolutions past. And each year, by Jan. 15 or thereabouts, that resolution is set aside in favor a bowl of popcorn and an afternoon scouring QVC for this year's workout wonder. If you've been there, then take this opportunity to put down the remote and lace up your sneakers. There are plenty novel fitness options to jump start your New Year's progress, inspire you to be your fittest self, or at least keep you entertained as you burn off those gallons of eggnog consumed in December.
From the cruel and unusual punishment of outdoor boot camp to the high-tech concept of exercising in a vacuum, we bring you South Jersey's 2011 workout regimen.
TRX Suspension Training. This suspension band product, developed by the Navy Seals, has become one of the trendier fitness breakthroughs of recent years. Bands can be used on the go, but have increasingly been seen in group fitness settings. TRX classes use the body's own weight to improve core strength, balance and flexibility. Kickbox Fusion, 6 Route 70 W., Suite 26, Marlton, (856) 596-1040
Mixed Martial Arts. The Ultimate Cage Fighting sport has come to New Jersey—and everyone from serious fighters to soccer moms are taking part. Liberty Boxing is open 24 hours a day, and offers group and one-on-one training for would-be warriors of all skill levels. Whether you want to spar or just practice on your own, they've got a workout plan to fit your style. Liberty Boxing, 198 Fries Mill Road, Turnersville, (856) 262-1235, LibertyBoxing.net
Fusion Cross-Training. This unique exercise concept, which arrived at Mount Laurel's Future Fitness last spring, is all about cross-training, with equal focus on cardio, strength and flexibility. The 75-minute workout includes 30 minutes of cardio, 30 minutes of resistance training with weights and 15 minutes of yoga. 3 Hovtech Blvd., Mount Laurel, (856) 778-5900, FusionCrossTraining.com
CrossFit. Intensity is the key word in this ever-more-popular fitness discipline that focuses on coached group workouts to improve strength, endurance and speed. Using tools like kettle bells—weights that are lifted and swung—and the body's own weight in squats, sit-ups, push-ups and sprints, this program is about im­proving core strength and overall fitness. CrossFit Aspire, 1950 Old Cuthbert Road, Cherry Hill, (609) 922-1459, CrossFit­Aspire.com
Vacu Fit. After Versa Fit owner Janka O'Brien heard friends in her native Slovakia raving about this device, she decided to become the exclusive U.S. importer. This new workout regimen takes place on an elliptical trainer inside a vacuum chamber; an alternative version, Vacu Fit Thermal, uses a treadmill inside a heated chamber. "This boosts circulation to problem areas and helps burn fat cells underneath the skin to reduce inches and the appearance of cellulite," O'Brien says. She says her clients lose an average of three to nine inches over the course of 20 sessions on the Vacu Fit, and she's ordered more of the machines to satisfy demand. If this isn't high-tech enough for you, try Versa Fit's Power Plate, a whole-body vibration therapy and workout platform that was among the hottest fitness trends of the Aughts. Versa Fit Studio, Ritz Plaza, 910 Haddonfield-Berlin Road, Voor­hees, (856) 566-1000, Versa­Fit­Studio.com
Exer-Gaming. If you think Wii bowling is a workout, then it's definitely time to make your way to the Katz Jewish Community Center, where the gym features the XRKade, an exergaming arcade designed to offer a challenging workout without cutting into your screen time. Options include snowboarding on an XR-Board, going off-roading on a Gamebike or cutting a rug via Dance Dance Revolution. 1301 Springdale Road, Cherry Hill, (856) 424-4444, KatzJCC.org
Dancing. Even if cardio pole dancing was never exactly your speed, you can still express your sensual side and get a killer workout all at once. Atrium Dance Studio offers everything from belly dancing to Western swing, hip-hop to tango, creating almost unlimited ways to get fit and look cool while doing it. Best of all, they have salsa parties and other dances several times a month, offering plenty of opportunity to practice and work up a sweat in a fun social setting. 4721 N. Crescent Blvd., Pennsauken, (856) 661-9166, AtriumDance.com
Krav Maga. Think you're tough? Here's where you prove it, with a form of martial arts that's rapidly drawing new fans, including military and law enforcement types. "Krav Maga is designed for pure self-defense purposes. It's basically Israeli street fighting. We go off a philosophy that there are no rules on the street," says Don Melnick, one of the owners of Israeli Krav Maga in Cherry Hill, which opened in August. Group exercise classes are separated according to experience level, meaning that beginners will receive plenty of guidance. 2020 Springdale Road, Cherry Hill, (856) 428-5728, IsraeliKrav.com
Outdoor Boot Camp. Nothing gets you going first thing in the morning like an outdoor boot camp—especially in the middle of winter. Put yourself in the hands of a merciless—but well-intentioned—trainer for the ultimate in exercise, nutrition and motivation. Cherry Hill trainer John Piacentino offers a six-week weight loss program: (856) 905-9975, MorningBootCamps.com. Subversion Fitness in Moores­town offers an indoor-outdoor boot camp: 400 N. Church St., Suite 115 B, Moores­town, (856) 437-0822, SubversionFitness.com.
Dodgeball. Running for an hour on a treadmill can get a bit boring. Know what's not boring? Running for an hour to avoid rubber balls being hurled at your head. Yep, your favorite gym class relic is all grown up and offers a great workout. Get together a team for six-on-six co-ed games at the Virtua Flyers Skate Zone; leagues run February through April. The exercise will at least counteract any beers consumed in celebration of your dodgeball domination. 601 Laurel Oak Road, Voorhees, (856) 309-4400, FlyersSkateZone.com
Published (and copyrighted) in South Jersey Magazine, Volume 7, Issue 10 (January, 2011).
For more info on South Jersey Magazine, click here.
To subscribe to South Jersey Magazine, click here.
To advertise in South Jersey Magazine, click here.