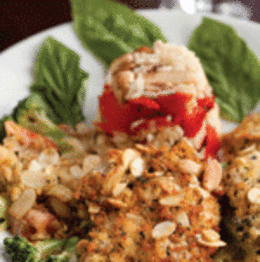 Big Plates, Bold Tastes: Due Amici
Big Plates, Bold Tastes: Due Amici
2114 Branch Pike
Cinnaminson
(856) 303-8828
DueAmiciItalianGrill.com
3 forks
In the conversation about great South Jersey dining scenes, foodies typically mention Collingswood or Cherry Hill. Rarely does Cinnaminson, the city straddling Route 130, come up. Residents probably prefer if that way: fewer tourists passing through to gobble up the reservations at places like Due Amici, a tucked-away Italian that's been serving pasta, house-made cannoli and veal dishes since 1999.
With its in-stock-at-Home-Depot door, drawn shades and faded siding, the exterior of the restaurant looks like a summer rental on a less glamorous block in Margate, but inside, the warm chocolate-and-caramel-toned dining rooms have a friendly glow about them, buzzing with customers and conversation—even on a frosty weekday night. My seat by the bank of French doors looked out on Due Amici's scenic courtyard; in the summer, umbrella-equipped tables surround a gurgling flagstone-framed pond. Standing in these days: two life-sized nutcrackers and a twinkling Christmas tree.
I thawed out with a bottle of Malbec and Due Amici's potatoey gnocchi. The fresh-cooked starchiness of the dumplings, made by a mystery pasta purveyor who co-owner Dan Palombo refers to only as "Nino," really comes through—no small feat when cloaked in Gorgonzola sauce. Texturally, the ivory sauce was silk, but a heavier hand in the seasoning department would have taken it from good to great—a recurring theme at Due Amici, where a little extra finesse would go a long way.
Salt, pepper and parsley were what these gnocchi needed, and adding two of the three at the table cast the Gorgonzola in a sharp relief. "Are you sure this is the appetizer portion?" I asked the server, who nodded, to my disbelief. The plate of pasta was massive, another recurring theme here. Due Amici is the kind of restaurant that feeds you as if it were your Italian grandmother.
Palombo and his partner, Chef Michael Jewell, take your resolve to eat prudently and crush it in their giant nutcrackers, while simultaneously passing you a fresh basket of house-baked garlic knots, sundried-tomato focaccia and sliced Italian bread.
Four enormous crustaceans rode in for the herb-crusted shrimp appetizer. The parsley-sage-and-basil-flecked panko shells added even more volume to the sweet pink-and-white bodies, along with a crunch you could hear two tables away. Could these be the only fried shrimp I've ever truly loved?
All signs would point to "yes," if only the accompanying cucumber salsa, cool and refreshing, had some more herb-and-acid pizzazz. Still, it was satisfying, not to mention unexpected.
Due Amici has plenty of the Italian mainstays, (cold antipasto, bruschetta, fried calamari), but they make an effort to mix it up. The herb-crusted shrimp is one example; puff pastry bites filled with sausage and broccoli rabe are another. There, the chef abandoned the comfortable realm of Mediterranean classics for the buttery, flaky pastry shells, arranged over rich, garlicky Dijon cream sauce striped with roasted red peppers.
For entrées, we zeroed in on the center of Due Amici's menu, home to a roster of dishes under the heading "Chicken or Veal." In the former category, we selected the Angelo: a fragrant melange of mushrooms, sun-dried tomatoes, asparagus and white wine-lightened marinara. The sauce flowed like a crimson moat around the juicy boneless, skinless breasts webbed with melted mozzarella—a presentation that didn't exactly inspire the appetite. Whereas Due Amici's appetizers had been thoughtfully plated, that same care wasn't evident here. Nor was it apparent in the almond-crusted veal drowned in vapid white wine cream. There was just too much of the rich (yet under-seasoned) sauce, and too much of the overcooked mushroom risotto. Both distracted from the milk-tender veal and its fantastically flavorful ground-nut jacket. That meat, on a naked plate with a big squeeze of lemon and some fresh arugula, would have been perfection.
At least the prices are reasonable, a fact that extends to the house-made desserts, a sampler of which can be had for under $10. The raspberry sauce-glazed cream puffs tasted as if they were filled with Cool Whip, while the black forest cake was studded with syrupy pie-filling cherries. However, I really enjoyed the rest of the tasting's treats. Highlights included the not-too-sweet mini ricotta cannoli, airy strawberry shortcake and the moistest chocolate cake on earth.
The Cinnaminson regulars know. Now you do too.
E-mail us at edit@southjersey.com.
Published (and copyrighted) in South Jersey Magazine, Volume 7, Issue 10 (January, 2011).
For more info on South Jersey Magazine, click here.
To subscribe to South Jersey Magazine, click here.
To advertise in South Jersey Magazine, click here.