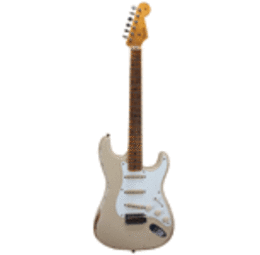 Made to Order
Custom-made goods found here in South Jersey
Buying bespoke may seem like a privilege reserved for pro athletes, rock stars and, at least once upon a time, hedge fund managers. But a number of South Jersey artisans and entrepreneurs are making it easy and surprisingly affordable to get what you want, how you want it. A replica of a Jimi Hendrix guitar, but with a portrait of your cat? No problem! A hand-tailored suit shimmering with diamond chips? Done, sir. From golf clubs that can improve your game to baseball bats that just might give your kids a shot at the majors, here's our guide to made-to-order goods in South Jersey.
Guitars
Back when you were in a band, you couldn't afford a top-of-the-line guitar. Now that you're a weekend warrior—or, perhaps, killing the local bar scene with your Cream cover band—things are a little different. If you're ready to make your dream guitar a reality, Franklinville's Stephen McQuaid, of Custom, Metal and Classic Guitars, wants to be your guide. The guitar customizer is linked up with all the major manufacturers—Fender, Charvel, Parker, Jackson and more—and acts as a liaison to help you customize everything from a guitar's body style to its paint job and measurements. "Every last detail is up to you, even what the bridge is made of, whether it's bone or wood," he says. Orders have included a duplicate of the Fender Stratocaster Jimi Hendrix used at Woodstock, made by some of the same craftspeople, and a diamond-encrusted instrument for a more ost­entatious rocker. Guitars average $3,000 to $4,000 and take three to six months to complete. (856) 583-1317, CMCGuitars.com
Baseball bats
Given that his grandfather not only hailed from Cooperstown, N.Y., but also was a tradesman of wooden baseball bats, Jeffrey Edson always felt there was a certain amount of sawdust running through his veins. So about five years ago, he launched the Haddonfield Bat Company, selling hand-lathed, made-to-order ash wood bats with custom engraving. While they look like showpieces, these functional artworks actually serve a practical purpose, he says. "There are many statistics out there that if kids start out in Little League using wood bats, the chances of them excelling in high school and college are much higher," Edson says. That's because wooden bats demand more precise hitting. Regulation-size engraved bats are priced around $80 to $90. (609) 330-4190, HaddonfieldBatCompany.com
Jewelry
Sure, wearing this year's extravagant design from Van Cleef is a loud and clear status symbol. But custom jewelry offers a chance to show off your own personal aesthetic—and, with the right rock, it can send the same exact message. Michael and Susan Cabnet create customized bling using your own recycled gems, or precious and semi-precious stones they source from all over the world. "People have their own ideas, they have no ideas, or they have a ring with a stone from a grandmother, and we can do whatever they want," Susan says. That has in­clud­ed requests as unusual as a plaid wedding band to match a favorite shirt. Other works range from dainty flowers to bold asymmetrical pieces. Everything in the store is handmade on site, constructed with sculpted gold wire or sheets, or cast from a carved wax form. Custom pieces start at around $300. Cabnet Goldsmiths, 136 Kings Highway E., Haddonfield, (800) 794-5009, ArtOfFineJewelry.com.
Menswear
Marcellus Poland—"Marco Polo" to his clients—grew up in a family of seamstresses. So it seemed a natural move in 2004 when he started Cherry Hill-based Stitch, a custom suit- and shirt-maker with clients throughout the tri-state area. The company visits clients at their homes or offices to create custom suits, shirts, ties and even whole wardrobes. For extreme luxury, the company's Diamond Chip collection is "for those customers that are high-end, driving your Rolls-Royces and your Mercedes, and they want something that matches their lifestyle," Poland says. Suits of fabric by Scabal, with tiny diamond chips em­bedded in the thread, should do the trick. Regulars, who range from area lawyers and doctors to TV personalities and Philadelphia Eagles, go through a 30-minute to one-hour fitting. Options also include a Business Essentials package: two suits, four shirts and a blazer. Suits range from $500 to $5,000 and take four to six weeks. Shirts, which are made in New Jersey within two to four weeks, are priced from $85 to $600. (800) 203-8458, StitchedOn­line.com
Furniture
Have the perfect space for your TV, (or, as you prefer to tell first dates, your collection of obscure Russian literary fiction), but no entertainment unit to put there? Board Foot Inc., the one-man company run by Sean Bell, has the solution. The custom furniture maker constructs cabinets, entertainment units, tables, bars and other pieces, all made to order. "The customer will have an opening they can't find furniture to fit, and I design something for them," Bell explains. The process averages four months from order to completion, and work is built on-site in Bell's Burlington studio and then installed in your home. Pricing varies from as little as $900 to as much as $70,000. (609) 387-7487, BoardFootInc.com
Motorcycles
"It's not a motorcycle, baby. It's a chop­per." Bruce Willis said it first, but local custom shops do it best. At Custom Performance Cycles, Jeff Miller does everything from pimping your old motorcycle to building one from scratch, but these days the bulk of his business is in trikes (pictured above). Aging bikers looking for increased comfort and stability are bringing their motorcycles in to have a third wheel added—along with the occasional elongated front end, chrome fenders, LED lights, custom exhaust system and flashy paint job. "Pretty much anything you could do to a hot rod you can do to a motorcycle or a trike," Miller says. Trikes cost around $20,000 to $60,000. Meanwhile, Howard's Killer Customs offers sheer audacity in the form of custom creations like the Hubless Harley-Davidson, a $150,000 chop­per with a physics-defying spoke-free rear wheel. "We do one-of-a-kind customs, one at a time. We do exclusive builds for people that want a car, boat or motor­cycle,"?owner Howard Sofield says. They've also made components for NASA, Boeing and Lockheed-Martin, including for satellites and the lunar rover. So, they can customize pretty much any kind of toy for the road, water, air or space. Custom Performance Cycles: 154 Cooper Road, West Berlin, (856) 753-9995, CustomPerform­ance­Cycles.com. Howard's Customs: 1203 Pine St., Pine Hill, (888) 271-0229, HowardsCustoms.com
Cakes
In the era of the Cake Boss and Ace of Cakes, two tiers with a generic plastic bride-and-groom topper is the pastry equivalent of getting hitched at the VFW hall. Fortunately, Classic Cake is nearby, and Chef Robert Bennett specializes in the extravagant and out of the ordinary. "I've made a cake for as many as 44,000 people, or as few as two," he says. The Classic Cake decorators use techniques including sculpting fondant and sugary pastillage, pulling sugar or blowing it like glass, or printing photographic images using food coloring on diaphanous rice paper. Their work has included a 14-foot-tall, 20-tier pink Mother's Day cake with a pink pulled-sugar ribbon for Susan G. Komen for the Cure, 700 blown-sugar apples for the Philadelphia Museum of Art's Cezanne gala, and a $20,000 chocolate installation for "the bat mitzvah of the year." And then, notes Bennett, there are the other cakes, popular among bachelorette parties. "When someone comes in and they're looking down and waiting for all the other customers to leave, you know they're going to order a naughty cake," he says. "We charge accordingly." 480 E. Evesham Road, Cherry Hill, (856) 751-5448, ClassicCake.com
Bicycles
There are bicycles. And then there are custom pedaling machines. Tandems East specializes in the more interesting kind, working with 13 manufacturers and small frame builders like Philadelphia's Bilenky to create bicycles customized to the rider. As the name would indicate, they mostly deal in bikes that seat two, three, four or even five people. Owner Mel Kornbluh even builds his own crank shorteners so that children and adults can comfortably share a bike. It takes six to eight weeks to get your custom machine, and prices range from $1,800 up to $14,000 for a carbon-fiber model with high-end components. 86 Gwynwood Drive, Pittsgrove, (856) 451-5104, TandemsEast.com
Published (and copyrighted) in South Jersey Magazine, Volume 7, Issue 10 (January, 2011).
For more info on South Jersey Magazine, click here.
To subscribe to South Jersey Magazine, click here.
To advertise in South Jersey Magazine, click here.