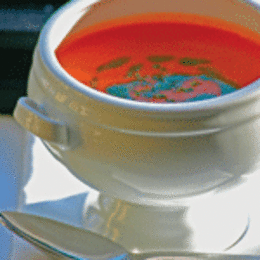 Cravings: Satisfying Soups
5 SPOT: Satisfying Soups
Nothing takes off the winter chill quite like a hearty bowl of soup. Whether it's grand­mom's chicken noodle or dad's chili, it's the ultimate comfort food for the season. Here are five local soups we'll be warming up to this winter.
1. LoBianco: New American Cuisine Roasted Tomato Soup.
Chef Nicholas LoBianco elevates this classic dish with the use of roasted tomatoes and fennel, and finishes it with a cilantro-mint pesto drizzle.
2 Powell Lane (at Haddon Avenue), Collingswood, (856) 854-4500
2. The Apron: African Peanut Soup.
Apron owner Jessica Stewart borrowed this recipe from a former employer at the Reading Terminal Market, and gave it her own twist. Native to West Africa, this tomato-based soup packs sweet potatoes, carrots, celery, zucchini and lots of creamy peanut butter.
47 Kings Highway E., Haddonfield, (856) 795-4333
3. RiverWinds Restaurant: French Onion Soup.
South Jersey Magazine Top Chef contestant Ian Palagye blends sweet Vidalia and red onions with shallots in a rich beef stock, before topping with a thick layer of provolone and gruyere cheeses for an updated take on this fan favorite.
1075 RiverWinds Drive, WestDeptford, (856) 579-7900
4. Robin's Nest: Sweet Potato Soup.
Soup is chef Robin Winzinger's specialty, as evidenced by this seasonal creation. Chicken stock is layered with carrots, celery, onions, heavy cream and fresh-picked sweet potatoes from Hunter's Farm Market in Cinnaminson. Try it as one of three soups offered in her daily sampler.
2 Washington St., Mount Holly, (609) 261-6149
5. Pho Barclay Hues: Spicy Noodle Soup.
A lemongrass beef broth with plenty of heat serves as the foundation for this soup, which also features brisket, Vietnamese bologna and rice vermicelli. It's served with a sidecar of fresh herbs, bean sprouts, hot sauce and a wedge of lime.
1490 Route 70 E., Cherry Hill, (856) 216-8050
"My all-time favorite is Campbell's tomato soup, but, when I'm out, the chicken and pastina soup at Croce's in Cherry Hill is great takeout. Also, the mushroom soup with sweet marsala cream at Bacio is Cinnaminson is fantastic, with great culinary flair."
—Tom Griffiths, senior executive chef at Campbell Soup Company
Chef Talk
Q: What's the one kitchen gadget you couldn't live without?
A: My favorite kitchen tool is the micro­plane zester. I use it for zesting citrus fruits, chocolate, fresh nutmeg, ginger, garlic and hard cheeses. My tip to avoid getting cut is rest the blade on the cutting board, holding it down at an angle.
—Chef Elaine Seagrave, Swedes Inn
Welcome to Town
Cherry Hill is home to the new Umpasri Thai Cuisine (2442 Route 38, Cherry Hill, (856) 482-0370), a small BYOB serving lunch and dinner and run by local couple Suad Hadzovic and Lalitta Ardhan. Expect staples of Thai cooking like noodles, rice and curries at prices that top out below $10. Nearby, fans of Cherry Hill's Megu Sushi will be pleased to know that the restaurant is looking to expand. Sometime this month, folks should see the opening of a new location in Moorestown at the former site of Barnacle Ben's. (300 Young Ave., Moorestown, (856) 489-6228)
Medford's Cooking
Starting this month, select restaurants in Medford will host a special program for area foodies. Registered guests will not only be able to enjoy a live cooking demonstration of the executive chef's signature dishes, but they'll participate, too. On Jan. 24, Femmina Italian Grill will host the event, followed by Braddock's on Feb. 22 and Zinc Café on March 21. Each program runs from 7 to 8:30 p.m. and is limited to eight guests. The cost is $20 per restaurant or $50 for all three. For more information, visit MedfordRec.com
A New Tradition
Not only has Chef Nunzio Patruno rolled out some new menu items at Nunzio Ristorante Rustico in Collings­wood, but he has put the emphasis back on the Sunday family dinner. For $25 per person, guests can order family style: three different appetizers from choices like steamed mussels or calamari, and up to three entrees including Patruno's homemade meatballs over spaghetti. If you have room left for dessert, choose from a selection of the specialties created in house. 706 Haddon Ave., Collingswood, (856) 858-9840
Published (and copyrighted) in South Jersey Magazine, Volume 7, Issue 10 (January, 2011).
For more info on South Jersey Magazine, click here.
To subscribe to South Jersey Magazine, click here.
To advertise in South Jersey Magazine, click here.