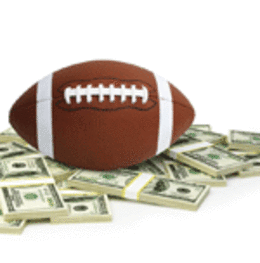 Overcoming the Odds
Across South Jersey on Super Bowl Sunday, football fans will place friendly wagers on the game's outcome. Some will go online. Others will place bets with their bookies. And a few will lose more than they can afford to pay. Yet thanks to new legislation, this suburban pastime with a dark underbelly could soon be turned on its head.
Your family doctor, your kid's third-grade teacher, your accountant—these are, you hope, law-abiding people. They trim their lawns in accordance with neighborhood association guidelines, they pay their taxes, they attend PTA meetings in places like Cherry Hill and Washington Township, and the only rules they break are the occasional speed limits.
And yet, come Saturday and Sunday afternoons during football season, it's those very individuals who are sliding folded $20 bills across barroom tables or scrambling to place calls to their bookies between games. It's the dad who seems abnormally perturbed by Kansas State's loss, even though he graduated from Rowan. Or the friend who, as soon as the 1 p.m. NFL game ends, is outside, pacing and talking on his cell phone, scrambling to place his next wager before the 4 p.m. kickoff. You don't have to go far in South Jersey to find such scenarios. Poke around in area sports bars or prod a fantasy league compatriot, and soon enough you'll find a guy who knows a guy. A local bookie is just a phone call or email away.
Sure, it's illegal. But these days, sports betting in South Jersey is something of an open secret.
Take, for example, Paul, a Cherry Hill resident who also happens to be your typical suburban amateur bookie. (His name, like other bookies and gamblers in this piece, has been changed.) He started betting on sports in high school and college, and eventually he came to a realization. "It started out for me as I like to gamble," he says, "and then I kinda figured, I'm tired of paying the bookie, so why not become the bookie." He's no big-timer, working with just a few regulars and taking usual bets between $25 and $100 and pocketing just a few extra thousand each year. And he's not out to take somebody's whole paycheck. "I do have a heart," he says.
So why go to the trouble of breaking the law for some extra scratch? "It's fun," he responds. "It's not so much about the money for me. I'm not getting rich off it. I have to work every day. It's fun, exciting. It makes the games that much better."
Paul is a different type of bookie—far removed from the years when sports betting was rooted in shady back-of-the-bar dealings, stealthy cash drop-offs, and bookmakers that were more likely than not running for the Mob. But something happened over the past decade: the Internet sparked an explosion of sports gambling online. No longer relegated to the back alley, sports betting became available instantly on your desktop, backed (mostly) by reputable business practices, with secure credit card processing to boot.
Offshore sports betting sites continue to flourish by the hundreds, raking in some $4.29 billion in 2005 alone. All told, estimates of illegal sports betting run as high as $380 billion annually in the United States—nearly 150 times the amount bet legally each year. We're heading into the heart of sports betting season in South Jersey. According to FBI estimates, more than $2.5 billion in illegal wagers are placed on March Madness games.
But the No. 1 betting event is the Super Bowl—and just 1.5 percent of bets on football's biggest game are placed legally, according to the American Gaming Association. In our region, hundreds of local residents will put money on the game, with their friends, their bookies and their favorite gambling websites.
"A lot of the questions I get from people are, 'Is sports betting online legal?'" says Chad Millman, senior deputy editor for ESPN The Magazine, blogger for ESPN Gambling Insider, and author of The Odds, a book about Internet gambling. "People don't even know that sports betting online isn't actually legal, because it's so prevalent, and gaming generally is so available." (For the record, online sports gambling is illegal, though various measures have forced the courts to reinterpret the legality of online gambling in general. New Jersey is trying to legalize intrastate online gambling—but not online sports gambling—for state residents.)
Enforcement of those laws is another matter, especially for amateur bookies. "I figured I'm definitely a small fish in a huge pond," says Paul, explaining why he doesn't worry about being caught. The reality is that most of the fish are swimming freely. New Jersey authorities in the past five years have netted only a couple notable sports gambling busts. The biggest victory was in late 2007, when law enforcement took down a ring inside the Borgata Poker Room that had taken $60 million in bets in 20 months. But police rarely prosecute bookies and practically never bother with bettors themselves. Not a single person in the United States has been arrested for gambling on sports online. "There would be too many to arrest," says Jonathan, a reformed sports gambling addict who's now a public speaker for the Council of Compulsive Gambling of New Jersey.
Given authorities' indifference, says Jonathan, "People think it is a victimless crime." But that's not always the case, says Floyd, a Haddonfield resident and a regular at Gamblers Anonymous meetings. At the height of his sports gambling addiction, Floyd was betting up to $5,000 per week through a bookie, who operated by phone and online. It's people like Floyd who have made gambling websites unfathomably wealthy over the past decade. And it's watching that wealth flow away overseas that has inspired New Jersey legislators to get creative in looking for ways to get a piece of that pie.
After all, even though legal bets make up just a tiny fraction of all Super Bowl wagers, that tiny fraction totaled $82.7 million in Las Vegas sports books last year. Sure, the 2014 Super Bowl at the Meadowlands is expected to bring with it an economic impact of $550 million. But if Atlantic City's casinos were allowed to offer sports betting, it would bring in an expected $220 million in state tax revenues every single year.
Such a boost would be Christmas in February for Atlantic City's ailing casinos. To no one's surprise, New Jersey's legislature is attempting once again to achieve such a reality (a leap that has failed many times before, including the most recent in 2008).
So why might this time be the charm? Part of it is a lawsuit, brought forth by State Sen. Ray Lesniak (D-Union), that challenges the federal statute that bars New Jersey and 45 other states from legalizing sports gambling. (Nevada and Delaware are among the four states that were grandfathered in.) The state had the chance to legalize it in 1992 before the Professional and Amateur Sports Protection Act was to become federal law, but lawmakers hedged, and have been paying for that decision ever since.
This time the venture is part of a broader set of bills designed to breathe new life into Atlantic City's casino district. A panel in the New Jersey Senate has pushed through a constitutional amendment that would bring sports betting into casinos and racetracks.
But to get it done, New Jersey citizens have to want to legalize it. In mid-December, state legislators approved a resolution that will allow voters to weigh in on the subject, via a ballot referendum slated for Nov?em?ber 2011. "There seems to be some real interest among residents and citizens to participate in sports betting [that] now occurs in a structure which is non-legal," says Assemblyman John J. Burzichelli (D-Gloucester), one of the major proponents of legalizing sports gaming.
However, even if voters are enthusiastic, the federal ban would have to be lifted for a New Jersey sports betting law to take shape. And even avid gamblers admit that legal sports betting wouldn't necessarily be a huge draw. Floyd, who hasn't placed a wager in six years, says that if sports betting had been legalized when he was a gambler, "I would have stayed with my bookie." It would be "an hour drive to Atlantic City. Or I could just make a phone call and be done with everything in five minutes." Also, he says, bookies rarely need money up front. Bettors will typically run tabs, paying up only when the stakes get high enough. "With legalized sports betting," Floyd says, "you're going to have to put the money down in order to place a wager. So it's actually more convenient if it is illegal."
New Jersey lawmakers are keeping their expectations in check. Burzichelli says sports betting is just a "small piece" of the potential plan to right Atlantic City. "The casinos will tell you sports books are not immensely profitable, they're not standalone operations. They're part of the bigger picture."
Still, Burzichelli can't help being optimistic. "If sports gaming is legalized," Burzichelli says, "you would think [that's] where most of the activity would go to because of the confidence and trust associated with [the casinos]."
And that's where the real question about legalization resides: Will the appeal of aboveboard dealings be enough to sap the popularity of sports betting's illegal underbelly? Proponents of the Atlantic City plan are betting that it will. They think legalization will transform the nature of sports gambling, and they're placing their own wager: that New Jersey can profit from being at the forefront of that trend. "I do think one day it will be legalized [across the country]," says Millman. "To me, that's sort of unquestionable. I see it continuing to grow. I see it becoming more and more part of the mainstream culture."
Published (and copyrighted) in South Jersey Magazine, Volume 7, Issue 10 (January, 2011).
For more info on South Jersey Magazine, click here.
To subscribe to South Jersey Magazine, click here.
To advertise in South Jersey Magazine, click here.